Visionary educationist sets a new benchmark in pedagogy

Partho Burman
&nbsp | &nbsp Ahmedabad
16-November-2015
Vol 6&nbsp|&nbspIssue 46
In an education system dominated by rote, one man has set the template for a futuristic 'green' school based on the five elements of cosmic creation - earth, fire, water, sky and air.
The B-KANAE School at Modasa in Gujarat, 126 km from Ahmedabad, is unique in many ways. Students here learn sustainability from the school's day-to-day teaching and learning practices.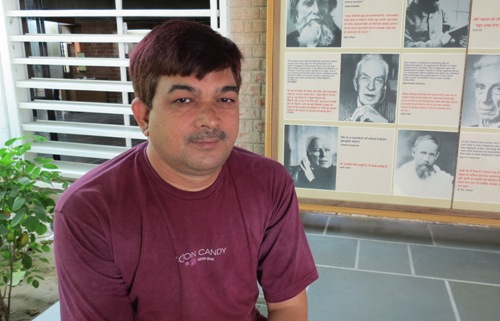 Virendra Rawat has created a 'green school' at Modasa, near Ahmedabad (Photo: Partho Burman)

The architect of this green campus is Virendra Rawat, 42, director of B-KANAE School. Virendra has been associated with the school, which is run by Bhadraben Butala Kalrav Academy for National Education, a hundred-year-old Trust, since its inception.

Built on an area of 3 acres, this day-school began with 300-350 students on 7 June 2010, following the CBSE curriculum, and a fee structure of around Rs 15,000-35,000 yearly.

The school's unique philosophy is based on the 'Pancha Mahabhoot' ideology, encompassing the five basic elements of life: earth, fire, water, sky and air.

The endeavour is to connect students with nature and the local community and environment while inculcating knowledge, values and skills.

The school regards the laws of nature as supreme guides. For instance, they consider their campus as the earth and have turned it green and sustainable, and also mapped the number of trees on the campus.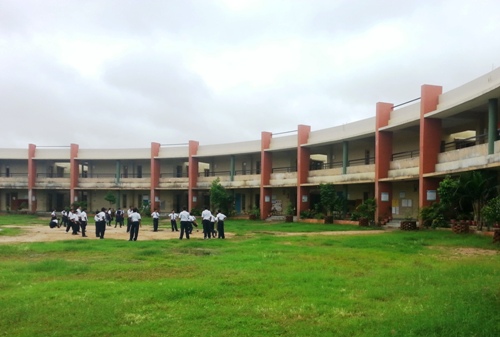 The school planted a tree for every 25 students to give it a green cover

Next came air: they came to know that a mature tree can produce 25 kilograms of air.
"Soon after, we planted a tree for every 25 students, so that whatever we consume, we can give back to Mother Nature," explains Virendra. "We have 850 students and we have managed the ratio effectively between trees and students."
Where water is concerned, the school earlier used municipal water for cleaning and consumption, but soon they decided to harvest rainwater in a tank.
Virendra also introduced a sand-filtering system to get sweet water. "We didn't replace the reverse osmosis unit from the school, but children gradually started drinking the sweet water," he says.
They also re-use and recycle water. They didn't have funds to set up recycle plant, so they segmented water into three categories: white water for drinking, grey for cleaning and black for watering plants.
Using mulch and watering plants after sunset, they only had to water the plants once a week, instead of daily – in fact, the school started saving up to 70-80 percent of water by this method.
At this school fire is interpreted as energy. The electricity connection was soon replaced with a 10-kilowatt, zero-carbon-emission solar panel.
Of course they have battery back-up, but they try to use as much daylight as possible, by starting the school early at 7 am.
And finally the sky… which here means technology! The students are facilitated with cloud computing and because, on a rough estimate, for one student, five trees are felled for stationery, the school provided Tablets to all the students from class five onwards to minimise the use of paper.
Realising that the school had 80 decibels noise level owing to the cemented wall, whereas the ideal is 35 decibels, curtains were hung on walls and windows to bring it down by 30 decibels.
Interestingly, none of the student has gone on sick leave for the last 2-3 years.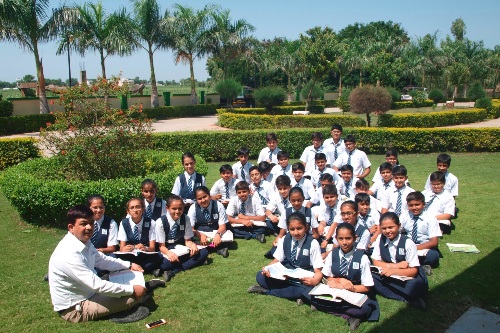 Virendra seen here with some of the school children

Virendra knew right from the beginning that the IQ level of the student can be improved, if "inclusive learning" is introduced. He transformed the syllabus to embrace local stories.
"We have developed a very good story bank woven with the local culture," he says. Innovative methods are used, for example, in teaching the mathematical concept of shapes.
Grains are scattered on rectangles, circles, squares, and suchlike for birds to gobble up. Through this process, the students arrive at a full report of number and type of birds that came as well as learn the shapes.
"Integration of syllabus" is another progressive modification. In this, the subject is integrated for first to fifth standard students.
For instance, if a teacher is teaching about 'birds' in environmental science, the language teacher also teaches a story on birds, the art teacher demonstrates birds through images or drawings, so that the child journeys laterally through the same subject across multiple disciplines.

For those lagging behind, there are the interestingly named 'pyzama classes', during which the students can attend school, out of uniform, and catch up on their work or subjects they are weak in.
However, the most revolutionary step has to be 'Challenge the Teacher'. In this, if a student obtains 5 marks instead of 35 (the passing level), the school tells its student to ask the teacher a difficult question, giving him or her 10-15 days to find that question. If the teacher cannot give the answer, the student gets 10 marks.
"In this process, the child asks family, neighbours and so on – looking for a tough question – and ends up learning many difficult concepts," says Virendra, with a broad smile.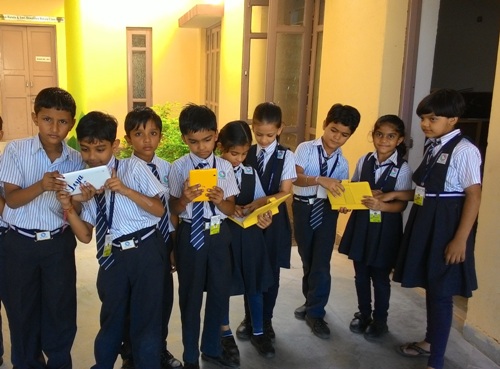 The school has provided a Tablet for every child to avoid using note books and save the trees

Extraordinarily, the educational parameters of this school have been drawn up by a man who grew up hundreds of miles away in Herwal village in Tehri Garhwal in Uttarakhand.
One of seven siblings, this son of a simple farmer had to walk up to 5 km to get to school!
He got into an engineering course but could not join as his family could not afford the fee, so he completed his graduation in Humanities from Swami Ram Tirth Campus in Tehri Garhwal.

Initially, young Virendra worked as a local guide in Uttarakhand, but he wasn't happy. So he went in search of a job to Mumbai, but it didn't work out.

Within a month, he was on the train home, when on a sudden whim, he got off at Ahmedabad station on 2 April 1994, and went straight to Bharat Seva Ashram, where he knew a swamiji, who found him lodging.

Virendra found work as an office assistant at Dalal Associates, a local trading company, but his heart wasn't in it and he switched several jobs between 1994 and 2003, while pursuing a correspondence course in Human Resource Management at Sikkim Manipal University, Ahmedabad.

Just after, in 2001, he landed a job as a Customer Relationship Manager with Azure, the first BPO in Gujarat.

As part of his work, he conducted employability test in colleges and IQ test in schools. The fact that at both levels the students performed disappointingly, made Virendra think.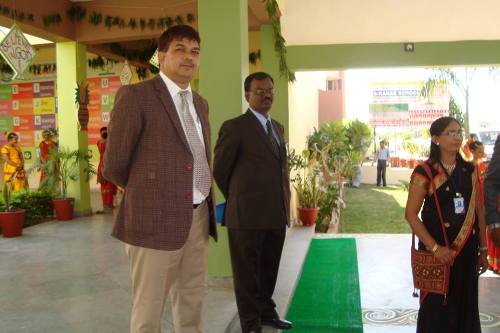 Virendra (left) grew up in a village and as a boy had to walk nearly 5 km to go to his school

And think he did – hard. Based on his experiences, he chalked out his own method of teaching so that students would want to be taught, and learn effectively.
At one of the schools where he had spent time and experimented with his own method, he left a deep impression on the authorities.
"They had started benefiting through my way of teaching and my suggestions for activities," says Virendra. "It was win-win situation for both the school and me. Things started from there."
In 2008 Virendra became Director at the Sava Shala School in Surendranagar, Gujarat; he had found the perfect showcase for his talents and his thought process.
And the results showed in the academic success ratio of the students. Soon he became Director of Adharshila School in Gandhinagar as well.

Around 2010 B-KANAE sought his service, when they decided to build a school in Modasa for the local community.

They could think of none better than Virendra to run the school and this became a turning point of his life, and the life of many students.

Despite the fact that B-Kanae has become an inspirational model for schools in India, this father of two, director of five schools and mentor of many children, is not finished yet.
The Dubai government has invited him to start a couple of schools there. That's besides Virendra's own ambition of building a green University in Uttarakhand.
After all, green is the colour of life and rejuvenation, and education cannot be true to its name without both of those.

Trending Now: