"I followed the ancient indigenous hydro-geology techniques"

15-June-2015
Vol 6&nbsp|&nbspIssue 24
From the ice hockey rink to the golf greens in Ladakh, from the Mahabodhi Institute of Meditation to the army bases in the border regions, from thousands of households to agricultural initiatives, everything bears the welcome watermark of Brand Arya.
It is as if the land yields to the efforts of geo-scientist Dr Ritesh Arya, 47, who chucked his government job to finding water where no man or machine had before.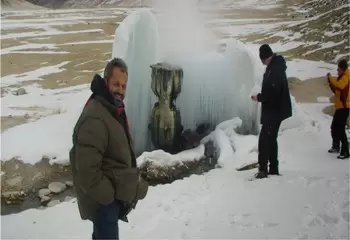 In the high altitude cold mountain desert regions of Leh, Ladakh and Kargil, Dr. Arya's bores brought fresh drinking water for the people
Eleven thousand feet.. 14,000 ft.. 18,000 ft… The altimeter of celebrated hydro-geologist Dr Arya's reads like that of a mountaineer scaling greater and higher heights in a region carpeted by glaciers and aired by scanty oxygen. This is where lies the highest motorable road in Khardung La in Ladakh.
This is the location of Siachen and Kargil, where our soldiers found martyrdom and victory in equal measure. And this is where the most basic need of human beings is a scarce commodity.
Water.
They say the next world wars may be fought over it. Even now, the lack of potable water is a harsh reality in the area. The river Indus floods and deposits silt during the summer here while it freezes in winters, in both cases rendering the region historically inconducive to sustainable water development.
Until 1996, the civilians and the armies based in the hostile terrain in Leh, Ladakh, Agling Chushul, Kargil and Siachen sectors had to melt ice to quench their thirst. Or they had to fetch it from as far as 4-6 kilometres. If nothing else, they had to wait for a water tanker.
Then someone you could call a miracle worker stepped in and wrought an extraordinary phenomenon using science and deep knowledge – literally! This was the small-built, determined Dr Arya, who implemented traditional techniques of boring wells in the high-altitude cold mountain desert regions.
And there was water.
It won't be wrong to divide the water history of the area into two periods: Before Dr Arya, and After Dr Arya.
Ground water exploitation in Ladakh, the portfolio of the Central Ground Water Board (CGWB), had never been extended beyond areas along the Indus River. Remote sensing had not been successful and it was always believed that a rocky mountain desert could not hold ground water.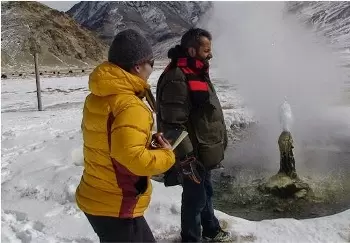 Dr. Arya's confidence in his skills made him work on the bold concept of 'No Water, No Money'
But Dr Arya tore holes into this theory with Arya Driller, the company he established in 1996 with the promise - 'No Water, No Money'.
Such an unequivocal guarantee could come from conviction, and Dr Arya had built his reputation on the bedrock of an instinctive, intensive and intrinsic knowledge of the land.
As a young man from Kasauli, young Ritesh had wanted to be a genetic engineer, but couldn't bear the thought of having to dissect any living being. Instead, he went on to study geology at DAV College, Chandigarh.
Fascinated by legendary geologist Medlicott -- after whom, in circa 1864, nobody really researched the Kasauli Formation – this young man revisited Medlicott sites in 1987-1990, building up one of India's largest private collections of fossils.
After his M.Sc, Arya joined the Irrigation & Public Health department of the Government of Himachal Pradesh in 1993 as a hydro-geologist.
In Bhota, Hamirpur, for exploration and development of groundwater sources, he asked the men to drill close to the Bhota bus stand.
Meanwhile, he spotted a 400-year-old fort above 1,000 m and occupied by the Indian Army. He went to explore and found two ancient wells and they were still working.
But when he came down to the boring site, they found no trace of water even after drilling down 300 feet! He visited all the forts in the hills and was surprised to find two working wells in each fort area.
Curiosity led him to seek and gain knowledge of the ancient techniques of finding water in the region. Discarding instrumental science and adopting intuitive science transformed his work, but invited scepticism from Indians and foreigners alike.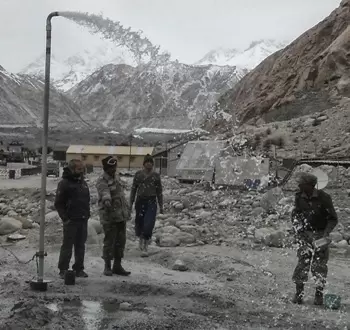 Dr. Arya's team drilling for water at Siachen
"I presented a practical 'model', which could draw groundwater in the Himalayas, or the Alps," he says, "based on three factors – rock type, geomorphology and recharge. This is an old, strong science."
His theories debunked conventional methods, and he was never deputed to a zone for more than six months because he didn't acquiesce to politicians.
Each transfer order gave him an opportunity to explore a new locale – by 1996, he had covered all the six zones of Himachal Pradesh.
Meanwhile, he had also been working on his PhD on Climate, tectonics, evolution and environment of Himalayas from the Centre of Advance Studies in Geology, Punjab University, Chandigarh. In the same year, he quit his job and set up on his own.
Between 1997 and 1999, Water Aid, a British NGO, was funding a drinking water project for the 5000 Tibetans scattered in more than 12 camps in and around Leh from Choglamsar to Spituk, in Nyoma, in Sumdo and in Hanlay, the site of the world's highest observatory remotely run by Indian Institute of Astrophysics. They got in touch with him.
And they found water. "Around 25 bore wells were drilled. By 2002, the entire community in the cold mountain desert had 24x7 drinking water – straight from a high-quality glacier melt recharge," says Dr Arya. Fascinatingly, due to the absence of continuous electricity supply, water is hand-pumped up!
Between 1999 and 2000, he made drinking water available to both the army and air bases in Leh and Thoise. All the border locations, including Leh, Tigr, Maley, Phobrang, Chushul, and the DRDO laboratories in Leh, Partapur, Sasoma in Siachen sector, were benefitted too.
Then it was the turn of the parched Leh airport. Sanjeev Jindal, former general manager, Airport Authority of India, noticed a rig-machine while travelling and stopped to enquire.
"Dr Arya drilled three wells (in 2002), and since then the Leh airport has been self-sufficient," Jindal narrates the rest of the story.
In 2000-02, Arya Driller's efforts in Kargil, the battleground featuring the mostly-frozen river Shyok, transformed it into a large-scale farming land to benefit the army.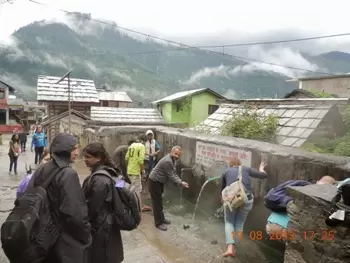 One of the regions that benefitted from Dr. Arya's efforts
Dr Arya's technique also brought 500 bore wells and permanent water solutions to nearly all the locations of the 14 Corps from Kargil in the west to Chumar in the east including Nimu, Leh-Karu and Nyoma.
In 2003, the Guinness Book of World Record had made Dr Arya the member of an elite club when he coaxed out water at 11,000 ft above sea level at Chushul, and official recognition from Guinness came in 2006, when he found water at 14,000 feet.
Accolades have now come from every quarter, but the most important are from those in step with him on the high grounds.
Sanjeev Kaul, a retired army engineer from the Military Engineering Service, who works with Dr Arya, says, "His knowledge of the water is impeccable. He knew the exact location to bore at in the highest peak in Leh region. He is a result-oriented man."
But Dr. Arya makes light of the compliments. "It was nothing special," he says self-effacingly. "I followed the ancient indigenous hydro-geology techniques." After all, for this father of three and believer in the sanctity of the Pancha Tattva, the rocky, snowy terrain is his laboratory of both love and labour.
And like the water he finds, Dr Arya is unstoppable. Next on the list is Agneyodgara – Lava Energy) for clean, free, safe and sustainable water and energy for all.
"If I were asked to learn about human beings, it would have been difficult," Dr Arya confesses with a wide smile, "but if you talk about rocks, I could tell you everything – I am in love with the rocks."

Trending Now: