Without migrating to Mumbai or Pune, women of Wai now pursue a career

Suchismita Pai
&nbsp | &nbsp Wai
29-September-2012
Vol 3&nbsp|&nbspIssue 39
Komal Jagtap is the only software engineer from her institute in Wai, who chose to stay back in this small Maharashtra town.
"All my classmates found jobs in Mumbai and Pune and moved away – that was the general trend. However, my father was keen that I live with the family until I got married. Of course, as Wai is not a very hot destination in terms of employment, I would have been sitting at home doing nothing, had it not been for the Samwadini Call Centre, which has been set up by Metric Consultancy," she says.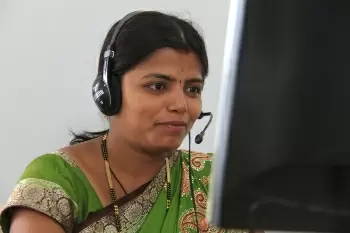 Samwadini Call Centre has changed the lives of local women (Photo: Suchismita PaiWFS)
Wai is a quaint town, about 160 kilometres from Mumbai, well-known for its ghats and temples, particularly the Dholya Ganapati temple. It's on the tourist map, thanks to its proximity to the hill stations of Panchgani and Mahabaleshwar and, of late, it has emerged as a favoured outdoor locale for Bollywood productions.
But for all its advantages, Wai until recently wasn't the place where careers were built or where youngsters settled down willingly. Life here has generally followed a sedate pace.
Untouched by the hustle and bustle of the city, most people in Wai have been tending to their farms for generations. For those who nursed professional ambitions, migration to the neighbouring cities was the only viable option.
Says Sarika Sukale, 36, "My mother had moved to Wai from Pune when she married my father. While she worked on our farms on occasion, most of the time she was house-bound, looking after us. She was completely dependent for money, or anything else for that matter, on my father. I knew I did not want to be in her shoes, so when I got a marriage proposal from Pune I readily agreed."

Unfortunately for Sukale her happiness didn't last for too long. Her husband's untimely demise left her with the single-handed responsibility of looking after her 22-month-old daughter. Much against her wishes, her family then forced her to move back to Wai, bag and baggage.
The fact that she had a Masters in History did not automatically translate into a well-paying job in the small town. Sukale struggled to get a good break.
Says the young mother, "Had I been a man I would have continued living alone in the city. But that was not to be, even though I too needed a steady salary to fulfill my daughter's and my basic needs. In a mainly agrarian town like Wai, seasonal farm employment was the only option."
The Samwadini Call Centre helped to change this reality. Today, Sukale is a regular employee at the call centre, and with a steady income things are looking good. "I am able to educate my daughter as well as meet all my other needs," she says.
The Samwadini Call Centre, which was set up in Wai five years ago, has now grown to an enterprise that employs 75 women and 40 men.
"It is a win-win situation for all. People are happy to have employment other than farm work and it particularly empowers women," says Miheer Ameeta Shrinivas, the force behind Samwadini.
It was not easy to make inroads into the community at first. Recalls Shrinivas, "Even people in remote Wai were aware of the bad press that call centres had got. The horrific incident of the rape and murder of a young Bangalore call centre employee had also made the rounds here. So the men here thought that the bad bold world of call centres was not for their daughters, wives and sisters."
When the call centre advertised jobs, many young women came in but they were accompanied by disapproving family members who wanted to check out everything from work spaces to the lunch hour to the cabs that would drop them to their respective villages.
"To overcome this apprehension, for the first few weeks we encouraged families to be present at the call centre while the women worked," elaborates Shrinivas.
Nilam Khare, 25, is glad that Samwadini was able to overcome these hurdles. For her, this call centre is nothing short of a miracle. Marriage brought Khare from Mumbai to Wai, even though her mother was concerned that the move would spell the end of her career.
While most people migrated to Mumbai or Pune for better opportunities, Khare was doing the exact opposite. "My mother had brought up my sister and me to be financially independent. Although my husband had always supported me in my quest for a professional identity, my mother was worried that I might not get suitable opportunities in rural Wai," she says.
Lucky for her Samwadini was operational by that stage, and her two-year experience turned out to be tailor-made for employment in a call centre. "My husband and family are proud of me. In fact, they often cite me as an example of how one can adjust to village life even after hailing from a big city," she smiles.
Khare makes an important argument, "If more of such opportunities were available in rural areas, fewer youngsters would move to crowded cities. The trend of moving from rural to urban areas can also be reversed.
"Living with my family here I can look after the needs of everybody and yet have a white-collar job that keeps me up to date with employment culture of urban India. I can now provide my son a good education and give him everything that city kids have."
Samwadini has proved a godsend even for local women like Vidya Kadam, 30. Two years ago a move to Mumbai would have seemed the logical thing to do for Kadam and her family. She had quit Wai and moved to "greener pastures", but life turned out to be extremely stressful.
"My children could not adjust to the school and lifestyle of Mumbai. I had to return but could make that move back only because I had the call centre job to come back to. Had there been no such opportunity, I would have continued on in Mumbai somehow," she says.
Another local girl Dhanshree Navale, 24, can give any city girl tough competition in the job market now. Earlier Navale used to be a nervous wreck while answering calls at the centre.
A native of Bavdan village she was schooled in Marathi-medium and was not comfortable with spoken English. Recalls Navale, "The first time someone called and spoke in English I just froze and handed the receiver to the girl sitting next to me."
Today, she deftly juggles calls in not just Marathi and English, but Hindi as well. Her professionalism and dedication has seen her rise to a supervisory position. "Had it not been for this call centre I would have been a housewife just like my mother," she reveals.
Megha Shirke, 26, a young and enthusiastic tele-caller, has the last word, "I always wanted to help my parents monetarily and now I can do this since I live in the same village as they do. I would have coaxed my family to move to a big city with me, had it not been for this call centre."
Samwadini has come to symbolise the aspirations of the young women of agrarian and small town India. What began as an experimental business move from the big city to a small agrarian town has proved to be a good call for Wai's enterprising women. - Women's Feature Service


Trending Now: