Magnificent Mary storms into semis, ensures India's fourth Olympic medal
06-August-2012
Vol 3&nbsp|&nbspIssue 31
Five-time world champion MC Mary Kom ensured India a fourth medal at the Olympics as she entered the semi-finals of women's boxing (51kg) event thrashing Tunisian Maroua Rahali 15-6 at the ExCel Arena here Monday.
Mary Kom is assured of a bronze even if she loses in the semi-finals.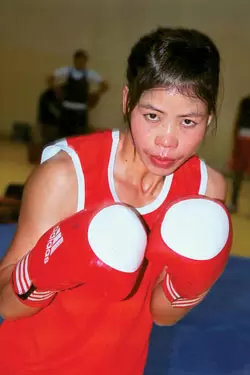 In the semi-final, Mary Kom will be facing Nicola Adams of Great Britain (File Photos: The Sunday Indian)
Mary's husband Onler Kom said that the pugilist made the country proud after assuring the country its fourth Olympic medal from the 2012 London Games.
"Every Indian will be proud of her. She was quite determined that she would do well and she has done that. She has won the medal she always wanted at last. She has always done well for her country," Onler Kom told TV channels.
Onler Kom also said that he spoke to his wife before the bout and told her to be careful.
"I told her not to fight in a rough manner, to use all the technique. And she did well. This was the only thing missing from her career and now she has it," he added.
In the semi-final, Mary Kom will be facing Nicola Adams of Great Britain. - IANS

Also Read

Magnificent Mary broke the glass ceiling and waited for her moment that has now come

Trending Now: