Magnificent Mary broke the glass ceiling and waited for her moment that has now come

20-April-2012
Vol 3&nbsp|&nbspIssue 16
With five world titles, three Asian titles and eleven national titles under her belt, MC Mary Kom or "Magnificent Mary" (as described by AIBA, the International Boxing Association) is proof enough that impossible is nothing.
At a time when women's boxing was still unheard of, Mary followed her passion with relentless grit and determination, battling ridicule and pessimism.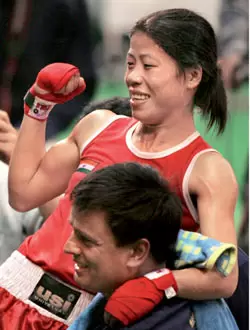 Mary is a five-time world champion, but few Indians know that she exists (Photos: The Sunday Indian)
Mangte Chungneijang Mary Kom was born into a poor Manipuri family, who spent most of her childhood helping her parents in jhum (slash and burn agriculture) fields, and taking care of her younger siblings.
Seeing videos of Muhammad Ali on television during the childhood years sparked her love for boxing. In 2000, just a year from the time she started training in earnest, she won the state-level championship.
Her first tryst with success proved bittersweet having arrived in the face of parental disapproval. "I didn't tell my family of my decision of taking up boxing as it is a very dangerous game and the risk of injuries is very high," she recalled.
When her father saw pictures of her state-level championship win in the papers, he was still against the idea. But Mary had already made up her mind and she finally convinced her family. After that, there was no looking back.

The going of course was never smooth even then. "When I started boxing, a lot of them used to make fun of me and my choice of sport; they'd say I'd never become a champion, that I will not be popular, and that women cannot be good at boxing," Mary said.
It however seemed to fuel her strength and willpower to win. She wanted to prove that women can do equally well what men can. "When I was a champion, people didn't have anything to say and they were quiet. But when I started losing, those very people started talking again – khatam ho gaya (it is over), Mary can't do this, and so on," she pointed out. But criticism only served to make Mary's resolve stronger.

Her career was at its peak when Mary got married and had kids. Tongues started wagging, and Mary Kom was written off once again. And once again, Mary proved them wrong, this time with considerable help from her husband, K Onler Kom who proved to be an able guide and partner in her rise to fame.
When she trained, he made sure she had no worries, so that when she stepped into the boxing ring, she needed to only concentrate on the game.

Being a champion did not spare Mary Kom the discrimination reserved for others hailing from the north-east of the country. "At national camps, they used to tease me and call me names. I did quite a bit for my country, and when they tease me, I feel very bad. I am also an Indian…"
The second class citizen treatment meted out to her and her ilk upsets her even more when she notices foreign nationals coming to India are treated better.
Ethnic contempt notwithstanding, what is worse is that even her sporting achievements are barely acknowledged, let alone celebrated in a country that can't seem to follow anything beyond cricket.
"I am a five-time world champion, but I still don't have a proper sponsor; it's not that corporate sponsorship is rare in India… Sometimes as a human being, I get upset when I see other athletes get great financial sponsorships and all."
But she is positive and hopeful that things may change once she wins an Olympic gold.

Mary's face brightens when we speak about the Olympics. Women's boxing has been included alongside the men's boxing competition in the Olympics for the first time, and she is eager to win gold and do her country proud.
Mary is thankful for the immense support from the Sports Ministry of India, as well as the State Government of Manipur.
She also has the backing of Olympic Gold Quest (a foundation started by Indian sporting icons Geet Sethi and Prakash Padukone to identify and support Indian athletes with proven track record and the potential to bring home Olympic golds). "My preparations are going on well; Olympic gold is my dream. I am doing my level best and working towards it."

Boxer Mary Kom loves action in her leisure time too, for she confesses to enjoying action movies, in addition to comedy stuff. She laughs off any queries about interest in acting, but claims to love singing. She is a part of the church choir during Christmas and New Year and also believes she would have been a singer if not a boxer.

"Determination and willpower are needed to be successful in any line of profession that you choose," Mary Kom signs off. Given her rise in life, few words have rung more true…
By arrangement with The Sunday Indian

Trending Now: