'I have been very fortunate with my editors — M J Akbar in particular'

02-May-2012
Vol 3&nbsp|&nbspIssue 17
He is half a century young and his collar-up shirts are his hallmark and a tell-tale sign of his agility. This is Sankarshan Thakur for you - The Roving Editor of The Telegraph.
Elaborating on his 'Roving Editor' status, Sankarshan quips: "One of the greatest gifts of journalism is that it allows one to see the world on someone else's money!"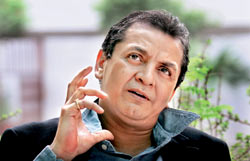 Sankarshan is planning a book on Nitish Kumar (Photo: The Sunday Indian)
Be it war or cricket matches, riots or political dramas, man-made tragedies or natural disasters, Sankarshan Thakur has covered it all. He has covered the coup in Maldives, the war in Sri Lanka, the Bhopal gas tragedy, the 1984 riots and Indira Gandhi's assassination.

Sankarshan Thakur comes from a respectable family of Bihar. His father is the illustrious Janardhan Thakur, who was a respected political journalist and author of many books. So, did the job come naturally to him?
Well, not really. "My mother wanted me to be a civil servant, as most of my relatives from my mother's side were into the IAS, but my father supported my idea of becoming a journalist. I had accompanied him as a child on many of his assignments and so journalism was a natural extension of that. I don't think I ever wanted to do anything else," admits Sankarshan.

Born in Patna, Sankarshan Thakur moved to Delhi as a 13-year-old and has remained there since 1976. He says that he felt very awkward then, going to Salwan Public School and then to St. Xaviers after shifting base.
He then went to the Hindu College, where his formal association with writing began. He narrates how that happened, "With a mere 13% attendance, I was summoned by the Principal, P. C. Verma, who also taught English. I went with the clippings and cuttings of my articles that were published in different journals.
"An impressed Verma waived my loss of attendance, which consequently helped me get a first class degree in Political Science, although my college years were not very productive academically."
Soon after graduation, Sankarshan Thakur landed up with his first job at the now defunct Sunday in the year 1984.

"It was baptism by fire. Operation Blue Star, Indira Gandhi's assassination and the riots that followed, the Bhopal gas tragedy – it all happened one after the other. Both Sunday and The Telegraph have given me opportunities that I thank my stars for. I have been very fortunate with my editors – M. J. Akbar in particular, from whom I have learnt a lot."
He dismisses notions that being Janardhan's son helped him. "I would say that it was rather difficult to be my father's son. It was irritating, if not tough. It took longer to prove my own mettle."

With The Telegraph, Tehelka and The Indian Express on his CV, Sankarshan Thakur's reporting of Kargil from the war front in 1999 is one of his most memorable experiences.

For excellence in political journalism, he got the prestigious Prem Bhatia award in 2001. Although, he is seen frequently as a political commentator on Indian news channels these days, Thakur is clearly in love with his job in print. "Print is what gives me my present," he says.

For Sankarshan Thakur, journalism is a tough job. "A lot of people come into journalism based on two wrong notions. One is the obsession for glamour and the other one is the idea that they can change the world. Reality is a grind and glamour is not attached to your visiting card," he says.

Thakur, too, learnt it the hard way – during the lean period of early 2000-2003. He did not have a job in hand and he painted during those days. "I learnt some hard lessons during this period. The children were growing up, and it taught me a lot. It taught me to be more humble, and it made me stronger and wiser.
"It made me more capable of adjusting to the idea that there may be periods in life when you are down. I realised how important it was to know the rough in order to appreciate and approve the smooth."

But those days are long gone and he has moved ahead. He has moved on to writing books. His critically acclaimed book, The Making of Laloo Yadav, The Unmaking of Bihar, has been updated and printed again as Subaltern Saheb - Bihar and the Making of Laloo Yadav.

Now Sankarshan wants to write more and more books. He is currently contemplating on writing a book on Nitish Kumar.
By arrangement with The Sunday Indian

Trending Now: