Bihar's once-dreaded political dons are now following a new vocation
28-September-2011
Vol 2&nbsp|&nbspIssue 38
You could scarcely believe that the once mighty dons of Bihar politics, who between them controlled trunk loads of money and thousands of underlings, should undergo such a dramatic change of heart, not to mention perception.
Not all that long ago, in the heyday of the Laloo Yadav raj, their writ ran large over Bihar's badlands.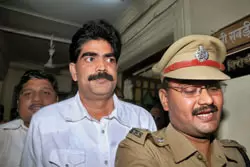 Shahbuddin's latest hero is Mandela (Photos: The Sunday Indian)
Murder and extortion were child's play for them, and such was their tremendous political clout that there was virtually no civil contract which could escape their iron clutches.
But that was then. The dons may not have had any formal education, but these days, as guests of the state behind bars, they have all the time and leisure to turn to a variety of gainful activities, notably intellectual.
One of them is drawing inspiration from South African icon Nelson Mandela while another is pursuing a D.Lit degree.
Some of them have taken to a belated Master's degree while one has – after several heads under his belt – suddenly woken up to the benefits of non-violence, ahimsa and peace.
Take the 'terror of Siwan', Mohammed Shahbuddin. This erstwhile Member of Parliament, with 56 cases of murder, extortion and kidnapping behind him, now lives a life of relative seclusion in Siwan jail's ward number 17.
Unlike the days gone by, he does not hold a durbar in the prison premises. His month-long Ramzan festivities were marked by daily fasting.

The hands that once held AK-47 rifles today longingly fondle the life and works of Mandela. Apart from Mandela, `Partition of India and Jinnah', a book authored by Jaswant Singh, adorns Shahbuddin's side table as do two biographies of Mahatma Gandhi and Jawaharlal Nehru.
The former don, whose role among other things was to be then chief minister Laloo Yadav's adviser on minority affairs, has submitted to the prison authorities a list of authors that he wishes to read and it is a pretty distinguished lineup: Sarat Chandra Chattopadhya, Bankim Chandra and Acharya Chatursen and a list of books dealing with Nehru and India's Independence movement.
Gasps a disbelieving jailor DD Mishra, "I've never seen such behavioral change. Shahabuddin does yoga and exercises, eats a light meal and goes back to his books.''
JD(U) legislator Sunil Pandey from Terari in Bhojpur district has just been released from jail in one of the two dozen charges of murder and abduction he faces. Such was his reputation as a kidnapper that one of his victims, Dr Ramesh Chandra, migrated permanently to the US!
Like many erstwhile strongmen in his state, Pandey has taken to the unlikeliest of vocations: he is currently pursuing a PhD thesis on Jain non-violence from the Vir Kuber Singh University in Arrah.
However, old habits die hard, and at one recent low court hearing, Pandey relapsed back into being his old self. In a state of extreme intoxication, he decided to subject the presiding judge to a flurry of invectives, leaving the venerable gentleman no option but to register an FIR against the offender.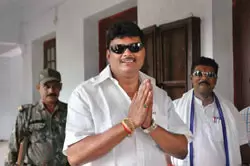 Rajan Tiwari is reading the Gita and the Quran
On this list of reformed convicts is the redoubtable Rajan Tiwari, legislator from Gobindganj. He was originally from Gorakhpur but is now settled in Bihar.
This former confidant of Laloo Yadav and Shahabuddin, currently lodged in the Bettiah district jail, has handed a wish list to the authorities.
Among the books that Tiwari has sought are the Bhagwad Gita and Manusmriti, two of Hindu mythology's most profound texts.
Rajan Tiwari's claim to notoriety was the gunning down of two inspectors of UP Police based in Lucknow and Ghaziabad respectively for the encounter of his former associate Sri Prakash Shukla.
He is also charged with the murders of several legislators: UP MLA Virendra Sahi, Purnea MP Ajit Sarkar and an ex-Bihar minister Brij Mohan Prasad.
Such has been his range of activities that his criminal case hearings take him everywhere, from UP to Bihar to Jharkhand.
According to the district jail authorities, Tiwari has also asked for the Gita and Quran to augment his already expanded reading list. The list is growing by the day. He now also wants a meditation room. The jail authorities have provided some of the titles that he wanted and some others have been ordered from the bookseller.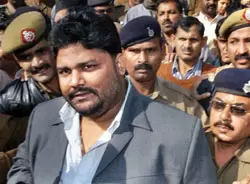 Pappu Yadav is penning his autobiography
Another colourful political don Pappu Yadav is reportedly penning his autobiography and has recently petitioned jail authorities for enrolment in a MA sociology course from the Nalanda Open University. The permission has been granted.
According to jail authorities, the portly Pappu, a four-time MP from Purnea and Madhepura, has taken to reading and writing like never before.
By night, he works on his English diction. He is known to have filed a complaint with officials protesting against "too much noise" within the jail premises, which was causing him grave "disturbance''. The authorities duly obliged. After all, there aren't too many instances of top-notch criminals taking to books and literature in such fashion.
Published by special arrangement with The Sunday Indian

Trending Now: