Training women to recover from trauma caused by terrorism

Mehru Jaffer
&nbsp | &nbsp Mumbai
10-June-2011
Vol 2&nbsp|&nbspIssue 23
A group of women in Mumbai getting their first lessons in computer skills and English might sound like a limited, practical development. But the organisers of the workshops have something larger in mind: Developing a global female power base to reject the fear of violent extremism and to help people recover from it.

"The global destabilisation of life is one of the biggest challenges of our time and each terror attack makes it obvious that conventional methods can no longer curb terrorism in the long run," says Edit Schlaffer, an Austrian social scientist.
In 2002, Schlaffer founded Women Without Borders, a non-profit international research and advocacy group for global women to share concerns. And it is an initiative by this organisation – Sisters Against Violent Extremism, or SAVE – that spearheads these workshops.

After the Mumbai terrorist attacks in November 2008, Schlaffer drew from the membership of Women Without Borders to attract 35 women from across the globe – South America, the Balkans, Africa to Asia – to a meeting in Vienna. They founded SAVE, which today serves as the first women's anti-terror platform. "At the heart of Sisters Against Violent Extremism is the belief that peace starts at home," Schlaffer says.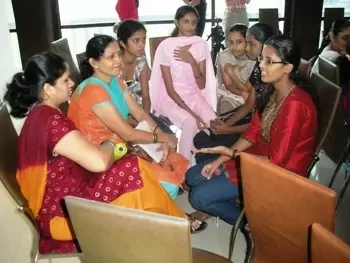 Faces of Resilience: Families of the policemen on duty during the Mumbai terrorist attacks in 2008. (Courtesy: Women Without Borders)
The group's first major initiative was to open a chapter in Mumbai in November 2008 for the wives, daughters, sisters and mothers of the policemen on duty in the city that fateful night, some of whom lost their lives in the terrorist attack. With the support of the Austrian Ministry of Social Affairs, Archana Kapoor, an Indian filmmaker and head of SAVE India, began the Mumbai chapter by reaching out to as many 26/11 survivors as possible and to those who had lost family members in the attack.
According to Kapoor, many of the people she contacted said that they felt lost and abandoned after the initial media attention. Most were struggling to deal with the trauma and sorrow on their own.

Some of these grief-stricken women agreed to attend SAVE India's first workshop, which was held at the Mumbai Police Officer's Club in April 2010, to help empower, sensitise and mobilise them against violent extremism. There were about 65 women, including mothers and children, aged from nine to 70 years.
It was a chance, Kapoor recalls, for the women to break the silence that frequently follows a tragedy. In talking about how they could move on in life, many expressed interest in improving their language and computer skills.

That is what prompted SAVE to bring four professional teachers to Mumbai this year to design the workshops that began in April. They brushed up their skills as confidence-building facilitators and prepared to give English-language and computer lessons over eight workshops. The workshops are supported with financial assistance of $25,000 from the Austrian Ministry of Social Affairs, and ground support from the Mumbai Police.

The workshops are a part of SAVE's Mothers for Change! campaign and are envisaged to empower the participants economically while training them to become ambassadors for positive change within their families and communities.
In total, 100 women are taking part in the training, which provides them with the opportunity to bring income into the home and thus increase their decision-making power, while simultaneously equipping them with tools to promote a culture of peace. - WeNews/ Women's Feature Service

Wish to share your story?
Trending Now: