The happy man who makes others happy

Marianne De Nazareth
&nbsp | &nbsp Bengaluru
26-November-2010
Vol 1&nbsp|&nbspIssue 13
The slim, handsome man, with the tips of his hair bleached in a becoming style, jumping around, getting 600 wedding guests to thoroughly enjoy the wedding function caught everyone's attention. When Mark Rego, the MC, finally wound up the evening and assured the bridal couple memories that they will never forget, none of the guests knew that the smiling, happy man has battled cancer of the colon - for the last 7 years.

In fact his energy and joie de vivre becomes an inspiration to all whose lives are touched by Mark, a popular MC in Bengaluru, who has compered corporate shows, launches, and business conferences.

"For the last 16 years I have worked with corporates giving their employees fun holidays at resorts with a lot of interactive games and treasure hunts," says Mark.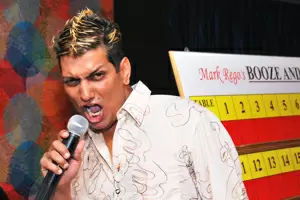 Mark has battled cancer for 7 years, but his zest for life has not diminished a bit
"I began as the General Manager of the Orion Group of Hotels and there I began to innovate with karaoke, Bingo evenings and Kitty party functions. But today in Bangalore I am known better for the Quiz shows I hold in pubs – Nightwatchman, Opus and The Beach. In fact the BBC covered me and rated my show as the best in India."

The quizzes are on general trivia, taken from newspaper reports and books, Mark says, giving examples: Did you know that Prakash Padukone was the first gold medalist at the Commonwealth Games? Did you know that the statue near the Mayo Hall in Bangalore is that of a Frenchman who wrote the first Kannada Dictionary?

When Mark was diagnosed with cancer he was given six months to live. "So I promised myself that I would do all the things I ever wanted to in my life, all in a rush. I have wanted to visit five continents, adopt a child and start my own restaurant. I was inspired by my mother and how she fought her battle with cancer," he says.

Three months ago Mark began his new restaurant called Peppa Zinggg! "My 17- year- old daughter Shanice came up with the name in a flash 'cause my brief was it had to be a happy place with lots of happy colours, happy music and happy pictures on the walls. So she just said Zinggg which means happy and the word Peppa was added which is a take-off from Pep and spices. Today the restaurant has been rated as the only 5 star café in the city by Burpp, (a well known restaurant review website). We are famous for our Whammies which are the biggest burgers in the city. I also have pastas, hot dogs and fried chicken wings on the menu."

Mark loves collecting masks, Ganeshas and bells. "Come and see my collection of masks which are from all over the world!" he exhorts. He is also an avid pet lover and keeps geese, turkeys and Bantam chickens in his rambling home on Rest House Crescent.

Since Mark has not been able to adopt a child just yet, he supports as many orphanages as possible across the city. "In fact in my restaurant I do not have expensive oils on the walls; instead they are lighted by photographs of underprivileged kids smiling."

For his cancer treatment, Mark goes to the Kidwai Memorial Institute of Oncology, a government hospital, where he had his chemotherapy and surgery. "I am thankful to all those doctors who put me back on my feet. I do have to wait in a queue, but it's worth the effort," says he modestly.

Trending Now: