Breast cancer survivor set to 'conquer' the Himalayas

Vishal Gulati
&nbsp | &nbsp Shimla
10-October-2012
Vol 3&nbsp|&nbspIssue 40
After defeating breast cancer, a dental surgeon has taken up the challenge to conquer the Himalayas in an off-road motor race.

Ritu Biyani, 53, is one the participants in the Raid de Himalaya, one of the most gruelling motor rallies in the world. The race began Sunday.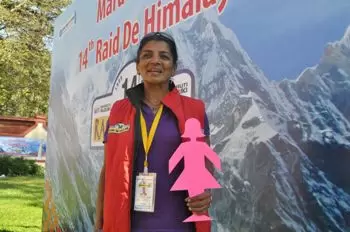 Ritu has just returned after a successful trek to Siachen
For the former Army Dental Corps officer from Pune, taking part in Raid de Himalaya was equal to overcoming an unknown fear.

"Participation in this rally instills an attitude to explore, overcome, experience and celebrate," said Biyani.

Biyani, who is taking part in the rally's Adventure Trail category in a Mahindra Scorpio SUV with Mumbai's Jyotsana Sharma as her navigator, said the Himalayan peaks failed to dampen her spirit.

There is a reason: She has just returned from the Siachen glacier. "After getting acclimatised for seven days, we (a team of 23 trekkers) managed to cover the 60-km path to heights of more than 15,000 feet in four days," she said.

The minimum temperature there was below minus 15 degrees Celsius, she added.

The civilian mountaineering expedition was organised last month by the Indian Army, as part of its annual exercise to showcase Siachen, the world's toughest and highest battlefield.

Biyani said cancer gave her another life.

"After my treatment, I thought I had overcome the major barricade and decided to live life to its fullest."

She said that during her spare time, she liked going for long drives, sometimes for days.

"I have travelled through some of the country's highest passes in Leh and Ladakh."

Biyani's grit and determination were fortified during her brief stint in the army.

During this time, she became the first woman paratrooper from the Army Dental Corps.

Besides adventure, generating awareness on the breast cancer drives her.

"I have educated more than 150,000 people across the country in the past six years through workshops and talk shows on cancer. Still I'm on the move," said Biyani.

Her name figures in the Limca Book of Records for her cancer expeditions.

In 2006, Biyani and daughter Tista launched Highway Infinite project to generate awareness on cancer. She covered 30,220 km in 177 days to conduct breast, cervix and oral cancer awareness workshops. She said breast cancer could be treated if diagnosed early.

She said she was participating in the rally to send a message to cancer survivors: "Don't get confined. Live to take new challenges."

The 1,800-km rally's six-day route is tough and the pressure on participants is extreme with 144 vehicles passing through the cold deserts of Lahaul and Spiti and the mountains and valleys of Ladakh.

"Every pain is short-lived. We must not lose hope," Biyani said before setting out to the rugged ranges. - IANS
Wish to share your story?
Trending Now: