Express delivery! With love, from Mexico to Haridwar — A real life love story
Quaid Najmi
&nbsp | &nbsp Mumbai
03-August-2011
Vol 2&nbsp|&nbspIssue 30
The course of true love never did run smooth, Shakespeare wrote an eon ago, but this modern-day beau in Mexico had a credit card company, Facebook and a team of dedicated Indian hospitality personnel to help him get a birthday bouquet through to his beloved, meditating some 15,000 km away in an ashram near Haridwar town.
They braved crowds, traffic, inclement weather and more to get the flowers with the message 'Te Amo Mucho Maxima' (I love you the most) to Laura Cantu in a day.
The request made by a privileged Platinum Card customer of American Express was received by American Express chief concierge and manager Marco Milanez July 24 morning, for delivery the next day -- Monday.
His immediate reaction was to put the request on Facebook.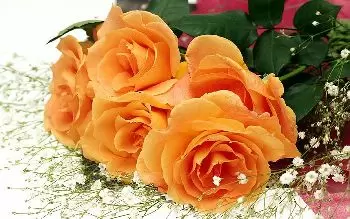 When the flowers reached Laura Cantu with the message 'I love you the most' she had no feelings to describe her joy (Picture for representation purpose only)
The Indian side offered help and activated a team of hotel professionals to get cracking on the assignment, given the severe time constraints, the distances and obstacles involved.
"The bouquet of fresh flowers was delivered around 3 p.m. July 25 - in time for the birthday of Laura Cantu. She is attending a meditation course at the Santosh Puri Ashram near Haridwar," said Albert Amanna, vice president of Les Clefs d'Or India, an organisation of concierges.
Amanna is also the manager at Hotel Intercontinental, Marine Drive.
The time-bound, obstacle-ridden journey of the love from Mexico City to Haridwar via Mumbai has become a topic of discussion among hospitality circles in India and around the world, according to Amanna, who coordinated the effort after getting Milanez's message on Facebook.
The processing had begun on the night of July 24, but there was a small problem -- the client's authorization was required for the billing.
"Because it is Sunday, our card member is not in his office and Monday is when this form will be filled and sent to you. Please do send the flowers and do not let this be a show-stopper. The request is from a man very much in love with this woman who has travelled to India to find peace...," Milanez said in an e-mail to Amanna.
As indicated by Milanez, the hotel personnel started to track down Laura around Mumbai, but Sachin Singh of Hotel Taj Land's End discovered that she was actually in an ashram near Haridwar.
An unfazed Amanna directed his team to go ahead.
The team replied that the assignment could be carried out, but it would take time since the ashram was a good 12 km from Haridwar in Uttarakhand.
"Get on to it..." Amanna directed, only to learn that the road to the Santosh Puri Ashram was closed on account of a local 10-day festival -- Kaanwad.
Anuz Melwin, concierge at the Four Seasons Hotel here, wrote back to Milanez that the only way to deliver the flowers would be through a courier on foot.
"... We shall deliver them on foot. However, it may happen this evening or by tomorrow morning," Melwin indicated July 25 after delivery was aborted earlier that morning.
The original estimated cost also went up from Rs.1,000 to Rs.2,500.
After getting the green signal, a courier carried the bouquet of 12 red roses, sourced from Ferns & Flowers, Mumbai, trekked 12 km of poor roads, heavy human traffic due to the festival, inclement weather conditions, crossing a wide river bridge and finally made it to the ashram around 3 p.m.
At the ashram, all the participants had gone to the riverside. After coming back, they saw the beautiful arrangement of flowers which they believed was for the event.
"Laura Cantu was informed that the flowers were for her - with 'Te Amo Mucho Maxima' (I love you the most) on the message card. She simply had no words to describe her feelings of joy," Amanna said on the feedback received from Mexico. - IANS


Trending Now: