How to keep your man from flirting

13-May-2011
Vol 2&nbsp|&nbspIssue 19
Flirting men are in the news these days! South African cheerleader Pasqualotto wrote about the flirting ways of IPL cricketers during the post-match parties in her blog and lost her job a few of days ago.

"The likes of Jonty Rhodes and Albie Morkel are notorious for having a good time with friends! 'Ol Graeme Smith will flirt with anything while his girlfriend lurks behind him," the cheerleader for the Mumbai Indians team had written in her blog.

Around the same time Pasqualotto was making headlines, UP politician Amar Singh's tapped telephone conversation with Bollywood star Bipasha Basu was published in a section of the media.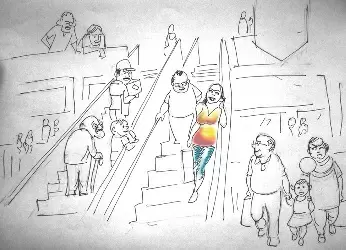 Illustration: KravMaga Sreeram
According to the published transcript, Amar thanks Bipasha for remembering (to call up) an old man like him, to which the latter says..

B: Old man like you…
A: yes, yes…
B: I do not think age really matters…
A: It matters between the legs…

Flirting at its vintage best! So, how do we keep our men from flirting? Here goes.

Do's

1. A guy needs to feel loved, - yes, as much as a woman needs it - so show him you care for him, that you love him. The best way to demonstrate your love for him would be to do things he likes. Take for instance a simple thing like your dressing sense. Suppose he wants you to wear a particular dress to a party, wear it, though you may want to wear something else - no harm in dressing up the way he likes once in a while to please him. After all, life is all about give and take.
2. Spend time with him. Talk to him. Find out what are his concerns, what's happening in his office, what are his goals, and yes, even about the girls in his life - the ones he meets regularly in office, or even his school or college mates, with whom he may be in touch with. This will give you an idea of those women he may be having a crush on, so that you would know when he is crossing the limit and you need to pull the leash.
3. Listen to him. If he wants to brag about his job, his looks, his skills, his achievements, or even what he hopes to do in the future, listen. It's a trick that will have him coming back to you, simply because no one else will listen to him the way you do.
4. Tell things you expect him to do. If you are expecting a gift from him on your birthday, say that to him. Don't expect him to surprise you with a gift on your birthday and be disappointed when he doesn't even wish you 'happy birthday'.
5. If one of you is travelling, make it a point to catch up with him on the phone, on Facebook or Skype or some way, at least once daily, so that you maintain the intimacy levels.

Don'ts

1. Don't keep praising another man, (the same one repeatedly), for whatever reason, when you are with him.
2. Don't show disrespect to his family, even if you don't really respect them.
3. Don't ever criticize him for any of his faults, if you are not in the habit of appreciating him for his plus points

Next week: How to keep your woman from flirting

Wish to share your story?
Trending Now: