She does not want women grappling for information in cities

Hema Gopalakrishnan
&nbsp | &nbsp Hyderabad
08-October-2010
Vol 1&nbsp|&nbspIssue 6
When a family moves into a new city, there is the usual rigmarole of finding a house, moving in or finding a good school for the children. While the father is busy settling down into the new job or assignment, it is often the mother who is handling these issues in a new place. She wishes she had some friends in the new city or knew other mothers who could help her. Having been in such a situation, thirty-two year old Bhavani Raman decided to help such women and that led to the setting up of a network exclusively for mothers in different cities of India.

Some of the major problems that Bhavani faced when she came to Chennai from the US a few years back were finding a school for her children and a good doctor. Used to online communities for mothers in the US, which provided advice on almost every issue that confronted a mom, she found that there was no such network in Indian cities.

Her experience as a software engineer came handy and she launched chennaimoms.com in August 2008 exclusively for mothers in Chennai, which now has around 30,000 members. Last month she launched a similar site for mothers in Hyderabad - hyderabadmoms.com and it has already drawn 300 women. She has started such sites for women in Bangalore and Mumbai. In Chennai, what started as a small network soon grew bigger and mothers discovered other members living in their area and also got connected to women whose children go to the same school.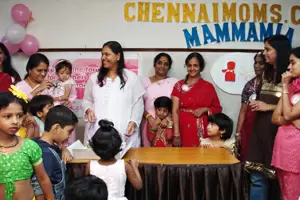 Bhavani has provided an excellent platform for young mothers to connect and find support in each other
They share information, ideas, advice and even organise play dates for their children. The membership to the site is restricted to women. While Bhavani is an administrator of these sites, members contribute largely to the content. Bhavani says that members have found a ready support group and feel free to exchange information and advice on various topics from organising a birthday party, shopping options, tourist destinations and to help on kids' school projects. Members find emotional support to handle issues like managing teenage children or dealing with in-laws.

Some members have even organised meet-ups after getting to know each other online. Experts also step in to give free advice on health, childcare, cooking, or beauty, and queries can be posted anonymously.

Asked about challenges in running the sites, Bhavani says the main issue is to get members returning to the site to chat with other mothers, make friends or give advice. On her part she has added new features to make the site attractive - like helping mothers with similar interests and hobbies to form groups, starting blogs and even creating a directory of doctors, and schools in the respective cities.

She feels that the site is useful to mothers especially in nuclear families, though grandmothers too have pitched in with their advice on home remedies and other tips. Bhavani has plans to use the site to help mothers find part time jobs by posting such openings. She has used the site as a platform to spread awareness on internet safety for kids and mobilise mothers to do charity work with some NGOs.


Trending Now: