Started in Austria, the SOS villages caught up well in India and now have 600 foster mothers
Shilpa Raina
&nbsp | &nbsp Faridabad
21-June-2014
Vol 5&nbsp|&nbspIssue 25
Every time eight-year-old Rishab (name changed) asks his "mother" how he came into this world, she replies that a fairy gifted him to her. But Sonia Yadav is actually waiting for him to grow up to reveal how he actually came into the world.
For Yadav, the foster mother of 10 children, it is extremely hard to find the opportune moment to tell her dearest child that his biological parents had abandoned him.

What would be worse would be to tell him that eight years ago, he was found in a vegetable bag outside the gate of the SOS Village in Faribadad, an industrial city bordering the national capital.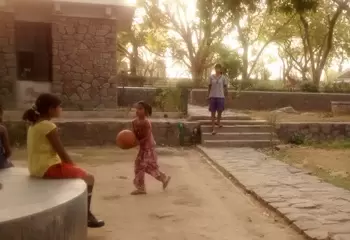 Children playing at the SOS Village in Faridabad (Photo: IANS)
"I will have to tell him the truth one day," said Yadav, 43.
"He is too young, but as he grows up he will hear stories of other children who too have been abandoned by their parents. So, it might be easy for him to take this information positively," she added.
Like Yadav, there are around 600 foster mothers in 33 SOS India villages spread across 21 Indian cities. Each of them has 8-10 children under their care and together they become a family where the foster mother is the head and the children become siblings.
Philanthropist Hermann Gmeiner founded the SOS Children's Village in his native Austria in 1949 to provide "secure families" to homeless children post the World War II. It now has a presence in 133 countries.
It was first established in India in 1964 and has linkages with Child Welfare Committees in various states, specialising in taking care of new-borns. If the strength of SOS model lies in its "family-based" care model, then it is the selfless foster mothers that are the strong backbone of the project.
"The entire model depends on the bond between the child and the mother. So anything that can be distracting for both of them is what we avoid to take on board," said Rakesh Jinsi, secretary general, SOS India.
These distractions include avoiding taking children whose any one parent is alive or if they have any contact with a family member.
For the foster mothers, the basic criterion is that they have to be single and should have no children of their own.
"She has to be a widow, a divorcee or someone who has chosen to be single," Jinsi pointed out.
"Any kind of distraction can be harmful for this fragile relationship. If a child has some emotional attachment, then the mother becomes caretaker and if a mother has any children, she won't be able to give them true love," he added.
Hence, there is a stringent recruitment process. Candidates have to go through a two-year training programme before they can take the charge as a full-time foster mother. The minimum entry age is 27 years and the maximum is 40 years.
They leave their ever-growing families only when they retire at 60.
"I don't remember how many children I have taken care of. Many of them are at good positions and all of them are in touch with me," boasted the oldest foster mother of Faridabad home, 59-year-old Shanta K. Nair.
"This is Rupali," said Nair, proudly pointing to a picture of a newborn.
But before one could take in the picture, she pointed towards that of a group picture and said: "Look how big she is now."
The feeling of being a "proud mother" was evident from her face.
Nair will retire in December and head back to her home state of Kerala.
"I don't know what to do when I go back home with my sister. All my life I took care of many children, taught them and saw them grow. They have their own families and love me unconditionally," Nair said.
"I might probably go back and teach," she added.
For the foster mothers, their entire universe revolves around these children who grow up and move on, making way for newer additions every year. The cycle is unending, but these women carry on strongly, nurture the abandoned children and secure their lives in many ways. - IANS

Trending Now: