Why Land Ordinance of Modi Government is Anti-People

Sam Rajappa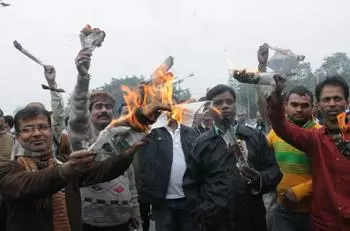 While the Sangh parivar was busy with ghar vapsi as the nation ushered in the New Year, three wise men of the BJP succeeded in converting President Pranab Mukherji.

Arun Jaitley, Finance Minister, Sadananda Gowda, Minister for Law, and Nitin Gadkari, Road Transport Minister, called on the President at the Rashtrapati Bhavan on the last night of 2014 and convinced him that the Right to Fair Compensation and Transparency in Land Acquisition, Rehabilitation and Resettlement (Amendment) Ordinance to dilute the few safeguards provided for the affected people in the LARR Act, popularly called the Land Acquisition Act, brooked no delay and should come into force before the dawn of the New Year and obtained his signature on the dotted line.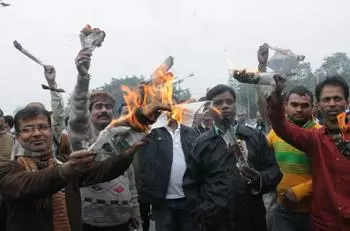 Trinamool Congress supporters protest against amendments to Land Acquisition Act in Kolkata (Photo: IANS)
The LARR Act, 2013, which replaced the patently unjust colonial era Land Acquisition Act of 1894, was framed after consulting all stake holders over a period of seven years by the Congress-led United Progressive Alliance government and was passed unanimously only after going through two Parliamentary Standing Committees in 2007 and 2009, both headed by senior BJP leaders, Kalyan Singh and Sumitra Mahajan, and incorporating two amendments moved by Jaitley and Sushma Swaraj.

The debate in both the Houses lasted 12 hours and 60 members participated. Rules for the Act, however, were framed and notified by the National Democratic Alliance government in August 2014.
Even before the Act has been fully implemented by either State or Union government, the Narendra Modi government has created an impression that it is an impediment to the development needs of the country.

Mukherjee, as a senior Cabinet colleague of former Prime Minister Manmohan Singh, played no mean role in bringing about the much needed progressive legislation. The LARR Act, meant to expedite land acquisition, though not the best, is progressive. It ensured adequate compensation and rehabilitation of the affected. The ordinance, on the other hand, promulgated in the name of economic reforms and development, takes a significant step backward in social justice and violates all democratic norms.

By choosing the ordinance route, Prime Minister Modi has displayed least patience and respect for parliamentary traditions. Matters concerning the lives of millions of farmers cannot and should not be decided by a mere ordinance. It is a matter of grave importance and needs a thorough debate in Parliament.

The LARR amendment ordinance creates a separate category of projects to be fast-tracked and covers industrial corridors, defence production, rural infrastructure including electrification, housing for the poor and projects taken up under the Public-Private Partnership mode.

It may be recalled when Modi was Chief Minister of Gujarat, he enacted the Special Investment Region Act, 2009, to facilitate large-scale land acquisition and developed 13 SIRs and four industrial areas centered on manufacturing and promoted crony capitalism which gave his government the sobriquet of "Ambani-Adani-Sarkaar."

Vinayak Chatterjee, chairman of the Confederation of Indian Industry's National Task Force on Infrastructure, welcoming the LARR Act when it was passed, said: "The term 'public purpose' has now been clearly defined. The misuse of this clause under 'eminent domain' was the bane of the earlier legislation. It led to forcible, heartless acquisition programmes as well as lazy acquisitions where acquired land was largely in excess of needs."

When the apex industry body was satisfied with the LARR Act what was the necessity to dilute safeguards given to land owners even before giving a chance to implement it fully? The Mid-Year Economic Analysis by the government's chief economic advisor, Arvind Subramanian, had said recently that given the current corporate debt overhang, there was going to be difficulty in attracting new private investments even if the past backlog was cleared.

One of the reasons cited for the urgency in promulgating the ordinance is Section 105 of the LARR Act which provides for amending 13 Central legislations like the Land Acquisition (Mines) Act, 1885, National Highways Act, 1956, Coal Bearing Areas Acquisition and Development Act, 1957, Railways Act and the Electricity Act by 1 January 2015. The government, through a Notification in Parliament, could have extended the deadline instead of resorting to an ordinance.

By exempting special categories of projects from social impact assessment and obtaining consent of affected families mandated by the LARR Act, the BJP has put the clock back. Jaitley's claim that priority of the government was not only to 'protect' the interest of farmers but also to balance it with the development needs of society lacks credibility.

The ordinance waters down the five-year time limit put on projects after which the land would be returned to the owner if it remained unutilised. A report of the Comptroller and Auditor-General of India on Special Economic Zones, tabled in Parliament in November last, found that out of 45,635 hectares of notified lands 38 per cent remained unutilised even after several years of acquisition.

In the Mukesh Ambani promoted SEZ in Navi Mumbai, no operations had taken place in 1,250 hectares of land at Dronagiri acquired in 2006. Several industrial houses had raised loans of Rs. 6,309.53 crore mortgaging leasehold government land. The ordinance is tailor-made to help these entities. But according to Jaitley, a few "oversight errors" had crept in the LARR Act and the ordinance was to ease "procedural rigours."

The ordinance relaxes norms for land purchases for affordable housing, defence and defence manufacturing, PPP (Public – Private Partnership) projects, which include private health and educational institutions, industrial corridors and rural infrastructure.

Such projects would neither require the mandatory consent of land owners nor social impact assessment any longer. Hundreds of farmers have committed suicide protesting such unfair acquisition. These two key provisions are central to addressing the issue of forced land acquisition and resulting impoverishment of the communities.

It was forced acquisition of land which led to massive protests in places like Nandigram, Singur, Kalinganagar, Kakrapalli, Bhatta Parsaul, where many people died, and was responsible for the UPA government enact the LARR legislation. For years, Narmada Bachao Andolan, Niyamgiri Suraksha Parishad, Anti-SEZ protests in Raigarh, Jhaijhar had been demanding the repeal of the colonial era Act and enactment of a new people-friendly development planning legislation and it was fulfilled by the UPA government only to be undone by the BJP in such a short period.

A White Paper issued brought out by the Ministry of Road and Surface Transport a couple of months before the New Year eve promulgation of the ordinance blamed the LARR Act for holding up sanctioned projects worth Rs. 4 crore. With the coming into force of the ordinance, the agency acquiring land will have to compensate and resettle only the land owners.

Millions of agricultural workers and share croppers are left high and dry. The distinction between fertile and unfertile land, irrigated and non-irrigated, has also been done away with in regard to acquisition of land for the five specified 'eminent domain' sectors.

Land can now be acquired for these projects without having to go through the process of Social Impact Assessment. By requiring the government to seek the consent of 70 to 80 per cent of the affected families, the LARR Act gave the citizens a say in acquisition of their land and prevented arbitrary exercise of power by the State.

With the stroke of the pen of the President just before midnight, 31 December, the BJP has taken the nation back to the colonial era which led the Congress to coin the acronym 'FAIL' for the Modi government. F stands for anti-farmer, A for anti-accountability, I for intolerance and L for forcible land acquisition.

Sam Rajappa is Consulting Editor of The Weekend Leader