Stop insulting the dhoti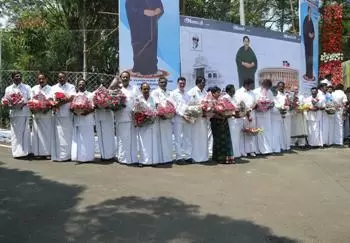 It is a shame that a sitting judge of the Madras High Court, a senior advocate from the same court and a lawyer from Madurai were denied entry into the Tamil Nadu Cricket Association (TNCA) Club in Chennai because they violated the club's dress code.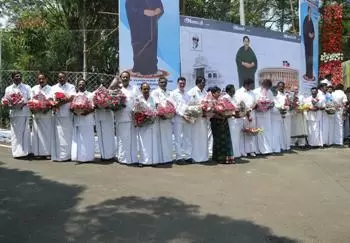 Veshti (or the dhoti), a traditional attire, is not entertained in Chennai clubs. In photo, AIADMK functionaries, like most of the other politicians in the State, seen in dhotis (Photo: Media Ramu)
And what is the club's dress code? That anyone wearing a dhoti will not be allowed inside the club. It is an archaic rule that clubs followed during the British days. It is unfortunate that many clubs in Chennai still follow this British tradition.
The joke is TNCA Club was started only in 2000, but it takes pride in following British rules.
In TNCA, members and their guests need to come in formal attire – pant and shirt. T Shirt is allowed, but Chinese collar – round neck - shirts are not allowed. It means that Prime Minister Narendra Modi cannot enter the club wearing his favorite kurta.
You could wear sandals, but no rubber chappals.
Once, a friend of mine, who is a member of another big club in the city, came to see me in the (TNCA) club in a dhoti. I could not take him to the restaurant and we had to sit in the reception area and finish our business.
On another occasion, a friend came wearing a round neck T Shirt. I had to take him to a nearby shop and present him with a shirt, which he could wear to enter the club.
Other members too have had similar experiences.
Suppose a friend or relative from your village is visiting you and he is in a dhoti. You can't entertain him in the club.
Most clubs in Chennai follow a similar dress code. To my knowledge only Cosmopolitan Club tolerates dhotis.
According to existing rules, neither former Chief Minister M Karunanidhi nor former Finance Minister P Chidambaram, both of whom are always seen in dhotis, can visit any of these clubs. Some years ago, a Congress leader, Americai Narayanan, too was stopped from entering TNCA Club because he was in a dhoti.
It is high time Chennai clubs scrap these silly rules and start treating our traditional attire on par with western clothing.
Legally, there is little that can be done to challenge their rules. Only societal pressure can change the status quo in these clubs.
The writer, a member of the TNCA Club, wishes to remain anonymous