'India's indigenous nuclear program on backburner'
Asked about his greatest achievement during the last nine-and-a-half years he was Prime Minister, Manmohan Singh said the Indo-US Nuclear Cooperation Agreement of 2008 which is supposed to have bestowed India with Nuclear Weapons Power status.

The reasons why the USA desperately wanted the nuclear deal were clear from the start. It wanted the American companies like GE and Westinghouse to pursue nuclear trade with India worth billions of dollars and prevent India's emergence as a real nuclear military power.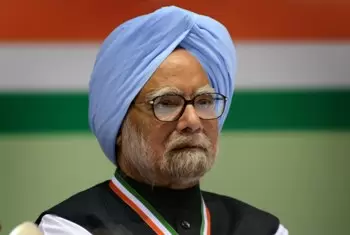 Manmohan is keen on signing a civil nuclear agreement with Japan (Photo: Indian Photo Agency)

Flattering a gullible Manmohan Singh by describing India as a responsible nuclear power, President George Bush led him into converting India's voluntary moratorium announced by his predecessor, Atal Behari Vajpayee, after the 1998 thermonuclear test, into a mandatory commitment to eschew further testing and to abide by the 1968 Non-Proliferation Treaty even though New Delhi is not a signatory to it.

The nuclear deal, called the 123 Agreement, is subject to US national laws and the Hyde Act of the USA clearly states that if India tests a nuclear device, all further nuclear trade will end and nuclear material already sold should be returned.

With no commitment to supply nuclear fuel, the USA has put a cap on India's strategic programme, subjected the country to the Non-Proliferation Treaty against its stated policy, and inspection of our nuclear installations through the International Atomic Energy Agency. India's indigenous nuclear programme, which was progressing well, has been put on the backburner.

Although the Indo-US nuclear deal allowed India access to civilian nuclear technology and fuel from the 48-member Nuclear Suppliers Group and India has reached agreements with the USA and France for the supply of nuclear reactors, no progress could be made so far because Japanese cooperation is essential to operationalise the deal.

Japan's social and political sensitivity towards nuclear energy, weapons and proliferation is a complex issue. The Japanese are the only people to have experienced attacks by nuclear weapons and are strongly opposed to proliferation on principle.

Japan has been an outspoken critic of India's nuclear weapons programme and refusal to sign the NPT or the 1996 Comprehensive Test Ban Treaty. India's non-participation in these regimes is on principle that the nuclear weapons possessing nations have granted themselves a monopoly and have not followed on their pledges to eliminate their nuclear arsenals.

Nuclear reactors made in the USA and France are heavily dependent on Japanese technology. Unless Japan enters into a civil nuclear agreement with India, the Indo-US agreement will remain dud. Discussions on a draft agreement between the two countries were suspended after the meltdown of the Fukushima nuclear reactor in March 2011.

Since Manmohan Singh is keen signing the agreement before he demits office, India resumed negotiations with Japan in May last year. With general election round the corner, the UPA government cannot dilute its traditional stand on the NPT and the CTBT and the government of Shinzo Abe cannot trample on the sentiments of the people of Japan.

While there is no dearth of goodwill between India and Japan and the economic cooperation between the two is at its best, meeting ground on nuclear cooperation eludes both. New Delhi went to the extent of dropping nuclear tipped Agni V from the Republic Day parade in which Abe was the chief guest to placate Japanese sensitivities.

He was inclined to sign a civil nuclear agreement with India but the ruling Liberal Democratic Party had reasons to oppose it. His mentor and Prime Minister from 2001-06, Junichiro Koizumi, who still wields considerable clout in the LDP circles, has come out of years of retirement to oppose Abe's pro-nuclear stance.

He wants all nuclear power plants in Japan, shut down since Fukushima, to be decommissioned. Japan's own First Lady, Akie Abe, contrary to her husband's support for nuclear energy exports, said in a television programme in Tokyo on 29 December last, "It remains anybody's guess if proper maintenance will be provided overseas. I wonder how Japan will cope in case of an emergency."

Although the Japanese have no comprehensive nuclear reactor technology of their own, American companies like GE and Westinghouse, after the Three-Mile Island nuclear mishap, shifted their licence-based production activities to Japan and collaborated with companies like Hitachi, Toshiba and Mitsubhushi. To get reactors from GE or Westinghouse, Indo-Japan civilian nuclear cooperation agreement, over and above the NSG approval, is essential.

GE and Westinghouse cannot exempt India from getting a clearance from Japan because of agreements they had signed with Japan on third-country sales. It has become fashionable for Manmohan Singh to solicit nuclear cooperation agreement with any country he visits. He has done it even with China.

None of these agreements have produced any result, except, perhaps, getting the UPA re-elected in 2009. Considering the mess Japan finds itself in after Fukushima, there is no chance of Abe agreeing to the terms of India's nuclear liability Act for any purchase of nuclear power reactors.

There was great expectation in New Delhi that Abe would sign the India-Japan civilian nuclear agreement during his brief Republic Day visit. The joint statement issued at the end of his visit says: "The two Prime Ministers reaffirmed the importance of civil nuclear cooperation between the two countries, while recognising that nuclear safety is a priority for both governments.

"They welcomed the substantial progress made since the last meeting in negotiations between India and Japan on an Agreement for Cooperation in the Peaceful Uses of Nuclear Energy and directed their officials to exert further efforts towards an early conclusion of the agreement.

"They also reaffirmed their commitment to the total elimination of nuclear weapons. Prime Minister Abe stressed the importance of bringing into force the Comprehensive Nuclear Test Ban Treaty at an early date. Prime Minister Singh reiterated India's commitment to its unilateral and voluntary moratorium on nuclear explosive testing.

"They also reaffirmed their commitment to working together to immediate commencement and an early conclusion of negotiations on a non-discriminatory multilateral and internationally and effectively verifiable Fissile Material Cut-off Treaty. They also supported the strengthening of international cooperation to address the challenges of nuclear proliferation and nuclear terrorism."

The statement skirted the issue of signing the much awaited agreement between the two countries by merely stating that "Abe understands the symbolic and practical importance of a nuclear deal with India."

An outcome of the Indo-US nuclear deal was China entering into a deal with Pakistan to build three mega nuclear power plants in Muzaffargarh district, Punjab Province, besides two nuclear power reactors in Karachi, in violation of the NPT. Pakistan justifies the Chinese largesse on exemption granted to India by the USA to buy civilian nuclear reactors under the 123 Agreement, but denied to it.

According to Hussain Haqqani, a former Pakistan ambassador to the USA, China is guarantor of Pakistan's security against India. The Stockholm International Peace Research Institute says that Pakistan has the world's fastest growing nuclear arsenal with about 120 bombs.

India's has been frozen at about 75 bombs. Manmohan Singh has succeeded in jeopardising the country's strategic nuclear security. The 1998 test was only a partial success. The absence of further testing will result in unproven, unreliable and unsafe fusion weapons, lacking in credibility.

AV Ramana, a nuclear physicist with Princeton University, says that nuclear energy does not make sense for India due to high cost and safety concerns. In his book "The Power of Promise: Examining Nuclear Energy in India," he argues that because of its centralised character and the huge costs involved, nuclear power cannot play a significant role in solving the energy needs of a vast country like India.

It will only bring with it two familiar, and so far insoluble, problems associated with nuclear energy: susceptibility to catastrophic accidents and having to deal with radioactive waste that stays hazardous to human health for millennia. Is that the legacy Manmohan Singh wants to leave behind for posterity?

Sam Rajappa is Consulting Editor of The Weekend Leader