7 mistakes of Rahul that you don't want to repeat
Rahul Gandhi has become the butt of many jokes on the social media after the interview he gave to television journalist Arnab Goswami of Times Now.

The Congress vice president cut a sorry figure as he exposed himself to all the leadership skills he lacked during the 80-minute exclusive interview he gave to the channel.

There are 7 mistakes that Rahul made during the interview, which an aspiring leader in any field should avoid.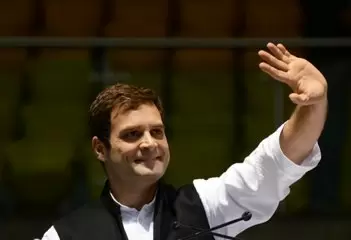 Rahul Gandhi's interview is a great opportunity for aspiring leaders to learn from – in not repeating the mistakes he did (Photos: Indian Photo Agency)
#1 Take A Stand

It is important for a leader to stand up for something.

There is a saying, "Those who stand for nothing fall for anything." At the end of his long interview to the channel, viewers had no clue what Rahul stood for.

At one stage, Rahul even pretended that his main political adversary Narendra Modi did not exist, and relied on rhetoric instead of giving simple straightforward answers to questions posed to him about the latter.
#2 Keep Doing What You Dread Most
Rahul Gandhi took 10 years to give his first one-on-one TV interview. When asked why it had taken him so long, he gave some excuse like he was busy with 'internal party work.'

But the way he was squirming in his seat, shifting his eyes uneasily, not looking Arnab in the eye, it was clear that Rahul was pretty nervous and not comfortable with the idea of answering to questions in front of a camera.

Rahul must have been afraid of facing the camera, but that fear should not have kept him from doing TV interviews for such a long period.

As Dale Carnegie said, "Do the thing you fear to do and keep on doing it.. that is the quickest and surest way ever yet discovered to conquer fear."

He should have started off with some lightweight anchors, built up confidence, and prepared himself to take on the likes of Arnab Goswami.

At least now he should not retreat into his shell. The only way to grow better is to keep doing what you dread most till you get it right.
#3 Go The Whole Hog
You might like or dislike Arnab's style of conducting his shows, but nobody could doubt his passion for the job.

Arnab told Rahul bluntly: "Once I decided to become a journalist, I can't be half a journalist. Once you have decided to get into politics and you are leading your party effectively, you can't be leading your party by half."

How true! Everything in this world comes with a price tag. If you aspire to be a leader, you better be ready to shoulder the responsibilities too. You can't have your cake and eat it too.

Rahul has consistently refused to join the cabinet, while shamelessly criticizing his own government from which he derives his power and clout.
#4 Grab The Challenge

If you are an aspiring leader, you cannot be seen to be timid and running away from challenges. If someone is throwing a challenge, you need to be quick to pick up the gauntlet.

When Arnab mentioned Modi in the first place, it was an opportunity for Rahul to take his adversary head on. Not by targeting him, but by clearly establishing how he was a better leader than his rival. But Rahul squandered the opportunity.

By his listless replies to questions on Modi, he was like a frightened student who would not mention the name of the college bully to the principal, scared of the consequences.

When asked for his view of BJP's Prime Ministerial candidate, his one line reply was, 'I think we will defeat the BJP in the next elections.'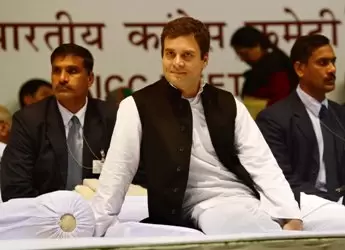 Rahul has to be careful about his body language
#5 Be Assertive

Rahul was letting Arnab dictate the pace and course of the interview. Did he know that it was he who did Times Now and Arnab Goswami a favor by appearing on his show? It looked like it was the other way round.

Rahul was possibly lulled into a complacent mode by the assurance that he was not going to be questioned on 'uncomfortable issues' such as the allegations against his brother-in-law Robert Vadra.

He let Arnab dominate the interview and subjected himself to be grilled on the Sikh riots, when he had every right to clam up and ask the interviewer to move on to other issues. A leader has to be assertive when it is required.
#6 Watch Your Body Language
The images doing the rounds on social media, of Rahul sitting on the edge of a chair and Arnab sitting cross-legged tell a whole story. Rahul had a wholly flawed understanding of the dynamics of the situation.

The meeker, and more defensive you appear in your postures, you are sending all the wrong signals to embolden your adversary – in this case, Arnab - to attack you even more forcefully.

Watch your body language, so that even if you are sacred of a situation, you don't announce it to the world.
#7 Have A Mind Of Your Own

While it is important to consult people to evolve your strategies, it is for a leader to decide what he wants to do and what he wants to ignore.

Whoever prevailed on Rahul to do the interview with Arnab set him up on a disastrous path.

Rahul must have known what he was capable of doing and what he wasn't. He could have simply avoided this interview, and saved himself from all the damage it has caused him and his party.
P C Vinoj Kumar is Editor of The Weekend Leader