Even Kashmiri separatist leaders wary of AAP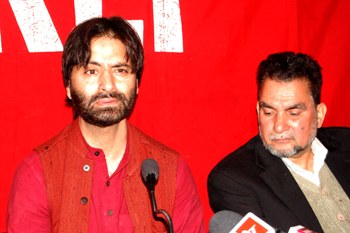 Not only India's national political parties but some separatist leaders in Jammu and Kashmir also fear the emergence of the Aam Aadmi Party (AAP) of anti-corruption crusader Arvind Kejriwal.
They are afraid of the likely impact this party will have in the state. This is evident from the statements issued by one of the separatist leaders, Mohammad Yasin Malik.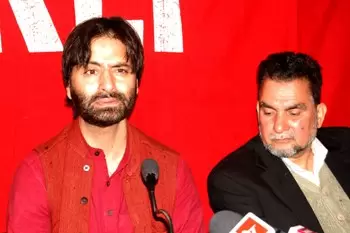 There is a perception that leaders like Yasin Malik (L) are feeling threatened by AAP (Photo: Indian Photo Agency)
Soon after the spectacular AAP showing in Delhi which shook the country, Jammu and Kashmir Liberation Front leader Yasin Malik was the first to dub the party "anti-Kashmiri".
He fired the salvo without substantiating it. When AAP leader Prashant Bhushan suggested a referendum in the Kashmir Valley about the presence of armed forces in populated areas, Yasin Malik dubbed him a BJP man although the Bharatiya Janata Party called Bhushan an agent of separatists!
Not just Yasin Malik; even Syed Ali Shah Geelani also hit out at Bhushan. It is very interesting to see why the separatist leaders in the Kashmir Valley fear the AAP.
These separatist leaders have always been banking on the alienated sections of society or the space created by the mainstream parties due to their corrupt practices. Now, with the emergence of the AAP and its national impact, a debate has begin in Jammu and Kashmir as well in a bid to introduce this new brand of politics in the state.
The separatist camp is feeling threatened by a people-friendly party. Feeling the pulse of the people, the separatists have begun campaigning against the AAP to create confusion among the people.
If an honest and good government is in power in Jammu and Kashmir and delivers as per the wishes of the people, who will give ear to the protest calls of separatist leaders?
This is why the separatist leaders got frustrated when some intellectuals and civil society groups began to discuss the AAP as an option in Jammu and Kashmir. One is unable to understand why these separatist leaders didn't welcome Bhushan's comments. It was an issue they have always been raising.
Even Chief Minister Omar Abdullah seems to fear the AAP's popularity and its appeal in Jammu and Kashmir.
(Shafiq Mir is a journalist and chairman of the All Jammu and Kashmir Panchayat Conference. The views expressed are personal.)