Pune businessman's wedding solemnized in ICU before dying father
Quaid Najmi
&nbsp | &nbsp Pune
21-December-2016
Vol 7&nbsp|&nbspIssue 51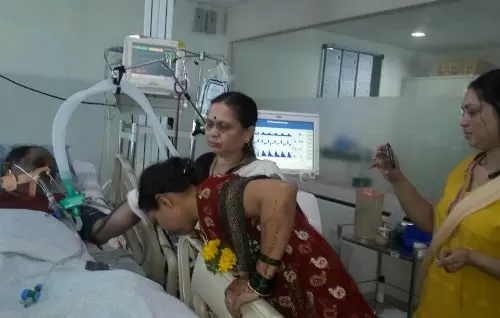 Bride Suvarna Kalange receiving the blessings of her dying father-in-law in a Pune hospital ICU where her marriage was solemnized (Photos: IANS)

A Pune man's wedding was solemnized in a Pune hospital ICU where his father was battling death on a ventilator.
An Intensive Care Unit is hardly the venue for such an event but the extraordinary circumstances led to the unusual decision, said the groom, Dnyanesh N. Dev, 34, a businessman.
"It was my father Nandkumar Dev's intense desire to witness my wedding with Suvarna Kalange on December 18 at Satara. But a few days earlier, he suffered a major heart attack and was hospitalised," Dev said.
With a history of heart disease, Nandkumar Dev, 67, underwent an angioplasty at the Deenanath Mangeshkar Superspeciality Hospital and recovered well until he suddenly developed a lung infection.
He was put on ventilator, taken off and again put on it as his condition kept fluctuating, Dev said.
Barely a couple of days before the scheduled wedding, the hospital did not sound very optimistic about Nandkumar's chances of recovery or survival.
"Both families - my mother Rajani and elder sister Mukta, my fiancee's parents and her sister - discussed the matter in detail and decided to fulfil my father's last desire," an emotional Dev said.
They sought the permission of the hospital for solemnizing a brief wedding before the dying patient in the ICU.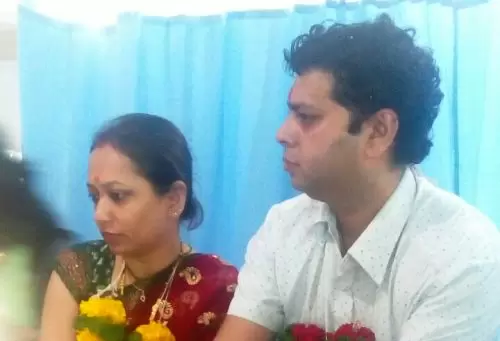 Suvarna Kalange and
Dnyanesh N. Dev
The hospital's Medical Director Dhananjay Kelkar and others like Sameer Jog and Rajesh Pawar, an eye surgeon also related to the bride, allowed a quickie wedding in the ICU on the afternoon of December 17.
They permitted only the immediate families from both sides to witness the event. Some doctors and nurses remained to supervise the patient.
The bride and the groom quickly exchanged garlands and vows quietly, without any fanfare.
The two, both MBAs, touched the feet of Nandkumar Dev who was watching the brief ceremony from behind the ventilator and then took blessings of all the other relatives present.
Later, the two families had a small 'wedding bash' - tea and biscuits in the hospital canteen downstairs after which the newly-weds departed.
Barely 12 hours later, Nandkumar Dev peacefully passed away, early on the morning of December 18 - the original scheduled wedding date.
"Since we are going through the mourning period of around six weeks, all further plans for a formal wedding shall be decided only later," said Dev.
He said both the Dev and Kalange families shall be eternally grateful to the hospital authorities for going out of the way and helping them fulfil the late Nandkumar Dev's last wishes. - IANS
Wish to share your story?
Trending Now: