They dared to challenge Goa's mining mafia
04-November-2011
Vol 2&nbsp|&nbspIssue 44
While the authorities are busy calculating the losses caused by Goa's mining mafia to the state exchequer, little attention has been paid to the few people who dared to challenge the state's mining mafia.

Residents of the tribal village Caurem, situated eight-odd kilometres from Quepem town, once had everything in abundance in the village. They rarely had to visit Quepem for any needs. But the situation has now changed since their paddy fields, coconut and jackfruit plantations are getting destroyed. The reason: heavy contamination of ground water due to five mines operating within a one km radius of the village.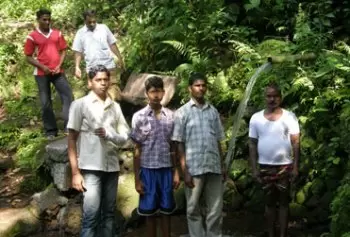 Nilesh Gaonkar (his hand is in plaster) and his friends have formed a front to fight for the rights of the 2,000 residents of Caurem (Photo: Down to Earth)
The mines are operated by powerful politicians and businessmen of the state. The mines which are being operated in blatant violation of environmental and mining laws have destroyed groundwater aquifers in the village to the extent that all the perennial water streams have become dry.
Assaulted with iron rod

Disturbed by the extent of damage to environment and threat to their very livelihood, Nilesh Gaonkar, a 24-year-old youth from Caurem, decided to take on the might of powerful mining mafia. He is supported by Tuslidas Velip, Samir Gaonkar and several other friends.

The youth in the village came together and formed the Caurem Adivasi Bachao Samiti (CABS) to save the livelihood of the 2,000-odd residents of the village.

Recipient of news channel CNNIBN's bravery award this year, Nilesh Gaonkar holds a diploma in mechanical engineering. He works for a private company in Verna Industrial Estate, 10 km away near Panjim. He was brutally assaulted by two unidentified motorcycle-borne youths in mid-May this year and threatened with dire consequences if he did not give up his fight against illegal mining.
"I was on my way to work when a person assaulted me with iron rod from behind. The first blow was on my shoulder and before I could react, came the second blow on my left hand. After hitting me twice, the youth fled the scene," says Nilesh, who is now more determined to fight illegal mining.

Though police detained two youths in connection with the assault, they were let off within a couple of days and the case remains unsolved till date. The police at Quepem declined to comment, saying the Centre is probing illegal mining in the area.

The youth of Caurem village today want only one thing. Complete closure of all the mines operating in the vicinity and ecological restoration of the area. "We do not want the ore at the cost of our lives. Mine operators are earning huge profits by destroying us and we are left to the mercy of God," says Tulsidas Velip. Mining has destroyed farming and blocked the water sources of the village, including a tributary of the Kushawati River that flows through the village.

The road connecting Quepem and Caurem, which is less than 10 metres wide, has become death trap with round the clock movement of trucks carrying ores from mines to jetties and loading spots.

"The uncontrolled movement of overloaded ore trucks has made it difficult for children and senior citizens to use the road. Especially, the school going children, who find it difficult to reach their school right across the road," says Nilesh.

Nilesh, Tulsidas and others mobilised the villagers and built a front against the mine operated by one Sheikh Mukhtar. After several representations to the mining ministry, state and central governments the villagers have only got assurances. "Chief Minister Digambar Kamat once visited Caurem to inspect the extent of damage due to the mines. After visiting the area, he assured that all the mines in the vicinity of the village would be closed immediately. But nothing concrete has happened," Nilesh says.

Published by special arrangement with Down to Earth


Trending Now: