Spurred by her success in US, eco entrepreneur Ritu Primlani returns to India

Anjua Agrawal
&nbsp | &nbsp New Delhi
03-June-2011
Vol 2&nbsp|&nbspIssue 22
'Saving you money. Saving our environment.' - this is the motto of Thimmakka, a California-based non-profit environmental organisation set up in 1998 by a woman of Indian origin, Ritu Primlani. At the age of 24, Ritu was inspired by Saalumurada Thimmakka – a woman from Karnataka, who had adopted banyan trees and gone on to receive the prime minister's award for social forestry.

She taught Primlani that you do not need to have great expertise or resources to be an environmentalist. It is with this realisation that Thimmakka's founder took less than a decade to blaze a trail of path-breaking environmental programmes in the US.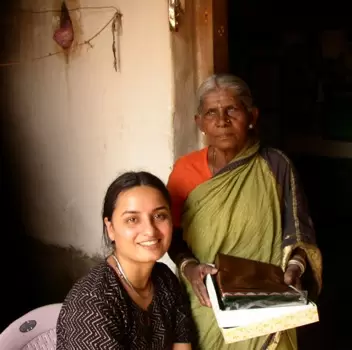 Profitable insight: Ritu Primlani learned from an ordinary woman, Thimmakka (seen in photo with Ritu), that one doesn't need to be an expert to be an environmentalist (Photo: WFS)
After spending 17 years in the US, Primlani decided to return home and try and use some of the insights she had gleaned over the years to address India's environmental problems. According to Primlani, the country – fast becoming an economic behemoth – faces critical environmental problems like water security, climate change and threat to biodiversity.

Fortunately, though, Indians consume one fiftieth of what an average American does. Also, while US cities don't have freely accessible systems of recycling, in India people come to one's doorstep and pay you to recycle your stuff. "This is far in advance of virtually any city in the US!" remarks Primlani.
But India's staggering population and negligible enforcement of environmental laws, where they exist at all, means that India could, potentially, become an environmental disaster much faster than the US. While US businesses consume more resources than Indian ones do, they also conserve more actively. In India, one might be hard pressed to find a device for water conservation, or one for composting.
So how can India become more receptive to green ideas? According to Primlani, this will only happen when environmentalism is dove-tailed with a primary concern, or motivational factor, for people. "Environmentalism needs, first and foremost, to be convenient and affordable. It needs to make business sense for it to work," she argues. "Men who bicycle to work don't do so because they are green. They do so because it is an economic necessity."
Thimmakka Certified Green Businesses (TCGB) was the flagship programme of Thimmakka in the US. With this programme, Primlani and her colleagues sought to bring high-impact, practicable environmentalism to hard-to-reach minority and ethnic business owners. By demonstrating that by cutting down energy, water, trash, and disposables use and forming collaborations to buy supplies in bulk, business owners stand to save a lot of money.

Says the eco entrepreneur: "People need to be educated to know the impact of their actions. Face it, cars don't come with labels that warn you of the cancers you could acquire from the fuel used in it. Cars come as prestige symbols, and lodge themselves as indispensable to progress and economic growth."

Although as a woman of colour working in the US, Primlani did face her share of challenges, she has through her work helped US businesses save $ 1.4 million so far – besides having successfully raised $ 1 million for her own organisation. And recognition has come her way in plenty. A recipient of the United States Environmental Protection Agency's Environmental Heroes award and the California Governor's Award in 2003, she was named by Organic Style magazine as among the top 50 most powerful environmental leaders in the United States.

In India, she wants to specifically work on issues of air pollution, energy conservation and security, and water conservation. She wants to develop an Indian standard for green businesses, and develop green roofs for the local climate. She believes one of the greatest failures of environmentalism has been in marketing solutions that are economically viable. When environmental products are financially viable, she argues, they are immediately adopted. The CFL bulb, is a good example.
This is why Primlani now plans to create a resource centre for consumers, both residential and commercial, and for cities, to get green products readily and cheaply. For instance, where does one get recycled paper? Where can you get a green bed? How can you reduce your water consumption by 50-90 per cent? She will feature case studies of people, businesses, and cities, where such strategies are actually being implemented.

"I will be looking at developing projects that will enable buildings to reduce their internal temperatures in the summer at almost no cost, thereby saving money spent on air conditioning. I will also look at developing projects that will reduce Delhi's average summer time temperatures, so that the general air conditioning load is reduced for all Delhi residents," she says.

An Ashoka Innovators for the Public Social Entrepreneurs Fellowship which had come her way in the period 2004-07, helped her develop some of these ideas. – Women's Feature Service

Wish to share your story?
Trending Now: