Vellore Srinivasan's solid waste management project reaches Bangalore

Marianne de Nazareth
&nbsp | &nbsp Bangalore
27-May-2011
Vol 2&nbsp|&nbspIssue 21
When governments are grappling with managing waste generated in cities, some residents of Bangalore have taken up a unique experiment that not only creates wealth out of waste but also provides job to women. The National Games Village, which has 2500 apartments in Koramangala, has a massive turnover of garbage.
Vellore Srinivasan, an expert in solid waste management and his Indian Green Service, along with Meera Rajesh, one of the residents, are now in the process of moving towards a sustainable solution in tackling the menace. Meera who is a resident of the Tunghabadhra Block, which has about 220 apartments, says Srinivasan has changed the face of garbage disposal in her block, thanks to the cooperation they have received from the residents.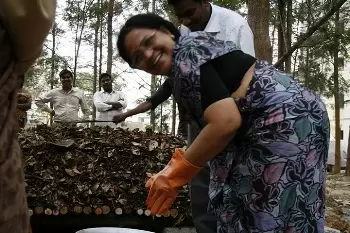 Go organic: A resident trying her hand at leaf composting
Srinivasan's motto is simple – turn garbage to gold. With Srinivasan's out- of- the- box, simple, at the source segregation techniques, the garbage turns into a useful resource which generates money.

At the Tunghabadhra Block the residents segregate their waste into two bins – one for the wet and the other for the dry before they dispose of it. Then the garbage is segregated still further by a secondary process where the wet waste is turned into compost and the dry is segregated into different categories based on the training given by Srinivasan.
"If the entire lot of recyclable waste is sold together, they fetch a very small price. But if the waste is segregated into different categories and then sold in the market, it gets a higher price. That's what we are doing with the help of about ten women, who are part of a self-help group, which was created for this purpose. Srinivasan has trained them on identifying and segregating the different types of waste," says Meera Rajesh, a software consultant, whose passion for environment made her take up the cause.
The Association for India Development, Seattle Chapter, is meeting part of the project cost. It will bear the salary expenses of the women workers for three months. The organization also helped set up the zero waste management centre, which includes a compost shed.

The idea behind Srinivasan's project is to clean up Bangalore with a snowball effect. If just 250 apartments can make 4500kg of garbage in one day the mind boggles when you consider the total quantity of garbage that the whole city of Bangalore would be generating. With Srinivasan's methods, the wet waste is composted, the dry is segregated and sold, and just 10 percent goes to the land fill which includes sanitary napkins and babies pampers.

The composting unit which turns wet waste into manure is a great help towards realizing this zero waste management dream of Srinivasan. In 60 days sweet smelling manure is produced which can be either sold to generate income for the women workers, or as Srinivasan says – used to grow vegetables in a terrace garden. The vegetables will be organic, free from pesticide and excellent for one's health.

Srinivasan says the project will become self-sustaining in next 3 months. "Each of the 220 families in the block contributed Rs 500 towards purchase of dustbins, trolleys, and information boards, while setting up the project. Each family would continue to contribute Rs 60 every month as charges for waste collection. Their contribution and the income we hope to generate through sale of recyclable waste and organic manure will make it a self-sustainable project in another 3 months."


Trending Now: