A quiet green revolution on the hills of Vellore

P C Vinoj Kumar
&nbsp | &nbsp Vellore
18-February-2011
Vol 2&nbsp|&nbspIssue 7
Even by his own high standard of ingenuity in the field of environmental conservation, the Vellore Hills Restoration Project remains by far the most ambitious one. Thirty-six-year old C Srinivasan, whose solid waste management techniques have drawn international attention, is presently working on his dream project to turn the rocky hills of Vellore, about 140 km from Chennai, into a forest in the next few decades.

Encouraging a team of women workers digging a pond on top of a hillock in Karungalikuppam, a village near Vellore town, he says an important aim of the project is to reduce Vellore's temperature by at least six degree Celsius. "We are working on about 45 hillocks in seven hill ranges. In the first phase, the impact of the project will be felt on the eight villages adjoining these hills, where we hope to see temperatures falling by about 6 degrees over the next ten years," says Srinivasan, who is also a member of the solid and liquid waste management committee of government of India's ministry of rural development.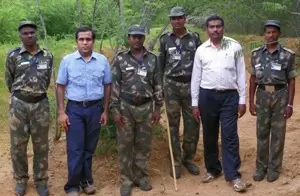 Green dream: Srinivasan (second from right) with IGS volunteers and an AID member on one of the Vellore hillocks
A workforce of about 48 people, including 14 women, all dressed in neat camouflage uniforms, is slogging not less than nine hours daily, 7 days a week, to realise his dream. Their main work involves digging of percolation ponds, and water stagnation ponds. While percolation ponds allow trapped rain water to seep into the ground and enable increase of ground water table in agriculture lands adjoining the hills, the stagnation ponds help in cooling the hills.

By mid February, the team completed digging of about 1020 ponds. The size of the ponds vary from 10 ft by 10 ft, to 10 ft by 40 ft, and their depth ranges from 2 ft to 5 ft. Funded by the US based AID (Association for India's Development) US, a network of Indians living in the US, work on the project began in February last year.

The results are beginning to show. Groundwater table in villages has increased and agriculture wells that had been dry for several years are now having water at 25 feet. Says M Sugumar, studying law at Government Law College, Vellore, and a resident of Karungalikuppam: "The well in our farm, from which we are drawing water for our agricultural needs, had been dry for over 5 years in spite of bountiful rains during the monsoon in previous years. Thanks to percolation ponds on the hills, many wells that were dry for years are now having water in them."

Forest department officials share the view. T V Manjunatha, District Forest Officer, Vellore Division, said the rise in ground water table in the area was indeed due to the recently created percolation ponds on the hills. The hills fall under the jurisdiction of the forest department and are classified as reserve forest in official records.

Bharath Rengarajan, an AID member from Pennsylvania, who visited Vellore recently to evaluate the project, commended Srinivasan's dedication and said they were happy with the way the project has been progressing. AID is funding the project for two years and will decide on extending the support further at the end of the second year.

Srinivasan embarked on the greenery project inspired by stories about the transformation of Rishi Valley Education Centre in Chittoor district, Andhra Pradesh, from a barren piece of land to a lush green pocket. In 1991, Rishi Valley was declared a bird preserve. The well-known philosopher late J Krishnamurti had identified the land to establish a residential school in the mid 1920s and developed it into a green hub.

Srinivasan decided to try something similar in Vellore. "Vellore is very hot in summer with temperatures soaring up to 45 degree Celsius. Every year, it's getting hotter and if it continues like this, soon the place may become uninhabitable," says Srinivasan, who developed an interest in environment right from his college days.

As a student of Vorhees College in Vellore, he caught the attention of environmentalists with his campaign against the indiscriminate felling of roadside trees by various government agencies. Later, he worked with Exnora International, an environmental organisation, and implemented innovative models of solid waste management at Christian Medical College, Vellore Institute of Technology and the Vellore town bus stand, among other places. The projects provided employment to hundreds of people, while generating income for the institutions that patronised the projects through the sale of recyclable waste and compost.

In 2009, Srinivasan left Exnora and started an organisation called Indian Green Service (IGS). The IGS volunteers working in the Vellore hills restoration project are drawn from villages around the project area and are paid an honorarium of Rs.100 for a day's work. The locals are happy that the project has not only given them jobs, but has also brought back water to their wells, which has revived agriculture in the area.


Trending Now: