The campaign 'ducking the solution' drives home the point at Paris, effectively
14-December-2015
Vol 6&nbsp|&nbspIssue 50
When you cross the strict security and enter the venue of Paris Climate Summit, you arrive at a broad passage that leads to the array of halls and meeting rooms. The passage is baptized by the French hosts as 'Champs-Elysees', the world famous avenue in the center of Paris.
One of the NGOs, CARE International, was on that passage giving away small papier mache ducks to the delegates from more than 150 countries that have gathered here for the UN Climate summit to seal a legally-binding global deal that would make the world decarbonized by the end of this century. This is needed to keep the global temperature rising below a potentially disastrous two degrees Celsius compared to pre-industrial era.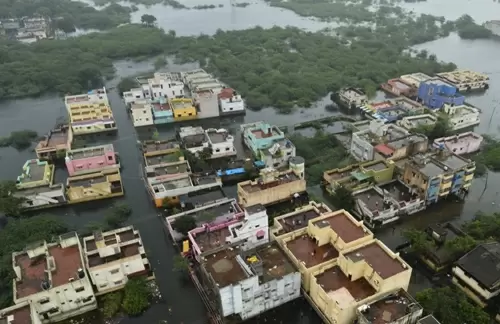 Chennai was hit by unprecedented floods during November and December. Experts attribute the heavy rains to global warming (Photo: IANS)

A strikingly-effective campaign, CARE called it "ducking the solution". It awakens us to the new world of reality and new norms of adapting to climate change.
CARE has been supporting Bangladeshi families to start businesses in rearing ducks in place of poultry simply because the ducks, unlike hens, flourish in rising floodwaters around their houses to adapt to climate change. The families, thus, are making more money with duck-raring than poultry - an opportunity to improve their lives by adapting to climate change!
As the climate summit enters the second week of negotiations, it is unfortunately becoming clearer that world community will have to focus more on 'ducking the solutions'. Keeping on the annual performance of wordy diplomacy and harping with two decade old tunes of legally binding targets, conditions of technology transfer, finances and pointing fingers is not helping to stop the onslaught of climate change.
The Obamian and Modian political speeches and even sincere discourses of Pope Francis and the Dalai Lama are proving to be just momentary inspiration. Finally, at a UN meeting, what happens is the insane repetition of the history.
Though on time-scale the Paris negotiations are midway, substance-wise, they are farther behind. There is no sign of convergence in the approaches of rich and poor countries.
The 55-page negotiating document with which meeting started on November 30, has now been reduced, after one week of negotiations, to 43-pages after which it was handed over to the French presidency for final negotiations. The document is now titled 'draft Paris outcome' with all important issues yet to be negotiated.
They include financial commitment by the developed countries, technology transfer, capacity building, pre-2020 targets by developed countries, compensation on loss and damage, and legally binding targets post-2015. All of these are still 'bracketed' meaning left to the negotiations at the high-level, ministerial segment that began on Monday.
French Foreign Minister Laurent Fabius, on December 5, set the framework for the final week of negotiations. It included first two days of informal and formal consultations which will be led by the facilitators that include the ministers, to make progress and facilitate compromises. These consultations will be followed by high-level ministerial negotiations.
The consultations, which started on Sunday, are seen by many as simply the exercise in buying time. Most of the questions posed by the facilitators have either been responded to in earlier negotiations or clearly spelled out by the Intergovernmental Panel on Climate Change (IPCC).
While the negotiations continue without any deal in sight, the impacts related to climate change are continuing all over the world with increased frequency and intensity. Many times they appear to be giving a warning at the highest level.
When Prime Minister Narendra Modi was speaking about climate justice at the opening of the summit, Chennai was reeling under rains and floods never seen in the last 100 years. It claimed nearly 250 lives as against 130 lives claimed by the terrorists in Paris, the act that is being condemned by all leaders attending the climate summit.
When US President Barack Obama was talking about urgency of climate actions, California, food bowl of the US, is entering into its fifth year of severe drought, never experienced for such a long period in the last many years. When President Xi Jinping was speaking about China's plans to reduce the use of fossil fuels, Beijing was cast with a visible curtain of dangerous and 'red-line' air pollution that made most of its sky invisible.
The United Nations office for Disaster Risk Reduction (UNISDR) stated last month that that 90 percent of major disasters in the last two decades have been caused by nearly 6,500 recorded floods, storms, heat waves, droughts and other weather-related events. India, with 288 such disasters, is among the top five countries in the world that have been affected most, more than countries like the Philippines and Indonesia.
Since the first Climate Change Conference (COP-1) in 1995, nearly 600,000 lives have been lost and 4.1 billion people have been affected, left homeless or in need of emergency assistance as a result of weather-related disasters. The resulting economic losses are close to $2 trillion. Swiss Re, a main insurance company, says only a small part of this has been insured in the developing countries.
Living with disasters and adapting to sufferings has become the new norm side-by-side with old norms of negotiating the same issues at annual UN climate meetings.
'Ducking the solutions' is certainly another new norm. What more, such new norms are now helping the poor to weather future storms through sustainable living. As for future generations, they too have learned to 'duck' the solutions. A new generation in Bangladesh, with new norms of entrepreneurship, has arrived, thanks to the archaic way of global climate negotiations.
(Rajendra Shende is chairman TERRE Policy Centre and former Director, UNEP. The article was written when the Paris Climate Summit was in session) - IANS

Trending Now: