Eradicating baavlia plants through 'rewilding' was part of the restoration project
Shilpa Raina
&nbsp | &nbsp Jodhpur
26-July-2014
Vol 5&nbsp|&nbspIssue 30
Seventy hectares of land on the foothills of the majestic Mehrangarh fort here was once a rocky wasteland, colonised by an invasive plant from Mexico known as mesquite or baavlia - the 'mad one' in local parlance - as it cannot be uprooted. But the painstaking efforts of a man and his team have transformed the land into a paradise for migratory birds, and made it home for over 300 species of trees, shrubs, climbers and herbs.
In 2006, Jodhpur's current maharaja Gaj Singh II of Mewar entrusted filmmaker and environmentalist Pradip Krishen with the mammoth task of converting this baavlia-dominated wasteland into a green zone.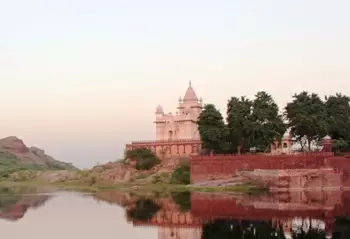 70 hectares of rocky wasteland has been turned into a green patch (Photo: IANS)
It was Gaj Singh's great grandfather Maharaja Umaid Singh's wish to convert this arid landscape into a green zone. To attain this, Umaid Singh had taken a plane and dropped baavlia seeds all over the region, unaware of its 'dominating' streak.
Hence, the 'easy-looking' job to eradicate baavlia and restore the ecological balance of the garden by growing 'native' lithophyte - plants able to eke out a living in a rocky habitat - was not an easy task for Krishen and his team.
"When we came here, the area was thickly populated with baavlia, which is notorious for its invasive nature. It isn't easy to get rid of it because it penetrates its roots deeper and spreads all around, and doesn't allow any other plant within its vicinity to grow," said Krishen.
After many hits and trials, Krishen cracked the code for this restoration project and called it "rewilding".
"The wild plant is like a weed that is of no use, but disrupts ecology. So to restore this system and make it bird-and-animal friendly, we have followed a systematic approach and it can be best described as rewilding," he said.
The first challenge for the team was to uproot the plant that had made the arid land and fissures in the volcanic rhyolite - a 750-million-year-old rock - its home.
"Even when we cut the first 18 inches of the plant, it would sprout again. Nothing seemed to be working," he recollected.
After all technological advances failed to uproot the plant, they opted for an unconventional 'traditional' route by having on board 'khandwaliyas', people from mining communities of Marwar whose expertise lies in cutting sandstone.
"Rhyolites are not soft like sandstone, but we had no other option. So we gave this a shot," he said.
"I still remember, when Dhan Singh (head of the khandwaliyas) first struck the rock a couple of times, and then averted his eyes. I thought something went inside his eye, till he later told me he was 'listening' to the sound the rock made," Krishen said with the same fascination he must have felt when he witnessed the episode.
"It was incredible. I call it an experience of native wisdom," he added.
What followed next was an arduous task of literally going tree by tree, slowly and patiently.
"It was one man to one bush ratio," he said, "... a painstaking dig deep down into the ground as long as one could and plant plants lineally".
After everything fell into place, the park was opened for visitors.
If visited between late July and October, naturalists will be able to spot ephemerals like rohido (maarwar teak), hingoto (desert date), kair(bare caper), kheer kheem (rambling milkweed) and spot migratory birds like Grey Heron, Marsh Harrier, Long Leg Buzzard amongst many others.
"Come here now and don't forget to come back in 10 years. There are quite a few big trees we would like to show you," he concluded. - IANS


Trending Now: