An IIT that plans to channelize the skills of local artisans for new paradigms
Shweta Sharma
&nbsp | &nbsp New Delhi
07-July-2014
Vol 5&nbsp|&nbspIssue 27
A year has passed since Uttarakhand was ravaged by floods, but the Himalayan state still lies in shambles. Hoping to avoid future disasters, IIT Roorkee is studying the "dynamic behaviour" of the rivers, which have changed their course, to adopt suitable measures, says its director Pradipta Banerji.
The institute is also planning to channelise the skills of local artisans to develop new design paradigms.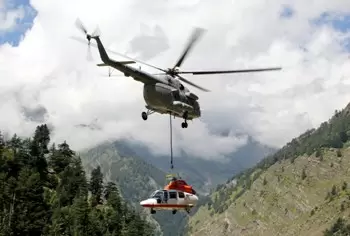 Flooded rivers are causing havoc in Uttarakhand. (In Photo, IAF helicopters engaged in relief work during last year's floods - Photo Courtesy: Indian Photo Agency)
Highlighting that some of Uttarakhand's rivers like Alaknanda, Mandakini, Asiganga and Bhagirathi have undergone "major morphological changes" in the last few years due to cloud bursts and consequent flooding, Banerji stressed on the need for studying their unpredictable behaviour.
"Rivers have shifted from their due course due to bank erosion, while at other locations, severe aggradation and degradation in the river beds have occurred. IIT Roorkee has identified that there is a need for studying the dynamic behaviour of the river so that suitable measures could be adopted for protections of river banks and structures," Banerji, a recipient of the National Science Talent Scholarship in India, said in an e-mail interview.
He added that researchers at the institute's department of civil engineering are addressing issues like assessment of floods in Uttarakhand's major rivers in view of cloud bursts; carrying out detailed studies for the reaches of rivers in proximity of habitations using satellite images; and also identifying critical and vulnerable sites along the rivers in respect of bank erosion, shifting of rivers, inundation, aggradation and degradation.
"A pilot study has already been carried out for protection of Tiloth bridge at Uttarkashi, and based on the results of the study it has been recommended to provide an additional bay of length 35m to ensure safety of the bridge against the morphological changes," Banerji disclosed.
Banerji, who joined IIT Roorkee as director in October 2011, added that this would ensure that the bridge remains protected from the ravages of the river, ensuring safety of local people and easy access to facilities in that area.
He stated that the institute's focus is to develop a "holistic design-based approach and to provide solutions to problems in Uttarakhand".
"The solutions to these problems include improvements in water, ecosystem, local produce, crafts and the quality of life of people in the state," said Banerji.
He added that the institute, which has domain expertise in the areas of science, engineering and technology, aims at "integrating the outcomes of research in these areas for the benefit of the state and its people".
But how does the institute intend to explore and optimally use the skills of local artisans to develop new design models?
"The basic objective of IITR's design school is to preserve the local heritage of the Himalayan state and in turn generate means of livelihood for local artisans and craftsmen. Traditional knowledge will be documented and also integrated with contemporary design innovations to produce and develop marketable prototypes," he said.
He explained that this includes creation of a directory of artisans, convergence of local craftsmen, preservation of Himalayan ecology and produce, inventory of local materials and ensure a wider dissemination of the generated knowledge base.
"Several projects are already in process that incorporate modern design methods with traditional crafts," said Banerji.
A BTech graduate from IIT Delhi himself, he welcomes the Narendra Modi government's focus on skill development as he feels that skills and knowledge are the "driving forces of economic growth and social development" for any country.
He said IIT Roorkee faculty was part of many of the Skills Mentor Councils set up by the labour and employment ministry to improve vocational training in India in various sectors of the economy.
"In addition, a construction technology innovation centre is being set up in IIT Roorkee by the ministry, to work with vocational training institute students and graduates to create innovative technology and processes for application in the construction industry," he said.
"The overall mission of IIT Roorkee is to manage the conflict between the aspirations of the people of Uttarakhand and the needs of the tourism industry on one side and the water resources and the fragile Himalayan ecology on the other side, by developing sustainable solutions that address all the axes mentioned above," he added. - IANS


Trending Now: