Women of Sunderbans in the forefront of eco-conservation

Ajitha Menon
&nbsp | &nbsp South 24 Parganas
16-November-2013
Vol 4&nbsp|&nbspIssue 46
The long green stretch of embankment along the river Gobadia under Ramganga gram panchayat in South 24 Parganas district is a sight for sore eyes.
Coconut and neem trees sway to the sea breeze wafting across the river in the estuarine Sunderbans in tandem with the sundari, bakphul and minjiri trees sighing in unison with the tall areca nut plants.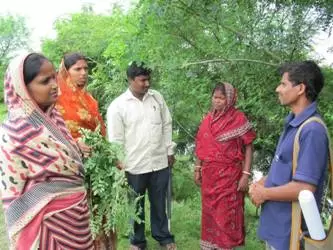 The CPR project initiated by an NGO has proved to be a great benefit for women (Subhrajit Dutta MallickWFS)
Under their cool shade sit a group of women belonging to the Nivedita Self Help Group (SHG), who manage this green stretch as a common property resource (CPR), a climate change mitigation measure perceived as being essential in disaster prone areas.
"We had to literally wage a war for this privilege," says Aparna Das, 29, adding, "after the irrigation department made the embankment, our SHG was motivated by the Development Research Communication and Services Centre (DRCSC) volunteers to take over this unused area for plantation as a CPR but there was lot of opposition from local residents who thought they would lose the frontage of their river-facing land or homes."
The CPR project initiated by the DRCSC, a non-government development organisation working in 12 districts of West Bengal to strengthen livelihood security of the rural poor through sustainable management of natural resources, involves training local communities in disaster prone areas to map land and water resources around their villages and identify unused/underused land and water bodies and obtain consent from local authorities or private owners for utilisation rights over them through lease or rental arrangements.
"The aim is to regenerate those lands through large scale soil, water conservation, mixed cropping, agro-forestry systems like food forests for supply of food during and after natural disasters and thereby take effective steps towards reducing soil erosion, conservation of local biodiversity, carbon sequestration," says Somjita Mukherjee, Secretary, DRCSC.
For the 12-odd women of Nivedita SHG, it was an uphill task to convince the panchayat and the villagers to agree to a rental arrangement for the 2,000 feet stretch of land along the embankment.
"There were even minor incidents of violence against us when we were canvassing for the land four years ago," recalls Geeta Das, 23, adding, "but we prevailed.
"The Area Resource Training Centre (ARTC) supplied us with seeds and saplings. We did the planting and sowing, took care of the growing trees and now we protect them ourselves. This common property resource has emerged as a lifesaver for us."
Four thousand trees of 31 different varieties, including sundari – from which the Sunderbans derives its name – coconut, neem, gewa, goran, keora, baen, bakphul, minjiri, areca, and so on, have been planted by the women.
"Earlier, we collected fuel wood from the forest with the risk of being attacked by a tiger but now we get about eight quintal and forty kilograms of firewood from these trees – collected twice a year and shared equally," points out Jharna Das, 36, another group member.
The women also get fodder for their cattle from this common property and food for their families from plants like bakphul or coconut. They rustle homemade remedies for cold, itches, scratches and small wounds, using produce from trees like neem, which have medicinal properties. "And of course, these trees on the embankment are a natural way to prevent soil erosion and reduce carbon emission," adds Bulu Mondal, 27.
Four-five SHGs are running CPR projects on riverside land under three gram panchayats in Pathapratima and Hingalgunj blocks and one gram panchayat in Basanti block in Sunderbans for the last five years.
"The villagers who laughed at our efforts now come to enjoy the greenery, admit that we are doing a great job to prevent soil erosion and strengthen the embankment. They also acknowledge that we made a sound financial deal besides ensuring seasonal fuel wood, fruits and fodder for cattle," remarks Madhuri Pradhan, 42, of Sarada SHG from Brojaballavpur village.
"Under the CPR project, we also enter into an agreement with the panchayats for selling the timber from these trees for making furniture and boats. We get a 75 per cent share while the panchayat gets 25 per cent," informs Shyamali Sathpathy, 32, of Sarada SHG.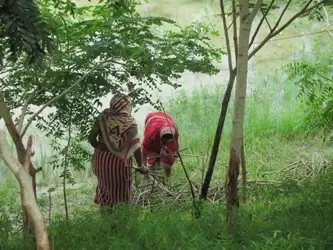 Women of Nivedita Self Help Group carry fuel wood collected from their plantation area on the river embankment
The lease agreement is usually done for 20-25 years, with cutting of trees on maturity and replantation or growth from the stumps happening in cycles.
Just a normal lease agreement is signed between the gram panchayats and the groups and it does not come under the purview of land, pond or forest act, according to Chandrani Das, a DRCSC worker, who adds that these agreements come by after long negotiations between the SHGs, local government authorities and villagers.
For the last 15 years, the DRCSC has been running CPR projects involving 40 SHGs in Birbhum district, where low rainfall and depletion of ground water levels is a cause for concern. There have been several examples of SHGs donating Rs 60,000 – Rs 120,000 for community development programmes from their share of the timber sales, says Chandrani.
The aftermath of Cyclone Aila in 2009 saw a massive fuel wood, food and fodder crisis. Learning a lesson from that calamity, 28 women belonging to the MaaTara and Fatima SHGs in Gobindpur village in the Sunderbans started a CPR project on the banks of Kerjan creek river and planted several varieties of saline resistant, agro-eco specific trees, shrubs and grass, including bani, vara, tara and garan.
Today, these ST and minority community women are reaping the benefits in the form of easy access to fodder, fuel wood and food and look forward to the time when they will be able to sell the first lot of the timber for profit.
The food forest, mangrove plantation or pond sharing common property resource projects are having manifold effect on climate change adaptation with women and children having to spend less time hunting for fodder, firewood or water.
Many women's groups are now growing tree saplings and selling seeds and saplings. The growing trees provide shelter to many types of birds, small animals and pollinating insects, creating small biodiversity areas.
From an environmental point of view the activity has controlled soil erosion considerably and the woodlots act as barrier against storms or floods, reducing damage to crops. - Women's Feature Service

Trending Now: