Turning scrap into chic products is both a passion and business for Jaipur sisters

19-July-2013
Vol 4&nbsp|&nbspIssue 29
When Jaipur siblings, Radhika Khaitan and Madhvi Khaitan, wanted to start an eco-friendly venture, their parents insisted they first obtain business degrees before they attempted anything.

Both went to UK and studied there. Radhika (27) obtained a degree in Finance & Management from University of Nottingham, and Madhvi (26) got a degree in Accounting & Finance from University of Warwick, UK.
Radhika and Madhvi run a business that serves a social purpose
Later they studied Visual Communications at the Fashion Institute of Design & Merchandising (FIDM) in Los Angeles to establish their creative base.

Having laid a good academic foundation, they were ready to give shape to their dream and the result was, 'WorkshopQ,' a venture that would create stunning products from scrap and waste.
The sisters say they were creative since childhood, but FIDM helped them hone their skills. "During our Visual Communications course in Los Angeles we were asked to focus a lot on reusing and recycling stuff to create some stunning new designs," says Madhvi.

Their motto at WorkshopQ is to reuse, design, and create, because scrap needs a quirky makeover.

"Ours is both a social and commercial enterprise. Social, as it deals with up-cycling and commercial, as the venture is profit oriented too," says Radhika.

At their workshop in Jaipur craftsmen make chic products from discarded acrylic, aluminium, wood, tyre tubes, vinyl records, compact discs, jute, cork, wood fibre, industrial felt, cables, wires and similar stuff.

When the sisters design their beautiful products, they are conscious about the fact that their effort is directed at conservation of power, natural resources and saving the landfills.

Their products, available at outlets around the country, sell as low as Rs.50 and go up to Rs. 7000.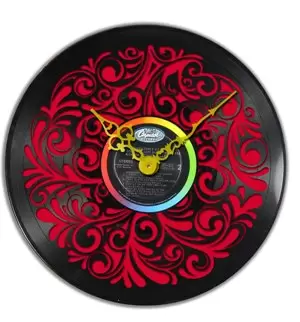 A vinyl record clock
The vinyl record clocks and the twister lamps – made from plastic bags, waste iron pipe and CFL lamp –are the most popular products.

Madhvi explains the difference between upcycling and recycling. Upcycling is to add value to a product which is of no value at all. Recycling is a much broader term that encompasses both upcycling and downcycling.

Downcycling is recycling an existing product to make the same product out of it, which is of lower value and quality.

Madhvi and Radhika wanted to change the scenario where eco-friendly products meant earthy and rustic looking drab and uninspiring things.

Indeed, their products look beautiful. It is difficult to make out that their products are made out of scrap, waste or discarded junk.

The rope lamps, vinyl record clock, wine cork coaster or brush hooks; all look cool and trendy and as good as some branded stuff one would get in the high-end stores.

However, it was not easy for the sisters to convince people initially. The common notion was that the products were made of garbage (and so worthless).

People also felt why they should pay a higher price for products made from waste when they should be extremely cheap.

"It was difficult to explain to people that the process is not just about putting your hand in the dustbin, pulling out some waste you could find, and painting it to look attractive," said the sisters.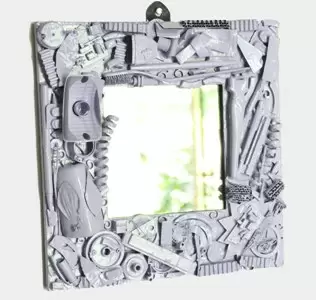 A 'junkyard mirror'
Though the raw-materials cost less, they incur expenses in the labour involved in handcrafting and the designing of products.

But as more and more people realize the value of going green, the response in the market is changing for the better.

The duo source their raw materials from the 'Kabadi walas' (traders dealing in scraps). For handcrafting the products they have a team of 11 craftsmen working with them.

They launched their venture in 2010 and started to break even by 2011. They have now achieved an annual turnover of Rs.15 lakhs.

Having started exporting their products the sisters would like to expand their venture further by opening their own chain of stores across the country.


Trending Now: