Maharashtra pitches for UN funds to protect its wetlands

Quaid Najmi
&nbsp | &nbsp Mumbai
07-September-2012
Vol 3&nbsp|&nbspIssue 36
Maharashtra will identify and categorise its more than 200 large or small wetlands and make a bid for UN recognition in order to get more funds for their conservation.

The state is blessed with abundant wetlands in coastal areas, near lakes, rivers or mountains, which are permanently saturated with surface or ground water and play an important role in the state's ecosystem.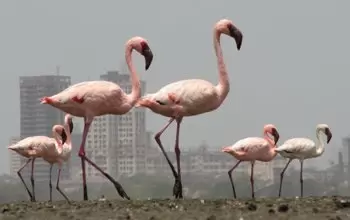 Flamingos in Seri-Bhandup suburbs (Photo: IANS)
The wetlands also support a variety of plant, marine and avian life and are credited with several benefits to the local environment - cooling the atmosphere, water purification, flood control, and giving stability to the shoreline.

Besides, these crucial natural resources offer rich food for the hundreds of species of birds, both local and migratory, from within India and even other countries, as well as aquatic and amphibian creatures that live there.

For starters, the state has zeroed in on six major wetlands: Sewri in Mumbai, Ujni in Pune, Namdur-Madhyameshwar in Nashik, Jayakwadi in Aurangabad, Lonar in Buldhana and Navegaon in Gondia.

"The Ramsar Convention, 1971, has listed nine specific criteria and all these six wetlands conform to most of those requirements. We have already initiated the process to identify them, and then we will send the recommendation to the central government," said state Principal Chief Conservator of Forests S.H.W. Naqvi.

Naqvi is confident that in the backdrop of the recent UN World Heritage status accorded to the Western Ghats, the case for Maharashtra's six important wetlands becomes stronger and its bid for a similar international recognition more valid.
After the central government submits the proposal for approval under the Ramsar Convention and the coveted status is granted, funds would be released for systematic conservation of these wetlands for the present and future generations, Naqvi said.

The selection of Mumbai - the country's commercial hub and most populated urban centre with 17 million human beings - is particularly noteworthy, according to experts.

The salt-pans, marshes and wetlands on the 18 sq km Sewri-Bhandup belt on the northeastern part of Mumbai is a major hub for migratory pink flamingos from Gujarat each winter, said environmentalist D. Stalin, Project Director of NGO Vanashakti.

"Starting next month, Mumbai will witness over 25,000 magnificent flamingos coming to live and feed in the Bhandup-Sewri wetlands. Earlier, when the Uran region on the mainland across Mumbai was not degraded, it used to attract over 100,000 flamingos," said Stalin.

However, since 1994, these large birds, mainly the lesser flamingo and greater flamingo varieties, adopted a new home - the 18 square km wetlands of Sewri-Bhandup in northeastern Mumbai, he said.

In December 2011, Vanashakti had demanded that the state government declare this stretch as an exclusive 'Flamingo Sanctuary' for which preliminary work is currently under way.

The Ramsar Convention, 1971, held in Iran, on Wetlands of International Importance, is the only global intergovernmental environmental treaty which provides the framework for national action and international cooperation for conserving and proper utilisation of wetlands and their resources for sustainable development around the world.

The Convention has used a broad definition of the types of wetlands covered, including natural ones like lakes, rivers, swamps, marshes, wet grasslands, peatlands, oases, estuaries, deltas, tidal flats, coastal marine areas, mangroves and coral reefs, and manmade sites like fish ponds, reservoirs and salt-pans.

In India, a major project to identify all wetlands in the country was launched last decade by the Ministry of Environment and Forests in collaboration with the Maharashtra Remote Sensing Applications Centre, Nagpur, and the Indian Space Research Organisation's (ISRO) Space Applications Centre, Ahmedabad.

It culminated in a massive National Wetlands Atlas as part of the National Wetland Inventory and Assessment, offering details of all the important, big and small and varied wetlands across the country. - IANS

Trending Now: