An innovative farm-to-home journey that leaves behind a happy trail

Latha Jishnu and Jyotika Sood
20-July-2012
Vol 3&nbsp|&nbspIssue 29
When 29-year-old Sunil Gupta gave up his job as operations manager with a European GIS systems manufacturer in 2001 to try his hand at organic farming, it seemed a romantic idea.

He would grow safe, wholesome crops without chemical pesticides and fertilisers on his 14-ha farm in Sirsa, Haryana.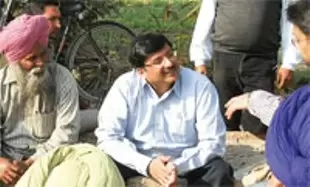 Sunil Gupta is a successful organic farmer (Photo: Down to Earth)
However, it turned out to be a nightmare. "The first year I failed miserably. I sought help from the Haryana Agriculture Department. But they had no clue what I was trying to do."

Gupta travelled across Punjab, Haryana and Rajasthan to know how agriculture was practised before the Green Revolution, which advocated generous lashings of synthetic fertilisers and chemical pesticides.

Gupta began farming using manure and compost and biodynamics—sowing and planting as per astronomical calendar. The yield dropped, but the soil started regenerating and the food was safer to eat.

Gupta then got neighbouring farmers to turn organic cultivators. For the manure, he hit upon an innovative idea.

Gaushalas, run by local communities as a religious duty, had no money to feed the cows and found disposal of dung a problem. He persuaded the farmers to accept feed for the cows in return for the dung.

Now, there is enough manure for the 1,214 ha belonging to the 1,500 small farmers who are members of Dharani Suphalam, a primary producers' society.

Dharani Suphalam produces about two tonnes of fruits and vegetables daily. How does this reach consumers?

Gupta, as president of the society, ties up with top organic stores in Gurgaon, Jalandhar and Ludhiana.

Dharani Suphalam has a marketable surplus of 1,000 tonnes of wheat, 500 tonnes of rice and 100 tonnes of mustard oil. Talks are under way with exporters but are yet to translate into contracts.

But prospects are improving with players like Ashmeet Kapoor who left an electrical engineering job in the US. Kapoor, 26, is the last vital link in getting fresh veggies into homes.

He has set up I Say Organic, a home delivery service that works in south Delhi and Gurgaon. Its one cold store and four vans handle about two tonnes of produce daily from Dharani and producers in Himachal Pradesh.

The vans ferry veggies on orders placed on the company's website or by phone. Prices are high but then, Kapoor says, he is giving farmers 25 per cent premium over mandi prices.

By arrangement with Down to Earth
Wish to share your story?
Trending Now: