Gyanesh Pandey lights up Bihari villages using rice husk

Kavita Kanan Chandra
&nbsp | &nbsp Mumbai
03-June-2011
Vol 2&nbsp|&nbspIssue 22
Growing up in a remote village in West Champaran district of Bihar where dusk meant groping in darkness, Gyanesh Pandey wanted to bring light to the lives of the people. "The people of the village didn't have any choice and there was no rural development," says the 34-year-old US-returned Gyanesh.

Though his education took him to places far away from the dim rural hinterland, this Electrical Engineer from IT BHU (Institute of Technology Banaras Hindu University) returned after doing his higher studies at the prestigious Rensselaer Polytechnic Institute in New York, and working in Los Angeles in the Semi Conductor Industry.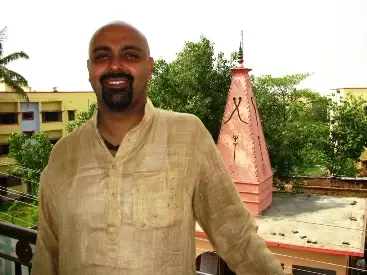 Power hungry: Gyanesh Pandey wants to set up 2014 rice husk power plants in the next three years
It was on a visit to his village, he, with his friend Ratnesh Yadav, felt the need to electrify the village, where the power lines of the state run Electricity Board do not reach. "We ruled out solar and wind energy as it would prove very costly," says Gyanesh, who was doing research in organic solar cells in the US.
However, they soon hit upon the idea to establish small scale power systems by burning renewable farm waste. The villages had plenty of rice husk - a waste product of rice milling - that could be used as fuel in the micro power plants.

The clean technology of biomass gasification was used to generate gas to run generators that supplied electricity. In 2007 the first power plant was set up in a village called Tamkuha in Bihar through a NGO they set up for the purpose, Samta Samriddhi Foundation.

A year later they established a separate company to run their power plants, Husk Power Systems (HPS). The company presently has 80 power plants, each generating 35-100 Kilowatts of electricity, lighting 350 villages in the districts of West Champaran, East Champaran, Lakhisarai and Muzaffarpur in Bihar.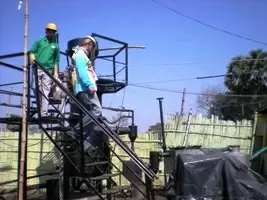 Powerhouse: Gyanesh Pandey's company has 80 power plants supplying electricity to about 350 villages in Bihar
"We have been training the local youths for running and managing the plants thus providing rural employment," says Gyanesh, adding that Bihar has to improve its antiquated police and administrative set up that is least sympathetic to development.
Gyanesh has brought electricity at very low cost to villages in a state where majority of the villages are still under darkness. It is a 'pay-for-use' service where each house or business is directly connected to HPS power station. "We charge about Rs 100 per month, which is the basic charge for lighting a house, and as per their requirement the charge increases," says Gyanesh. As per the requirement electricity could be supplied for 6 hours to 14 hours in a day.
According to Gyanesh, the break even period for a power plant is roughly about 4-5 years. Their income comes through sale of electricity, rice husk char (RHR) – a by-product of rice husk used in making of incense sticks etc, and door-to-door selling of general consumer goods at village homes.
His company has won many awards in a short span of time, the first being the 2008 University of Virginia Business Plan Competition where they came first and the Social Innovation Competition at the University of Texas, Austin. More awards and recognition followed.

Gyanesh says they would trade for carbon credits from next year. "We are saving 100-150 tonne of carbon dioxide per year per power plant," he explains. As 1 carbon credit earns 10-12Euros, they would be earning from carbon credits. Each carbon credit represents one tonne of carbon dioxide either removed from the atmosphere or saved from being emitted.
By 2014 HPS proposes to set up 2014 power plants and save 200,000 tonnes of carbon dioxide per year. "We are planning to have 500 power plants in Bihar and the rest outside the state," says Gyanesh.

Wish to share your story?
Trending Now: