Making a living by tickling the funny bone is a technology

Kavita Kanan Chandra
&nbsp | &nbsp Mumbai
01-April-2011
Vol 2&nbsp|&nbspIssue 13
Entertainment = mindful comedy² is the new expansion given for the famous E=mc² equation by five graduates of IIT Bombay. After rejecting attractive placement offers, the five young men, all in their early 20s, decided to make humour their calling and stand up comedy their forte. It turned out a smart decision and they are laughing their way to the bank with each successful show.

"We started a year and half back and have already touched fifty shows," said Nitin Gupta, Founder and CEO (Chief Entertainment Officer) of Humorbeings. The chemical engineer feels that humour has always existed, like the famous 'Hasya Kavi-sammelans' (humorous gatherings of poets) of earlier decades, and stand-up comedy is just a compressed form of it.

Nitin is affectionately called Rivaldo by his other four colleagues - Vipul Goyal (Humour Resources), Sumit Malhotra (Creative Consultant), Kiran Rathore (Master in Drama) and Tushar Upadhyay (Actor/Stand-up comedian). Bonded with each other over humorous plays and comedy shows in college festivals, they now call themselves Entertainment Engineers. The four had done different branches of engineering in IIT.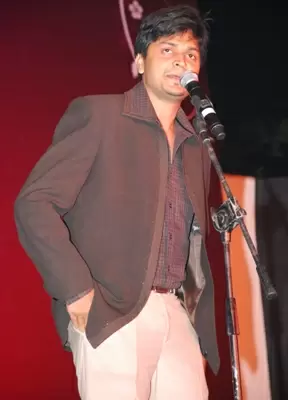 At work: Nitin Gupta, a chemical engineer by qualification – he studied in IIT - loves being a stand-up comedian.
Live Stand-up comedy in English is pretty nascent in India. The only comedy club, the 'comedy store' in Mumbai usually has visiting comedians from abroad. Vipul, a regular performer at comedy store, says that understanding the profile of the audience is very important. "Usually corporate crowds in their late twenties and thirties visit the store but when I am performing in a college function or performing for the elderly, I write my act keeping their profile in mind," says Vipul.

Nitin says that good education always helps. With lot of inane comedy shows in TV and movies, they feel there would be audience for all kinds of comedy. How far they push their intelligence into comedy? Vipul says that there are some safe topics in India like jokes on cricket, marriage, Bollywood and Government; they are easy but completely exhausted. The intelligence is to present the same topic with a fresh point of view or come up with a new topic. He has performed on stage by taking on the Indian plethora of Gods, but Vipul says he maintains the line and respects his audience sentiments.
Watch a video of Nitin performing at an Engineering college in Himachal, there is an instant connect as a strong 3000 crowd cheers and claps. When he says freshers are like protons for they are positively charged as they enter an engineering college; a huge cheer follows. As he continues his analogy with the atom, comparing old students as negatively charged electrons; a roaring laughter is heard. He clearly knows the way to tickling the funny bones of his audience.

Sumit dons the hat of writer, director and actor. From winning accolades in college festivals to an internship in director Subhash Ghai's Whistling Woods, Kiran is currently working on making a curtain raiser for a forthcoming Hindi film, 'Tell Me O Khuda'. Tushar is however more like Nitin and Vipul, enjoying his stand-up comedy too much for the time being. They might venture into advertising for there is enough scope for spoofs and funny clips.
Did not their choosing such an offbeat career after IIT lead to the raising of eyebrows? Initially, yes. But since now they are getting paid well for following their heart, nobody is complaining.

Wish to share your story?
Trending Now: