Training prisoners to take up a job after their release from jail

Rama Devi Menon
&nbsp | &nbsp Hyderabad
09-December-2010
Vol 1&nbsp|&nbspIssue 15
It prepares prisoners for a life outside jail. By helping them learn some skills and also earn some money during their stay inside the high walls, the BPO (business process outsourcing) facility inside Cherlapally Central Jail, a 112.10-acre correctional facility in Andhra Pradesh's Nalgonda district helps in reforming the prisoners.

Though the jail, situated about 28 kilometres from State capital, Hyderabad, has been employing prisoners in agricultural and dairy activities for years, the 'non-voiced' BPO training facility, set up by a software company, Radiant Infosystems Ltd, will help prisoners secure modern jobs when they are released from jail.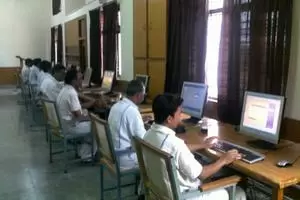 Radiant Future: Radiant plans to provide BPO training to 10 prisoners, who in turn would train another 40 prisoners
Radiant imparts the requisite computer training to inmates who have passed at least their school final examination. The training will help the inmates to integrate themselves into the mainstream after their prison term. The training comes at two levels - a foundation course that includes basic English, computer knowledge and soft skills, and a process training that is specific to the job assigned to each of the selected prisoners.

The two-month training started on November 1, and the response of jail authorities has been very encouraging and positive, says K Mohan Menon, General Manager – Operations for Radiant Infosystems Ltd.
Although there is no placement assistance guaranteed, job work will be given within the jail premises to the inmates who complete the training. The furniture required for the BPO was made by the prisoners themselves. The BPO will function from an enclosed space and prisoners will not have access to telephones as in many other call centres and BPOs.

The work includes forms-based data capture; documents processing (scanning, indexing & archiving); expense/payments/invoices processing; financial book keeping; bills processing; judicial records digitization; land records digitization; prison records digitization; and new accounts opening process for banks.

Menon says the company has identified firms with expertise in various fields and services that are willing to come forward as a corporate responsibility towards a social cause and provide an opportunity for the prisoners in utilizing their services in various manufacturing processes and job works.

"Radiant has taken up this first-of-its-kind project in the country keeping in mind the social responsibility of corporate companies. We feel even if one prisoner could be reformed through these measures and brought back to the mainstream then our efforts and objectives would have been met," says Menon.

"Initially, Radiant will impart training to about 10 prisoners, who will in turn train another 40 inmates. Overall, we plan to impart training to 50 prisoners," he adds.

Apart from implementing this innovative programme in its premises, the prison complies with the norms laid down by the UN Minimum Standards on Prison Reforms. Inaugurated in June 2000 by former Chief Minister N Chandrababu Naidu, the jail now houses 2,134 inmates. Over the years 86 prisoners have completed their graduation during their stay in the jail and 12 others have obtained post graduate degrees through the study centre of Dr. B. R. Ambedkar Open University that was established in 2001.

Apart from 117 inmates who are doing their undergraduate courses and 15 others who are doing their post graduate courses at the centre for the academic year 2010-11, basic computer training courses are offered to those who had passed their school final, with the help of the 12 computers donated by an MNC, Delloite.


Trending Now: