Give them waste, and they would turn it into precious art

Surekha Kadapa-Bose
&nbsp | &nbsp Mumbai
15-November-2016
Vol 7&nbsp|&nbspIssue 46
Unlike most people Arzan Khambatta and Debanjan Roy do their best work when they are surrounded by waste, whether it's from construction zones, offices or industrial sites.
That's because they are part of a growing band of artists and entrepreneurs who swear by the mantra "don't waste the waste".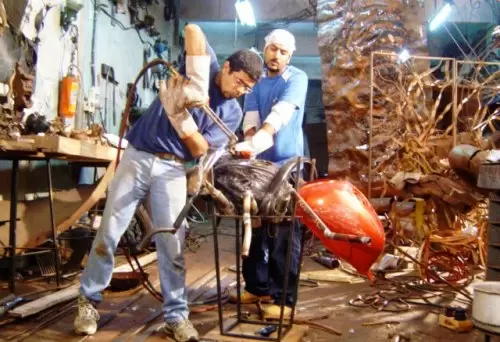 Arzan Khambatta (left), who started sculpting in his late teens, would scout around for scrap metal from around his neighbourhood and weld them into pieces of art (Photo Courtesy: Arzan Khambatta)

Where others simply see disposable scrap in old plastic bottles, broken glass, combs, metal, e-waste, newspapers, and so on, these master creators are channelising their talents to transform them into thought-provoking art or environment-friendly products.
However, this unique spin on recycling garbage doesn't just give birth to stimulating art it also generates revenues of around Rs 5 crore per annum from sale of everyday products made from trash.
One of the early attempts at making art from waste was undertaken by Nek Chand, a self-taught artist who has created the iconic Rock Garden in Chandigarh.
The eighteen-acre sculpture garden incorporates throwaways from demolition sites around the city and has been one of the most visited tourist spots in the country ever since it was opened to the public in 1976.
Having embarked on a mission to turn waste into beauty, Chand used broken crockery, electric fittings, fluorescent tubes, bicycle frames, bottles, glass bangles, shells, pots, and smashed up bathroom fittings to create a well-crafted wonderland.
Much like Chand, Khambatta has always enjoyed creating art from junk. At his studio in Wadala, a suburb of Mumbai, along with heaps of recyclable material gathered from streets, garages and construction sites in the vicinity, stand stunning sculptures made from it.
Khambatta, who is going to turn 50, started sculpting in his late teens. He would scout around for scrap metal from around his neighbourhood and weld them into pieces of art he fondly christened 'Scraptures', a word that has become synonymous with his work.
The other well-known artist who uses plastic, discarded parts of appliances and other such junk to make "Pop and Shock art" is the Kolkata-based Roy.
Indeed, among his most recognised works is 'Banana Tree' which, according to its creator, "is a comment on how industrial waste disposal is affecting trees and the whole environment". He has used recycled automobile tyres and tubes to make this masterpiece.
But while artworks by these inspired geniuses are only accessible to regular people through one-off exhibitions and usually end up in private collections, today, non-government organisations promoting sanitation and environmental conservation are playing their part in popularising the recycling etiquette among the masses by supporting the production of trendy products made from 'kabaad'.
Vimlendu Jha of Green the Map, the fair trade arm of Swechha, a social organisation in Delhi, has been a vociferous advocate of "extracting the best out of waste".
It was while this Tata Institute of Social Sciences (TISS) alumnus was making 'Disposable', a documentary on urban waste and rag-pickers that he gained an in-depth understanding of the issue as well as a ringside view of the lives of people who he calls "the real environmentalists".
Jha observes, "The unchecked increase of urban waste is a serious problem that exists in all big cities across the world. In our country, we have innumerable waste collectors who contribute to the recycling process. If we practice segregation, we will help protect our environment and, at the same time, generate employment for the many rag-pickers who trawl through dumping yards to make a living."
Over the last seven years, Green the Map, which was earlier called Green the Gap, has been collaborating with waste collectors and scrap dealers across the Capital "to collect the waste and upcycle it".
Jha says, "We use tyre tubes, juice cartons, milk packets, beer cans, chips packets and almost everything that has been thrown away and give it a new life in the form of accessories, stationary and items of home décor."
In the last decade, the number of concerned green entrepreneurs and NGOs working with waste has burgeoned.
The sister duo of Radhika and Madhvai Khaitan from Jaipur, who have set up WorkshopQ which produces "next generation lifestyle icons from trash"; Chennai's Suren Vikash, whose Thunk In India is a start-up that "innovates with everyday waste materials"; and the couple, Anita and Shalabh Ahuja of Conserve India from Delhi, are among the few notable names.
The sister duo of Radhika and Madhvai Khaitan from Jaipur have set up WorkshopQ which produces "next generation lifestyle icons from trash" (File photo)

When Anita and her husband, Shalabh, set up Conserve India to "recycle waste, especially plastic bags, one of the most disastrous pollutants in the world that not only harm our surroundings but also animals who unknowingly end up consuming them", they realised there was no local source of recycling plastic.
So Anita, who is a designer by profession, put together a team of designers and researchers to experiment on ways to upcycle plastic bags into large plastic sheets. She named them "handmade recycled plastic" from which they design elegant bags which are a huge hit overseas.
"Unfortunately, although in India people don't mind paying big bucks for a designer Louis Vuitton, Dior or Prada, they are hesitant to pay up for something that is made from recycled material. The moment they hear that Conserve India bags are fashioned from recycled waste, they question: 'why are they priced so high?!' The awareness levels are still quite low here and so we sell our stuff in the US, France, Denmark and Netherland," she elaborates.
As such, eco products are priced on the higher side and, for the longest time, were available to a select few through special exhibitions.
The Khaitan sisters figured that there was a growing market for them and so when they came back after finishing their studies abroad they decided to start WorkshopQ. "We wanted to give a new meaning to the term green design and establish that being eco-friendly is cool, fun and a step forward," says Madhavi, a Finance and Accounting graduate from the University of Warwick and alumna of Fashion Institute of Design & Merchandising, Los Angeles, USA.
The whole idea behind making art or interesting products from trash is to be able to spread the word on conservation, effective waste management and sustainable livelihoods. And there is certainly a difference in the awareness and consciousness levels at home when compared to the developed countries.
Take the city of Orange in New South Wales, Australia. There is a voluntary regional waste group (http://www.netwaste.org.au/waste-to-art/) in place since 1995 that has been providing collaborative approaches to waste and resource management.
It regularly organises a community art competition cum exhibition, Waste to Art, which is open to everybody residing in NetWaste region. The creative works made from reused and recyclable materials are highly imaginative and shows the kind of fun the creators, aged anywhere from six years to 70 years, may have had while fashioning them.
Such passionate community participation is not all that visible around here yet but things are changing. Since the last two years, in Thane, a district in Maharashtra, housing societies have been marking Republic Day by organising competitions that call for the use of waste in imaginative ways.
Thus far, creations made from vegetable waste, newspapers, bottles and e-waste have been exhibited and appreciated. Recently, Vogue magazine had invited young designers such as Shweta Sharma, Manoshi Nath and Maxima Basu to make fashion from recycled goods.
Being trendy and eco-conscious is a total win-win – for the planet, for those who gather waste to make ends meet, and, of course, for style chasers. - Women's Feature Service
Wish to share your story?
Trending Now: