Swechha founder connects with the youth for social action

Akash Bisht
&nbsp | &nbsp New Delhi
06-September-2013
Vol 4&nbsp|&nbspIssue 36
Walking through the by-lanes of congested Khirki Extension in Delhi is a task in itself and searching for a particular address is no mean feat. However, ask anyone for directions to Swechha office, and people are too willing to help.

Swechha's reputation is such. "I must tell you that these people are doing very innovative work. It is like nothing that I have seen before," says a shopkeeper in the locality.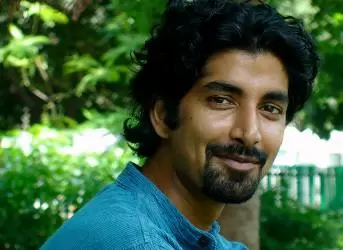 Vimlendu sits in an up-cycled office that has turned waste into fancy decorative items
True to his word, the Swechha office is a marvelous piece of innovation. Old tyres, tetra paks, waste cloths, waste leather and other materials make for much of the decorative items inside the office

"This is the first of its kind office in India where everything has been made out of waste," says Vimlendu Jha (34), founder and executive director of Swechha, an NGO that is involved in many environment related activities.

Born in Bhagalpur in Bihar, Jha came to Delhi to pursue his higher education. He completed his Bachelors in Sanskrit from the reputed St. Stephen's College.

While in college he took active part in the anti-dam, anti-nuclear, and Bhopal gas tragedy protests. "I didn't have an intellectual understanding (of the issues), but it was more a discovery of passion and anger," he confesses.

In the wake of a deadly earthquake in Uttarakhand in 1999, he formed a group of youth volunteers to render help to the victims.

Jha conducted street plays to mobilize support for the cause. He took truckloads of relief material, and scores of young volunteers, both boys and girls, to the affected areas.

Thereafter, Jha took a year's break to prioritise his goals. "I did not know what to do, but I knew what not to do. I didn't want to be an IAS officer or an MBA graduate and join the rat race," he says.

It was while camping for Narmada Bachao Aandolan, he realised how the Yamuna had turned into a filthy drain.

"No one was talking or writing about the sorry state of Yamuna then and I decided to take up its cause. The Yamuna Action Plan had been a great disaster," he avers.

After two years of research, he started a group called 'We for Yamuna' on August 14, 2000, along with some friends. Close to 500 youngsters joined Jha's cause of raising awareness about the dying river.

"Those were interesting days as we had no access to either internet or mobile phones and it was very difficult to organise people. However, every evening, the group would meet at Delhi Haat –open air food plaza – and would do street plays about Yamuna.

"Our campaign was not based on statistics or scientific data, it was just the sight of the river that made us take up the issue," he recalls.

Since Jha had no source of income, he would make paper bags in the night and sell them in the market to earn a living.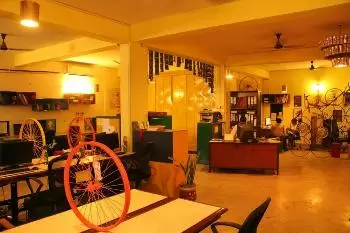 The Swechha office is a marvelous piece of innovation
In 2001, Jha left for Mumbai for his post graduation from Tata Institute of Social Sciences to specialise in urban and rural community development. The same year he registered Swechha.

Soon, the Yamuna campaign was taken up by every media house and it became a burning issue for people in Delhi.

But for Jha sustaining the campaign proved to be a challenge. "The finances were dwindling. I was getting lucrative job offers, but something in me told me to keep fighting," he says.

In course of time, he did find ways and means to sustain his activism. Today, Jha also runs a small store that sells up-cycled items at Hauz Khas Village under the banner of Green the Gap.

The items sold at this outlet are made of waste and visitors who drop into the store are mesmerised by the creativity and quality of these products. Jha says he does most of the designing and expert tailors from disadvantaged backgrounds help in the production.

He sources all his raw materials from rag pickers, which has helped many of them earn a descent living.

Swechha also runs a series of programmes like Connecting Youth Organizations Nationwide (CYON) that bring together organizations that work with the youth to promote volunteerism and active participation on various development issues.

Under an initiative called Pagdandi, volunteers from Swechha teach children who live and work along the Yamuna. They have also admitted about 150 children into various schools under the Right to Education.

Swechha has programs for raising awareness on environmental issues, especially for a clean Yamuna, and to provide disadvantaged people with secure employment and fair wages.

Yamuna Yatra is a way to enlighten students about the ecology of Yamuna.

The 12-day journey starts from Yamunotri –the origin of Yamuna—to Agra and it teaches students the reasons behind the pristine river turning into a black slush in Delhi.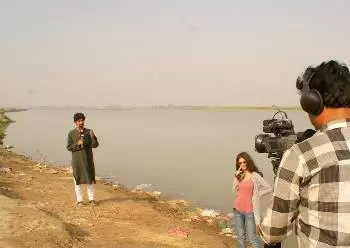 Vimlendu at a Yamuna Walk with the media
Swechha holds youth programs in about 40 colleges in Delhi and has reached out to close to 10,000 students.

Students are encouraged to take part in campaigns. "We have provided volunteers to Medha Patkar led Narmada Bachao Andolan, Aruna Roy's MKSS (Mazdoor Kisan Shakti Sangathan) and several other organizations," he says.

Ask him about the impact of his Yamuna campaign, and he is undaunted. "Should I stop if there has been no improvement in the fate of Yamuna? Should we stop fighting? The effect of our campaign is that Yamuna had been made an issue and many are speaking about it now," he responds.

Jha has made several award winning documentaries. He is a designer, musician, entrepreneur and an actor.

"I am not a type cast, jholawala kind of activist. For me small is beautiful. I am happy with slow and for me steady is strong," he concludes.
Wish to share your story?
Trending Now: