'Hybrid air-conditioner can reduce your AC bill by 90 per cent'

01-October-2016
Vol 7&nbsp|&nbspIssue 40
Pranav Mokshmar, an Indore based innovator, has developed a highly energy efficient hybrid air-conditioner that he says needs just 10 per cent of the electricity consumed by the conventional ACs to operate.
In other words, Pranav's 'Vaayu Hybrid Chillers' promise 90 per cent savings on your AC electricity bill.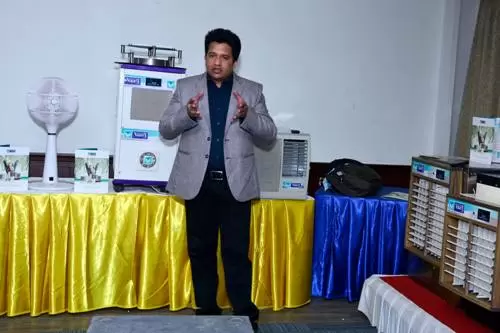 A basic model of Vaayu Hybrid Chiller developed by Pranav Mokshmar is priced at 12,990 (Photos: By special arrangement)
The website of Vaayu India, Pranav's startup that manufactures the hybrid AC, states that it is "the world's first cooling machine which comes with unique technology of blending the traditional coolers with compressor."
It uses natural air flow for cooling and avoids using any dangerous chemicals or gases harmful to the environment.
Vaayu India currently has three residential products – Vaayu Classic, Vaayu Comfort, Vaayu Smart, and an industrial product - Vaayu MIG 24.
When you compare a commercial 2 ton AC with Vaayu Smart/ Classic chiller, it is stated that the 2 ton AC consumes 7,20,000 W of power per month while the Vaayu chiller consumes just 75,000 W.
In terms of power consumption, the former would consume 720 units, while Vaayu Chiller would consume only 75 units.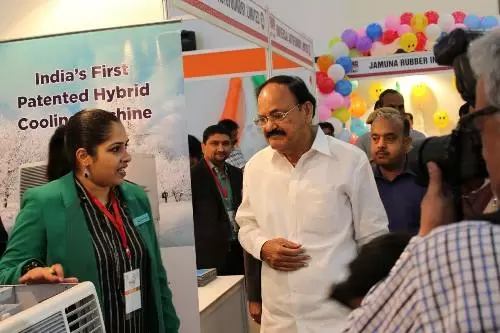 Vaayu products on display at an exhibition
Explaining further, Pranav says the compressor fitted to the cooling machine brings down the temperature in the range of 16 to 30 degree Celsius when the heat outside hovers between 30 and 45 degree Celsius.
A commerce graduate with a diploma in HVAC (heating, venting and air-conditioning), Pranav has had stints at Samsung, Carrier and LG between 1996 and 2008.
After he quit LG, Pranav set up his own business 'Air Solutions' which was into installation and servicing of ACs.
During this time, he developed the Vaayu prototype and installed two hybrid coolers – one in his drawing room and another in his office space.
"People couldn't believe that thermodynamics could work this way as well and reduce the temperature drastically," says Pranav.
A senior executive of CIPLA, whose air-conditioning Pranav was servicing then, was one of the first persons to be impressed with this hybrid cooling machine.
It was on his suggestion Pranav filed for a patent in 2009, which was published in 2014.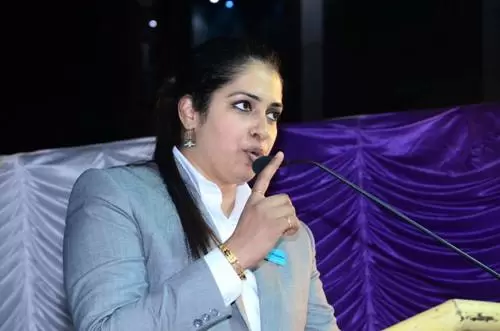 Dr. Priyanka, managing director of Vaayu India, convinced Pranav against selling the hybrid AC patent
Subsequently, when many companies offered to buy Pranav's patent, he had almost decided to sell it to a leading company. But his wife Dr. Priyanka, an MBA in marketing and a PhD in management, dissuaded him from selling the patent.
The couple later decided to set up their own company, Vaayu India.
When the Mokshmars approached banks for financial assistance, they were turned down and their technology was not taken seriously.
In 2015, when Madhya Pradesh Chief Minister Shivraj Singh Chouhan saw Pranav's unique innovation at one of the exhibitions and heard about their difficulty in getting funds, he directed the Corporation Bank to lend them financial assistance of Rs one crore under the CGTMSE (Credit Guarantee Fund Trust for Micro and Small Enterprises) scheme, which is collateral free.
Since its establishment in January this year, there's been no looking back for Vaayu India and its founders.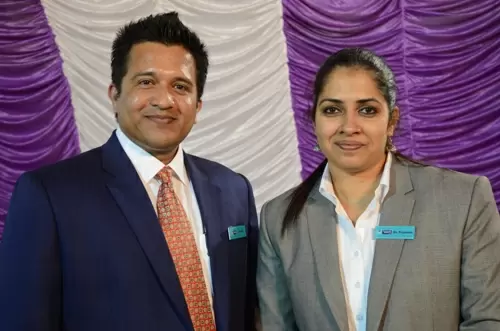 Pranav and Priyanka are now gearing to launch a split AC
The company is awaiting its second patent for a split AC that will run on water (and not gas).
According to Pranav, the split AC will cool at 50 percent the cost of the star-rated ACs and yet not emit any heat. "It will need only one litre of water in six months," he says.
"After this patent, we will be able to convert the existing ACs into this new model. Don't throw away your old AC, we will make it equivalent to a 10-star rating, which consumes less power," Pranav promises.
During the summer months of March to June alone, the company has sold close to 500 units in five states.
So far, Vaayu India has clocked sales worth Rs. 1 crore and is targeting a turnover of Rs. 20 crore by FY 2017-18 and Rs. 50 crore by 2020.
What about competition from the existing AC and cooler manufacturers?
"They are in their own space. Our hybrid cooler is a new concept. It is a new technology, which costs anywhere between a cooler and an AC," adds Dr. Priyanka, who is also the chairperson-cum-managing director of Vaayu India.
While the basic model of the machine is priced at Rs. 12,990, the top-end models are priced between Rs. 20,000 and Rs. 26,990. The commercial models will cost in the range of Rs. 42,990 to Rs. 95,000.
Vaayu India, which currently has 16 dealers in eight states, is planning to spread across the country.
After seeing the functioning of Vaayu Hybrid Chiller at an exhibition held recently in St. Petersburg, Russia, the Meghalaya government has invited Vaayu India for a presentation in Shillong.
Pranav and Priyanka are hopeful of bagging orders for their innovative product from the Meghalaya government.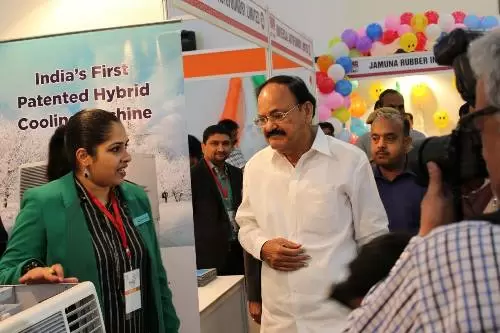 Priyanka explaining the product to union minister M Venkaiah Naidu
With enquiries coming from as far as UAE and Africa, Vaayu India is planning to export its chillers.
"We are awaiting funding from an angel investor from Indore itself. Once we get the funding, we will expand our business within and outside the country," adds Priyanka.
Dr. Nithin Sahu, a physician and a former neighbour of Pranav, who has used Vaayu Hybrid Chiller for three years, even before Pranav got the patent, says, "I have not had any difficulty in using this hybrid cooler. Even when the temperature rose to 41 degrees, the atmosphere inside was quite pleasant for us."
Vaayu India was the only manufacturer from Madhya Pradesh identified by Prime Minister Narendra Modi's ambitious Start Up India and Stand Up India schemes. The company also figures among the top 40 innovations chosen by the country's Science & Technology Ministry.

Trending Now: