An IIT alumnus has fabricated a device that saves water and also makes urinals odourless

Narendra Kaushik
&nbsp | &nbsp New Delhi
02-February-2016
Vol 7&nbsp|&nbspIssue 5
A urinal device that saves water, and is odourless as well, sounds too good to be true, but Uttam Banerjee, 31, Director and CEO of Ekam Eco Solutions, has made this a reality called Zerodor - Waterless Urinals.
This mechanism , a polymeric wall which can be retro-fitted into existing ceramic urinals, can save between 50,000 and1,51,000 litres of water per annum per urinal, a huge plus in a nation in dire need of conserving water. Each unit of Zerodor is priced around Rs. 5,500.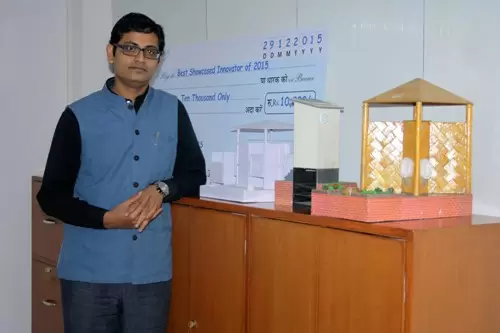 Uttam Banerjee's waterless urinals can save millions of gallons of water if deployed widely (Photos: Narendra Kaushik)

"We waste three to four litres of water per flush in a urinal," says Banerjee. "In the USA and Europe, they even write on urinals how many gallons of water are flushed to push the ammonia (which causes the odour) down."
Not surprisingly, Banerjee has already completed 7,000 installations – 5,000 of them since October 2014 when the Swachh Bharat Mission was launched with the aim of achieving a "Clean India" by 2019, Mahatma Gandhi's 150th birth anniversary year.

Images of people defecating and urinating in public have become an unsightly symbol of unhygienic, unsanitary India and its lack of toilets.
A study released last year on World Toilet Day 2015, titled "It's No Joke – State of the World's Toilets", by WaterAid, an international charity that helps improve access to safe water, hygiene and sanitation, said it clearly: Around 60 per cent of India, the world's second most populous nation, does not have access to safe and private toilets. Stinking public urinals, where toilets do exist, are what you will commonly find.
This is exactly what Banerjee, an alumnus of Indian Institute of Technology (IIT) Delhi, is out to address.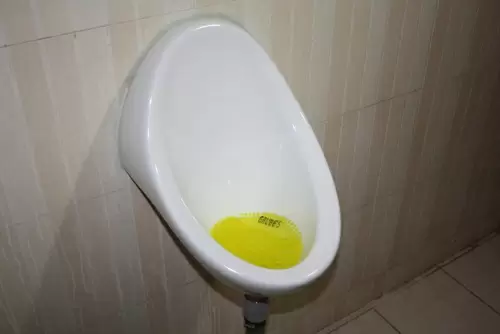 A polymer device has been retrofitted in the only urinal in Ekam Eco Solutions' office

Working on improving people's toilet access and experience, Banerjee in partnership with his IIT professor V.M. Chariar, has designed a urinal which, instead of consuming water, prevents it being wasted and - amazingly - remains stink-free due to a membrane and a liquid seal that act as sealants against odour.
If all goes well, he may replicate this process in 75 cities of India to make public urinals odourless – on the heels of the initiative taken by Praveen Prakash, Joint Secretary and Director Swachh Bharat Mission in the Ministry of Urban Development, who wrote to city authorities on December 31 last year to start pilots comprising 20 units in 2-3 locations in each city under the Capacity Building Component of Swachh Bharat Mission.

Banerjee's clientele for the odour-free water-saving toilet devices includes IIT Delhi, IIT Gandhinagar, ICFAI Foundation of Higher Education, Hyderabad, Maruti Suzuki, Polaris Financial Technology, Chennai, Indian Farmers Fertiliser Cooperative (IFFCO), Ambuja Cements, Essar Oils, Bharat Sanchar Nigam Limited (BSNL), NIIT, D.Y. Patil University and McDonald's among others.
The company has also installed the devices in the offices of the Centre for Railway Information Service (CRIS), Delhi, Indian Army, Air Force, Navy and the campus of the paramilitary Sashastra Seema Bal (SSB) on a paid-trial basis.

Following that, Banerjee and his team have turned their attention to improving ladies' restrooms. The company has already conducted a study to ascertain the requirements of women users and is hoping to launch waterless, odourless female urinals by March this year.
It wasn't a straight quick walk to the restroom for Uttam Banerjee, who was born into a middle-class family in coal-belt town Bokaro (now in Jharkhand).
His father P.C. Banerjee worked in the postal services and mother Pratima Banerjee was a housewife. Banerjee completed his schooling from Central School, Dhanbad, and went on to do B. Tech in Mechanical Engineering from the Oriental Institute of Science and Technology, Bhopal, in 2006.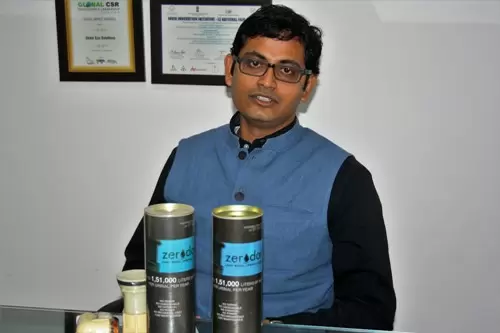 Ekam has plans to install five waterless urinals in 140 schools across India at its own cost

During the course, he designed inventory management on RFID (Radio Frequency Identification) when the technology was hardly known in the Indian market.
For around two years, he worked with Mahindra & Mahindra on new projects and was part of the team that designed Mahindra Xylo, the multi-utility vehicle.
In 2008, he quit the job to pursue a Masters in Industrial Design at IIT Delhi, an interdisciplinary course for inventive designers catering to the requirements of industries.
Then he joined Crompton Greaves as an industrial designer, and ended up designing software that calculates the load on air-conditioners. During this period, he also founded a design platform called "Bambooed", which has been designing award-winning utility products made of bamboo.
However, the most important and enduring outcome of these years at IIT Delhi was that Banerjee co-founded his startup called Ekam Eco Solutions in October 2013 with Prof. V.M. Chariar, an associate professor at the Centre for Rural Development and Technology.
This IIT-Delhi-incubated initiative is now a 15-staffer company with a turnover of about a crore rupees. Ekam aims to usher in a sanitary revolution in the country, focusing on conservation of water and odour removal.
The company, selected by HayGroup, a global management consultant, among the next 100 big startups, has acquired IPR (Intellectual Property Rights) for its product Zerodor from IIT Delhi in order to disseminate the technology into the Indian market.

When Banerjee discussed the possibilities in the sanitation domain with Professor Chariar, they had a conversation on the US and German solutions for making urinals odourless and waterless, one of which was to use gel.
But these ideas were too expensive for India where toilets lie at the tail-end of planning priorities and the subject is still considered culturally taboo.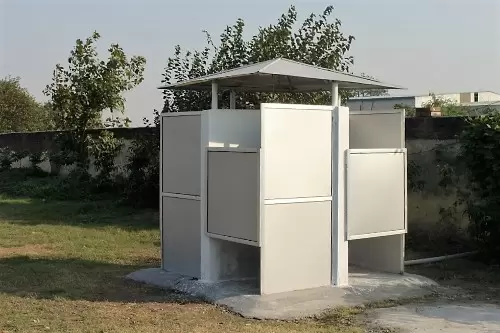 A Zerodor urinal in Delhi

"Installation of such a gel-based device costs Rs. 15,000," says Banerjee. "Besides, gel needs to be replaced four times a year incurring a cost of Rs. 2,000 each time," Banerjee claims. The duo decided to use high-grade polymer, which costs roughly around Rs. 5,000 with no recurring expenses on maintenance.

In fact, the cost factor is something Banerjee definitely has an opinion on. He is against the government's decision to provide subsidies for the construction of toilets.
Such subsidies, according to him, end up devaluing the products and services in people's minds. He is all for better designing of toilets and prioritizing toilets in home planning, so that these spaces are designed first and not last as is usually the case.
Suggestions flow from him: "Make the toilet most appealing, seductive and aspirational; don't just use them for storing waste; make the ceiling see-through from inside so that you can experience the sky; engage local artisans in designing toilet walls; use bamboo tiles; and let the treated water from urinals irrigate gardens and parks."
That's not where the ideas end. Ekam Eco Solutions has initiated a campaign called 'PRAWAH', with the support of Millennium Alliance, an American-aided developmental network, to install five waterless urinals in 140 schools across India at its own cost.
The only thing the schools would need to do is display a set of three stickers featuring the information needed for the installation, maintenance and standard operating procedures (SOPs) followed by Ekam Eco Solutions in their retrofitted loos.
Besides teaching students about technology, innovation and the benefits of water conservation, one of these stickers would advise users not to spit in the urinals, as that leads to scaling and a blockage.

This urban sanitation drive by Banerjee, who lives in Delhi with his researcher wife Nivedita and 10-month-old son Ashvik, can obviously be applied in semi-rural and rural situations, too.
And that's where he feels we should be heading: towards the smartest villages. He himself has certainly shown the way from the city outwards.
Wish to share your story?
Trending Now: