Among innovators, writers and artists staying in Presidential palace, there are young ones too
30-March-2015
Vol 6&nbsp|&nbspIssue 13
Irked by the overflowing municipality dustbins in front of her home in Anna Nagar, at Chennai, 15-year-old Priyanka Mathikshara has designed an innovative trash bin that not only disposes garbage but also boasts of a streetlight and CCTV camera -- all powered by solar energy.
The 'Super Stocker 3C - Ultra Model Dustbin' collects and crushes garbage for maximum space utilisation and has a solar panel attached on top which provides power to the crusher as well as a street light and CCTV camera for security purposes.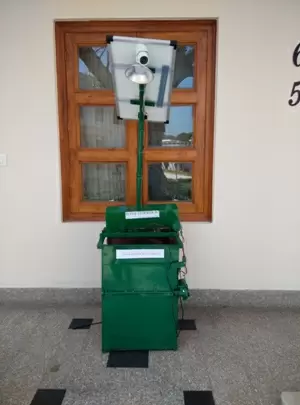 The dustbin sends a message to the municipality when it gets filled to capacity (Photo: IANS)
"When the dustbin gets filled to capacity, it automatically sends a message to the local municipality. The super stocker can play an important role in the Swachh Bharat Abhiyan," said the class 11 student.
Mathikshara is part of a group of ten innovators, two artists and two writers who are at present staying in Rashtrapati Bhavan as part of the 'In-residence scheme for writers/artists/innovators'.
Another innovator from Chennai, Anand T.S. has developed a prosthetic knee for walking on uneven terrain.
"The usual prosthetic knee is made of two pieces of wood joined together by a bolt which does not allow the wearer to stand up straight. This design, however, has four movable parts and is much better," said 28-year-old Anand, a graduate of IIT-Madras.
Meanwhile, 28-year-old Vikas Karade from Mumbai wants to revolutionise how surgeries are done in India with a smartphone application that converts X-rays of bone shapes into 3D models within seconds.
"At present, surgeons are spending hours in understanding bone locations and joints while planning for a surgery. With a 3D model in front of them, the same process would be completed in minutes," said Karade, a graduate from IIT-Bombay.
The app 'Tab Plan 3D' will soon be launched, Karade said adding that initially it will be available for knee surgeries only.
Among the artists in residence were Rajesh P. Kargutkar, a painter based in Mumbai and Haobam Sanaton Singh, a painter from Manipur.
Singh owns an art gallery in Manipur which has over 200 paintings depicting Manipuri culture, folk and way of life along with hundreds of photographs.
None of the paintings are for sale and entry to the gallery is free.
"I do this for the love I have for paintings," 55-year-old Singh said adding that since he opened his gallery in 1998, he has visited many villages in the interiors of Manipur to get inspiration for his paintings.
Meanwhile, 31-year-old multi-disciplinary artist from Mumbai Rajesh Kargutkar has drawn typography portraits of all 13 presidents of India by selecting just a single word that embodies each one of them.
To draw the portrait of President Pranab Mukherjee, Kargutkar chose the word 'teacher' while for former president A.P.J. Abdul Kalam, he has used the word 'missile man', for his contribution in making India a nuclear power. - IANS
Wish to share your story?
Trending Now: