Giving local cobblers a better life and dignity through an eco-friendly venture
07-February-2015
Vol 6&nbsp|&nbspIssue 6
For those wanting to go green with their foot forward, literally, Jay Rege and Jothsna are showing the best way out. The US returnee-couple, both at 39, are eco-conscious shoemakers contributing their bit to saving the environment.

Besides helping reduce carbon footprint by making soft-to-walk hand crafted footwear from scrap tyres, they also share their profits with the mochis (cobblers) working with them.
Jothsna, Jay Rege, and their designer Megha Rawat (right) work with a group of cobblers in Mumbai to make beautiful and elegant eco-friendly footwear (Photos by Rohan Potdar)
A chance reading of a success story about a man in the US making sandals out of used tyres imported from Indonesia was enough to trigger the social entrepreneur in Jay.

With inspiration at work, Jay adopted the idea and enhanced it with his vision of socially empowering the local cobblers. Thus was born his social startup 'Paaduks' - a Sanskrit term for footwear - in Mumbai in mid-2013.

As a computer engineer, Jay worked for HCL Technologies in the US for a few years and took an MBA from Texas A&M University before returning to India by the end of 2004.

The next year, he along with his wife Jothsna started Academy One, a coaching and counselling centre for students interested in higher studies in the US.
For the couple, already successful in running the training centre for eight years, launching Paaduks, which currently has four retail stores in Mumbai, was actually an "impulsive decision".
Says Jay, "Paaduks is more than an enterprise; it is a unique initiative that attempts making beautiful handcrafted footwear from used automobile tyres and sharing the profits with cobblers who make them."
Being eco-friendly and ethical is the core philosophy of Paaduks that initially received funding from UnLtd India, an incubation platform for social entrepreneurs.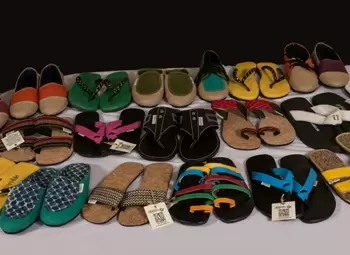 Paaduks footwear is priced from Rs.700 to Rs.900
According to Jay, they make their footwear using upcycled automobile or airplane rubber tyre for the soles, thus lessening the need to manufacture rubber afresh at factories and avoiding the carbon footprints.
They use no animal products either in their footwear. Vegan leather, jute, cotton fabric with vegetable prints, and canvas are some of the materials that go into making a Paaduks pair.

If `green' shoes are half of the Paaduks story, the other half is about the cobblers that make them.

The making of the sandals begins from the dingy confines of a workshop in the slums of Thakkar Bappa colony at Chembur from where the primary raw material is sourced.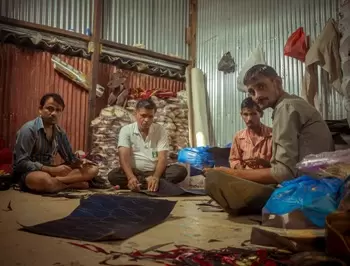 Paaduks workshop at Thakkar Bappa Colony
"Individual cobblers at the colony always wallow in penury as they are forced to sell their shoes to local wholesalers or traders at very low prices.

"Often not receiving their payments on time, they end up borrowing money from lenders at exorbitant interest rates," says Jay, explaining why he decided to turn the project into a social venture.

Since inception, Paaduks has been working to change these terms of trade to help the mochis live a respectable life.

Nagraj Singhadia, the chief cobbler for Paaduks, and his small team, who work in a cluttered 8 feet by 10 feet workshop in the narrow lanes of Thakkar Bappa colony, get paid Rs 100-150 per pair against the Rs 20-30 the others earn by selling to local traders.

Realising that the cobblers are the backbone of his business, Jay provides financial assistance to their families for healthcare, education and emergency needs.
"Paaduks has always footed my family's medical bills," says Nagraj, recalling an incident when his son was hospitalized after a nasty fall at their house.

"It is this twin aim of wanting to remain eco-conscious and to provide sustainable livelihood to the economically marginalized but skilled community that drives us to do the things we are doing," Jay sums up.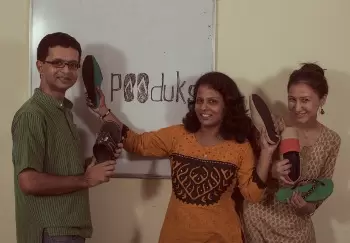 Work is fun for this trio
Their footwear is currently sold at Rs.700-Rs.900. They have plans to step up their production from the current 150 pairs to 1200 pairs a month.

The brand comes up with elegant designs periodically. Their designer and the couple's 24-year-old associate Megha Rawat has lined up a collection of 9 designs – 2 for men and 7 for women - all made from either jute or cotton fabric. The numbers are an indication that the eco-footwear has been well received by women.
For Paaduks consumer fairs are one of the key channels of promotion. They plan to retail their new arrivals at some of the specialty outlets in several cities.

The range of footwear sold through their website www.paaduks.com will soon be e-tailed on Snapdeal and Fabpanda as well.
Wish to share your story?
Trending Now: