Bangalore designer develops new device to detect hearing disability in infants

25-August-2014
Vol 5&nbsp|&nbspIssue 34
Thanks to Neeti Kailas, a Bangalore based designer, and her team of innovators, a device to detect hearing loss among newborn babies will hit the market soon.

Though the actual statistics of babies born with hearing loss is not available, it is estimated that around one lakh babies are annually born in India with hearing impairment.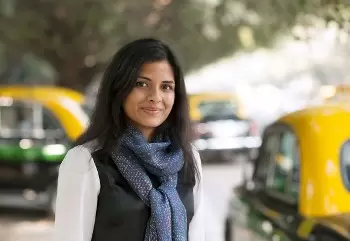 Neeti founded Sohum Innovation Lab along with her engineer husband Nitin Sisodia (Photos Courtesy: Rolex Awards/ Ambroise Tézenas)
"We want to detect the condition at an early stage to make effective intervention possible," says Neeti, who founded Sohum Innovation Lab three years ago along with her engineer husband Nitin Sisodia.

The device to screen infants for hearing loss is their first product.

Neeti, a post-graduate in Design and Business, actually hails from Chennai and studied in India and abroad. She has also worked abroad for many years.

She has a Graduate Diploma in Product Design from the National Institute of Design, India, and a Masters in Industrial Design from the Art Centre College of Design, California, United States.

Neeti works with a very small but committed team of four persons. Whenever needed external consultants are roped in for their service.

Her team got cracking on their first project, inspired by the idea that they would be of help to thousands of families, who would otherwise not be aware of the hearing loss condition of their babies.

Neeti says that detection can be done at any stage, but usually it is recommended for babies under one year.

"The earlier it gets detected, the better. Our device can be used on even a day-old baby," says the 29-year-old recipient of 2014 Rolex Awards for Enterprise.

Generally the condition is detected only when the child is 4 or 5. "When parents realize their child isn't talking yet, they visit the pediatrician and seek referral. But any kind of intervention at this stage is too late."

She further explains that it is important for a child to hear to be able to speak. Deaf people don't lose speech as is usually believed, she argues, adding that they can speak if help is provided to them at an appropriate time.
The device, which resembles a small band, is wrapped around a baby's head to carry out the test.
It would be made available at diagnostic centres, vaccination camps, hospitals, maternity homes, pediatric clinics, government institutions, and also in the open market.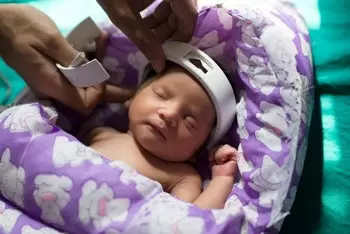 Even a day-old baby can be tested with the device
"It won't be restricted to any institution, nor would it be complicated to use. Even a qualified technician can operate it well," says Neeti.

They have set an ambitious goal of detecting all hearing-impaired infants across the country at the right time to make treatment effective.

She has the patent for the device that would be portable and cost-effective. "Its cost would be one-fifth of the existing devices in the market," she says.
In the current scenario devices with similar purpose are imported and cost around US $12,000-25,000. "Many Indian hospitals cannot afford one," points out Nitin, Neeti's husband and co-founder of Sohum Innovation Lab.

Moreover, he adds that the imported devices need sophisticated settings, entail recurring cost, and require noise-free environment. "Our device is more suited to Indian conditions," he says.

Neeti says to make their device accessible to all they plan to tie up with doctors and reach out to the target families through a network they have named as 'Sohum Network.'

The tests have been successfully tried on adults in both homes as well as hospital settings, says Neeti, adding that the device would be available in the market by 2016.

In the future, they have plans to develop other products in the health sector. Neeti says their aim is to develop market-driven solutions to improve the health and incomes of people living in resource-poor settings.
Wish to share your story?
Trending Now: