'Superfan' won the first prize at India Innovation Initiative but needs to reach the masses

P C Vinoj Kumar
&nbsp | &nbsp Coimbatore
25-October-2013
Vol 4&nbsp|&nbspIssue 43
A Coimbatore based entrepreneur, Sundar Muruganandhan, has developed an energy efficient fan that consumes 50 percent less electricity than normal fans.

Marketed under the brand name of 'Superfan,' and sold through distributors in Tamil Nadu, Andhra Pradesh, Karnataka and Maharashtra, the sleek and elegant looking fans come in different colors and models.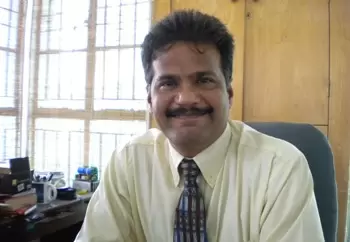 Superfans can save precious energy for the country, says Sundar Muruganandhan
Superfan got the first prize at the India Innovation Initiative (i3) last week from among 900 entries. The i3 is a joint initiative of Agilent Technologies, Department of Science and Technology, and Confederation of Indian Industry.

Muruganandhan said their company Versa Drives has achieved a breakthrough in fan technology. He said fans consume a lot of energy and account for around 20 percent of household energy consumption in India.

About 40 million fans are produced every year, and the market is growing at the rate of 6 percent annually.

An estimated 350 million fans are being used in India. Their electricity demand is estimated at 14000MW, assuming they run at medium speed consuming 38W, as most fans do.

"There has been little innovation in the fan industry. A lot of power can be saved by making energy efficient fans. But the major players in the market were content with making cosmetic changes in the designs," said Muruganandhan.

Power requirement for fans is growing each year. According to a study done by Prayas Energy Group, Pune, 'Ceiling Fan – The overlooked Appliance in Energy Efficiency Discussions,' "a new generating capacity of about 2000 MW" will be required for the additional fans installed each year in India.

The study also states that eight leading brands - Bajaj, Crompton-Greaves, Havells, Khaitan, Orient, Ortem, Polar and Usha - control 60 percent of the market, while about a hundred lesser known brands share another 25 percent.

"A large number of very small manufacturers have the remaining market share of about 15 percent."

The study also estimates that if each of the new fans being installed in India from 2010 were to save 15 W each, then the country would save a whopping 13603 GWH in 2020.

Muruganandhan claims superfans consume far less power than other fans. "They consume just 4, 14, and 35 watts at low, medium and high speed respectively. On the other hand, 'ordinary' fans in the market consume 12, 39, and 75 watts at low, medium and high speed respectively," he says.

According to him, the few energy saving fans available in the market do not match the performance of superfans.

"These fans do not attain the 'high speed' levels of normal fans. You do not need to worry about speed drop in superfans. They also come with a remote control, and since they consume less energy, they run twice longer than the other fans on inverters and UPS. Our fans run even on low voltage in full speed, when other fans don't even start," he says.

Muruganandhan reveals that he had negotiated with a big fan company to look at the possibility of collaboration, but the response was not encouraging.

"The big players are happy with the market as it is. There is no compulsion for them to go for energy efficient fans, which will be more expensive than ordinary fans," he says.

Superfan costs about Rs.1000 more than the other fans, but the extra cost can be recovered in about 2-3 years through the savings in the electricity bill.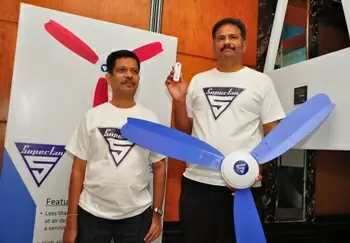 Superfan promoters, Sundar (right) and his partner, with their product
In keeping with their goal of promoting green technology, superfans are packed in eco-friendly material, avoiding totally plastic and thermocol.

Muruganandhan, 51, did his electrical and electronics degree from Annamalai University and later did his post-graduation from University of Missouri.

Started in 1989, Versa Drives was into manufacturing of "motor control products" or variable frequency drives, before getting into manufacture of fans in 2012.

They have sold about 4600 fans so far. About 600 fans were sold online through their website.

Their production capacity is 10,000 fans per month in a single shift. They have a small workforce of thirty persons, as they have outsourced manufacture of most parts to specialized units in the vicinity of Coimbatore to make their factory less capital intensive.

"We would like to follow the Chinese model, we want to outsource, give business to others, and achieve growth," he says.

The first generation entrepreneur, who hails from Udumalpet near Coimbatore, says they are scouting for investors and hoping to tie up with one of the market leaders in the fan industry who would be willing to collaborate with them so that their technology is of benefit to the masses.


Trending Now: