Toilets using DRDO's bio-digester technology to be installed in railway stations
21-June-2013
Vol 4&nbsp|&nbspIssue 25
Regular toilets will be replaced by eco-friendly bio-toilets for disposing human waste at all stations of the Konkan Railway (KR), an official said.
Two railway stations, Chiplun and Kankavali on the KR route, had earlier been selected for installing the country's first green toilets to bio-degrade night soil through technology developed by the Defence Research and Development Organisation (DRDO).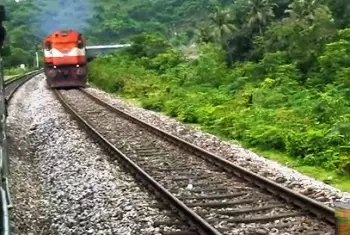 Konkan Railway plans to introduce eco-friendly bio-toilets at all stations in its jurisdiction
"The technology, while permitting eco-friendly and quicker disposal of human waste, is also economical. Passengers and locals at both Chiplun and Kankavali have appreciated the efforts of the railways," the official said.
Encouraged by the public response, KR has now decided to set up such toilets at all the major stations on its network.
The bio-toilet uses the DRDO's bio-digester technology, which is economical and can be implemented faster than the regular RCC (reinforced concrete cement) toilets.
"The technology is 100 percent maintenance-free and allows complete elimination of pathogens without requiring the night soil to be disposed through sewage line and septic tank," the official explained.
Since the need for septic tanks and sewage lines has been eliminated in this technology, the bio-toilets can be installed and ready for use within just 48 hours, compared to two months for the conventional toilets.
Even the cost savings on bio-toilets are high, as much as 70 percent, compared to regular toilets. While a regular toilet costs around Rs.100,000, a bio-toilet can be put up at just Rs.30,000.
The bio-digester requires only an initial one-time charging with anaerobic bacterial inoculums if it is in regular use.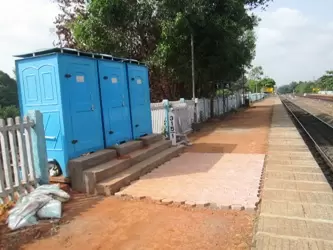 Bio-Toilet at one of the railway stations (Photo: IANS)
The bio-degradation of the night soil leads to generation of bio-gas which can be utilised for cooking.
The clean, odour-less water extracted after bio-degradation can be recycled for irrigation in gardens and other such places.
The DRDO bio-toilets are being widely utilised by the defence forces in remote locations.
The Indian Railways signed a memorandum of understanding with the DRDO in 2010 to develop a bio-toilet for use in railway coaches to improve the environment in and around the railway infrastructure. - IANS
Wish to share your story?
Trending Now: