A machine that has helped rural women unleash entrepreneurial skills
05-April-2013
Vol 4&nbsp|&nbspIssue 14
A multi-purpose food processing machine developed by a grassroots innovator, Dharamveer Kamboj, is helping rural Indian women unleash their entrepreneurial dreams.

Dharamveer's machine is being used by women's self-help groups in villages to make varieties of fruit juices for the market.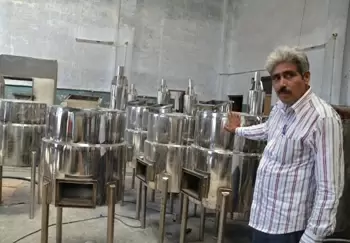 Dharamveer's food processing machine is providing livelihood to rural women
In Udaipur, Rajasthan, the district forest administration is using the machine to provide livelihood for the tribal women.

O P Sharma, the DFO of Udaipur had identified the natural resources in the tribal belt and felt there was potential to make juice from the fruits in the forest and market it in the city.

The region has various forest products that have Ayurvedic and medicinal value and many seasonal fruits that go waste.

"We worked with bamboo and made incense sticks from natural forest products, but there were many medicinal and healthy plants from which juices needed to be extracted in bulk," says Sharma.

The poor tribals from Atatia village in Ogna range in Udaipur district could do so now, thanks to Dharamveer's machine.

About 200 villagers from 4 villages in the district are part of self-help groups that make juices from karonda, bel, jamun, mango, amla, tendu and mahua fruits. The villagers also make juice, shampoo and gel from Aloe Vera.

The products are marketed in Udaipur under the brand name of 'Vanraj.'

"By linking the forest resources to the village economy, the local people are made conscious of their forest wealth and natural resources, and they start protecting them," says Sharma.

Dharamveer is mighty pleased at the way his machine is changing the lives of the rural people for the better. Since 2008, he has sold around 98 machines, which come in two models.

The bigger one costs Rs 1.5 lakhs, while the smaller one costs Rs.70000.
Both the machines have different capacities. If you were to make tomato sauce, for instance, Dharamveer says the bigger machine would process about 150-200 kg of tomatoes in an hour, while the smaller one would process about 50 kg.

At his village in Yamuna Nagar district of Haryana, the 50-year-old Dharamveer employs about 35 women in his food processing plant and each of the women earn up to Rs 4500 per month.

Dharamveer visits the villages that buy his machine and personally explains the working of the machine to the women.

He is now visiting Udaipur to train the tribal women there. "The forest has so many beneficial products that go waste. I like to discover them with the tribals and find ways to extract the juices from them," says Dharamveer.

In Nagaland, Tina is using the machine and she is happy with the results. She is part a self-help group and they are trying to extract the juices of wild olive, which is a good cure for urinary tract infections.

"When we came to know of Dharamveer's machine we contacted him and he was here for nine days exploring the forest with us and teaching us ways to extract the juices with minimal waste," says Tina.

Dharamveer was the youngest of five siblings and though his family was poor, he had this innovative streak and entrepreneurial spirit even from a young age.

When he was in class seven, he developed small heaters from old tin cans and coil and sold them for Rs 15 a piece.

His love for plants and herbs goes a long way back. Deeply attached to his mother, he would follow her while she collected kesu (Butea monosperma) flowers, watching how those flowers were taken care of and made into colours for Holi.

Losing his mother early in life and at one stage working as a rickshaw puller in Delhi had not diminished his passion for herbs.

Dharamveer got to know about the medicinal properties of herbs from a saint and seeing the traders in Delhi paying hefty amount for herbs in 'Khari Baoli' area of Old Delhi, his love for herbs increased.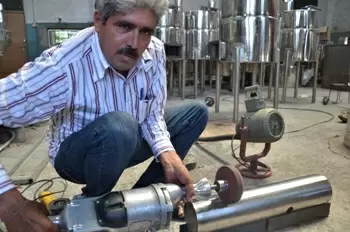 Dharamveer visits the villages to explain the working of the machine to women SHG members
He returned to his village following an accident he had met with, and joined the Village Development Society, where he learned about improving agricultural practices and organic farming techniques.

Innovative and experimental he cultivated hybrid tomatoes in 1990 and a year later diversified into growing mushrooms, strawberries and baby corn.

He also developed an automated broom to sweep the roads.

But it was the prohibitive cost of aloe-vera gel extractor that made the innovator in him to build his own machine when a bank manager in 2002 came to his village promoting aloe-vera cultivation.

With the help of Grassroots Innovation Augmentation Network (GIAN) and the National Innovation Foundation (NIF), Dharamveer developed his Multi-purpose Food Processing Machine.

As the NIF website describes the machine, it is a vertical free-standing cylindrical unit mounted on four legs.

The raw material is fed from the top and the processed output is collected at the bottom. The machine consists of an autoclave unit for sterilization, a boiler unit for boiling, and the extractor unit for extracting juice or gel.

Dharamveer's innovation has not only helped in his personal growth as a successful businessman, it has changed the lives of many poor farmers from the barren land of Rajasthan to the dense forests of Nagaland.


Trending Now: