At a village once notorious for insurgency, now whirs a small paper mill

15-March-2013
Vol 4&nbsp|&nbspIssue 11
A spark of an idea took root inside Mahesh Bora's head when he learned about the making of paper from elephant dung in Rajasthan.

It did not take long for Mahesh, a retired engineer of 'Coal India Ltd', to expand the idea further sitting in his home state of Assam, where an estimated 11000 elephants and over 2000 one-horned rhinoceroses are to be found.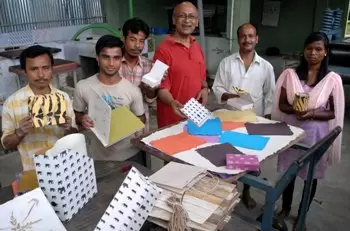 Mahesh Bora (in red T-Shirt) makes eco-friendly paper from elephant and rhino dung
Today, the 65-year-old is into production and sale of handmade papers and a wide range of products made from elephant and rhino dung.

The products are marketed under the brand name of 'Elrhino' (created by taking 'El' from Elephant and 'Rhino' from Rhinoceros).

Mahesh set up the paper making unit at Chaygaon, a village near Guwahati, which was once a hotbed of insurgency. This April, Elrhino will complete its maiden year in paper making.

Mahesh looks after the day-to-day operations at the unit, while his daughter Nisha (37) takes care of the marketing work from Mumbai.

The father-daughter duo is happy that locals have been provided jobs at their unit and their business promises to help in conservation of the endangered species of the Asian elephant and the great one-horned rhinoceros.

Local youth had initially resisted when they wanted to set up their paper unit in Chaygaon. They warned the young bank manager from granting them loan and threatened to burn the factory if they opened it.

But after Mahesh and Nisha explained the reasons for setting up the unit and the benefits they would receive, they relented.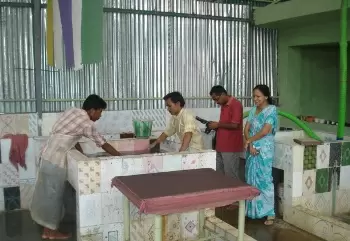 Village youth have got jobs at the paper making unit
The locals have not been disappointed. Fourteen people work at their paper making unit now, and more are involved in supplying dung. "The local boys and girls are very happy with the development and enthusiastic. Some of them are eager to even set up their own units," says Mahesh.

Fifty kg of dung is needed to make 500 sheets of paper. "The paper is completely harmless, free of germs and polluting matter. No toxic chemicals are used and it is totally eco-friendly," says Mahesh.

The paper project is helping in conservation efforts. Now that the elephant and rhino dung have acquired a value, villagers are more sympathetic when the animals enter their fields knocking down fences and destroying their crops.

"We collect the rhino dung from the vicinity of Pobitora and Kaziranga where they stray into paddy fields and tea gardens in search of food. They deposit their dung in the fields. Elephant dung is easy to collect as there are many domestic elephants besides the wild ones," says Mahesh.

The process of making the paper starts with boiling the dung and then drying it in the sun. It is then re-boiled with caustic soda for removing the lignin and purifying it further.

Later, cotton hosiery rag is chopped and mixed with the dung in a Hollander beater where it turns into pulp. The pulp is made into paper and then embellishments such as flowers, silk thread, etc are added before it is couched and loft dried.

The dried paper is calendared and cut into required sizes. Products such as lamp shades, office stationery (envelopes, files, folders, paper bags), and origami are also made from the paper.

Nisha says they did not have any experience in designing but they felt they should be showing the aesthetics of Northeast and hence incorporated all natural elements in the paper.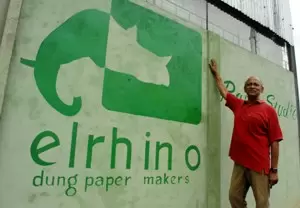 Not surprisingly, their products have tobacco leaves, bark of betel nut, Assam silk and flowers embedded in them. Bamboo is used to craft products like lampshades and pen holders.

Nisha reveals that they are holding talks with the silk industry to use natural dye in the paper. Until now natural dyes are used only in fabric.

She wants to provide the ethnic Northeastern touch to 'Elrhino' products, but at the same time wants to ensure that they don't lack the contemporary feel to appeal to buyers in cities.

In the future, they have plans to encourage the local people to operate their own paper-making units, whose products Elrhino would buy.

Trending Now: