A cross-continent flight in May or June will change aviation history
26-April-2012
Vol 3&nbsp|&nbspIssue 17
The world's largest solar-powered plane, Swiss-made Solar Impulse, will take its first-ever cross-continent flight in May or June.
The plane, co-piloted by Bertrand Piccard and Andre Borschberg, will attempt for the first time to fly more than 2,500 km, taking off in Payerne in western Switzerland, crossing the Pyrenees and the Mediterranean without using fuel, and landing in Morocco.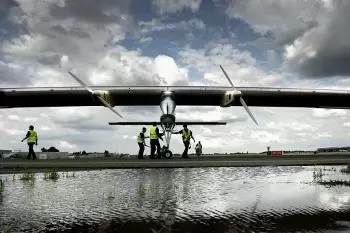 SOLAR IMPULSE on the ground, Brussels Airport 2011
© Solar Impulse | Fred Merz
The exact date for taking off will be decided according to weather condition, said Andre Borschberg, co-founder and CEO of Solar Impulse that made the aircraft.
Bertrand Piccard and Borschberg will take turns to fly the aircraft on its 48-hour journey, with a scheduled stopover near Madrid to change pilots, Xinhua reported.
This long-duration flight will serve as a dress rehearsal for the round-the-world flight in 2014, and will allow the team to gather experience in cooperating with international airports, integrating the prototype into regular air traffic patterns, and managing the logistics of maintenance, said Borschberg.
Solar Impulse, the first aircraft that can fly day and night without fuel or polluting emissions, has a wingspan of 63.4 meters, as wide as an Airbus A340, and weighs only 1,600 kg. It has 12,000 solar cells mounted on the wings, which provide momentum for its four electric motors.
The plane took its first international flight from Switzerland to Brussels May 13, 2011, and marked its second international flight to Paris in June last year.

According to Solar Impulse, the solar aircraft "can fly day and night without fuel or polluting emissions."

A press release issued by the company stated: "This revolutionary carbon fibre aircraft, that has the wingspan of an Airbus A340 (63.4m) and the weight of an average family car (1,600kg), is the result of seven intense years of work, calculations, simulations and tests by a team of 70 people and 80 partners.

"A plane this light and of this size has never been built before. The 12,000 solar cells built into the wing provide four 10HP electric motors with renewable energy.

"By day the solar cells recharge the 400kg lithium batteries which means the plane can fly at night." IANS with inputs from TWL Bureau


Trending Now: