Meet the young ones who care for the children of their communities
Swapna Majumdar
&nbsp | &nbsp Jamui, Bihar
24-February-2012
Vol 3&nbsp|&nbspIssue 8
Every morning when Sunila Hazda, 19, sets off to work, she is not sure what time she will return home. Her work as a defender of child rights, or Bal Bandhu, requires her to traverse through dense forests and steep hills.
She has also to be on guard against snakes and other animals as she walks from village to village in the remote Naxal-affected Harkar panchayat in Khaira block of Bihar's Jamui district.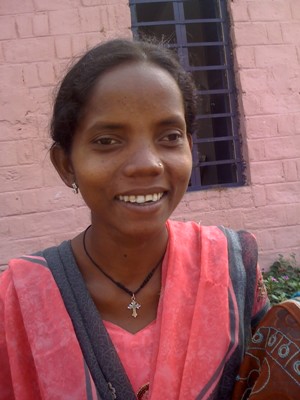 Sunila Hazda, 19, of Harkar panchyat in Khaira block of Jamui district, Bihar, is the first girl in her Santhal community to reach Class 11. Now, as a government-appointed Bal Bandhu, or defender of child rights, she has taken it upon herself to ensure that every
child in her panchayat goes to school (Photo: WFS)
Although she has been born and brought up in this Santhal-dominated panchayat, the lack of roads and electricity makes her wary and unsure at times. However, there is one thing that Sunila is sure about – she will stop at nothing to see that every child in the panchayat goes to school.
Having gone through a long and difficult struggle to study, Sunila, the daughter of a woodcutter, doesn't want others to face the obstacles she had to negotiate. Her parents sold firewood to garner resources for her education and allowed her to stay in a hostel 110 kilometres away from home to pursue her dreams.
"If I had not studied, I, too, would have been selling firewood. Education has given me a job and an identity," says Sunila, the first girl in her Santhal community to reach Class 11.
Sunila is today pursuing higher studies and is, at the same time, helping other children of the community access their right to education. It was this zeal that led to her being chosen as a Bal Bandhu under the government's Bal Bandhu programme.
Introduced in December 2010 by the National Commission for Protection of Children (NCPCR), after getting the nod by the Prime Minister's office, the Bal Bandhu programme aims to protect children's rights in areas of civil unrest with the help of 'Bal Bandhus' chosen from within the community.
Two resource persons for each district have also been deputed to facilitate the three-year programme being piloted in 10 districts in nine states impacted by civil unrest. In Bihar, four districts, Jamui, Sheohar, Rohtas and East Champaran, have been selected for its implementation.
In Jamui, the programme is being piloted in Khaira block. Here, the Bal Bandhus are slowly and steadily mobilising the community to take responsibility for upholding the rights of their children and convincing them to send their children to anganwadis and schools not just in Sunila's Harkar panchyat but in 20 of the 22 panchayats in the block.
What has helped immensely is that of the 20 Bal Bandhus chosen – one for each panchayat – by the two Bal Bandhu Resource Persons (RPs), nine are women. Although the Bal Bandhus hail from different backgrounds, they all share a common passion to do something for their community and a commitment to work for children.
And their hard work has paid off. Since they began work in January 2011, they have, with the help of the two RPs, catalysed change in the block. They have managed to turn around almost half of the non-operational schools.
Before the onset of the programme, 48 of the 226 schools in the block were non-functional. By making 23 of the 48 non-functional schools operational again, they have managed to motivate 798 children, who were already enrolled in school but irregular, to attend classes regularly.
But it's not been an easy ride. To achieve this, they have had to handle delicate situations as well. For instance, in August 2011, when Bal Bandhu Savitri Kumari went to the Parati Primary School in Arnuwabank panchayat of Khaira block to participate in the flag hoisting ceremony on Independence Day, she found that the villagers were very agitated.
They told her that the neighbouring school had been warned by the Naxals not to unfurl the flag. Seeing the uncertainty and fear among the community, teachers and students, Savitri sought the help of her mentor Resource Person, Srinivas Chakli.
After Srinivas reached the school, the duo calmed the villagers down. On inquiring whether or not Parati School had received a specific warning and finding it had not, they left it to the community to decide what should be done.
Considering that their children were looking forward to the event the villagers decided to go ahead. In fact, a village elder was nominated by the community to do the honours in the absence of the principal.
Like Savitri Kumari, Nazrhwa Naz, too, has understood what it means to be a Bal Bandhu. In March 2011, the lives of 553 students in Garhi panchayat had come to a standstill when their middle school was targeted by extremists.
A big part of the school was destroyed by a bomb they planted to prevent the government from housing a battalion of the Central Reserve Police Force (CRPF) on the premises. The CRPF had moved out in January, two months before the incident, and were expected to return in time for the panchayat elections to be held in the state that month.
According to Nikhat Parveen, the school's headmistress, the blast created panic and fear within the community, particularly among students and their parents. "I had to go from door to door to convince them to return. But it took a long time to gain their confidence," she recalls.
It was Nazrhwa Naz, who helped Parveen persuade the community to send their daughters back to school. Incidentally, Nazrhwa is Parveen's daughter.
The young Bal Bandhus face many challenges. Not only do they have to work amidst conflict and fear, they also have to stand up against bureaucratic delays and corruption. But, despite the odds, these young Bal Bandhu carry on, as true friends of children living in areas of conflict. - Women's Feature Service

Trending Now: