A magazine in Braille, plays by visually disabled people, the list goes on for this multi-faceted personality

17-February-2012
Vol 3&nbsp|&nbspIssue 7
The subtle yet elegant décor of Swagat Thorat's office, reflects the artist in him. Donning many hats with aplomb, the founder of India's first fortnightly periodical in Braille, 'Sparshdnyan,' is not only a journalist but an accomplished wildlife photographer, playwright, director, painter, and a friend and guide to many visually challenged men and women.

Among the numerous awards and citations adorning the walls of Swagat's office, a Guinness certificate catches the eye. It is for a world record he had set in 1997 for scripting and directing a play, 'Swatantryachi Yashogatha' (Glorious story of Independence) in Marathi with 88 blind students from two schools in Pune.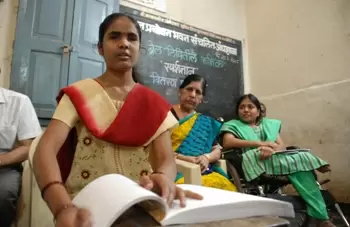 'Sparshgandh,'a magazine in Braille, prints around 400 copies, and has over 24000 readers
The play had won the first prize at a competition held to commemorate the golden anniversary of India's independence.

"I didn't have any record in mind when I started working on the play. I began with just 12 children but many students got interested and wanted to join. Since I didn't want to disappoint any of them I took everyone on board. With only twelve days of practice, they put on a fabulous performance," says Swagat. The play found a place in the Guinness Book.

Swagat toured through the length and breadth of Maharashtra with the children and staged the play in many places. It was during his close interaction with them that he realized the dearth of reading material in Braille.

"The children demanded that I should do something for them. So, I brought out a special magazine on Diwali in Braille in 1998. It was named 'Sparshgandh' in Marathi," said Swagat.

The issue became an annual feature until it became a fortnightly since February 15, 2008, with news and current affairs added to it.

Showing the fourth anniversary issue on general awareness, Swagat says they lay a lot of emphasis on quality of contents in 'Sparshgandh'. They cover social issues, international affairs, education/career, music, health, theatre and several other topics, barring cricket and crime.

Accomplished writers contribute to the magazine, which is printed on expensive special paper. As a result, the production cost for the 40-46 page publication is more than that of a normal newspaper.

With no advertisers or government aid, their expenses are partly covered by an annual subscription of Rs. 1200 and donations from well-wishers. He makes up the shortfall from his own pocket.

At present around 400 copies are published, but they have a readership of over 24000.

"The periodical is currently in Marathi but we have plans to start publishing it in Hindi too, as there are demands from rest of India," says Swagat. He laments that apart from educational and religious books in Braille, there is a shortage of quality reading material for the blind. He is trying to get public libraries at district level to have Braille sections.

Though he wants to start a daily newspaper in Braille, lack of funds have made him put off his plans.

Swagat is a former journalist who had done research on the lifestyle, educational methods for the blind, and the physical and mental development of students in two blind schools at Pune.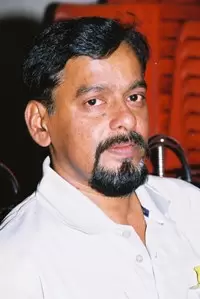 Swagat wants to publish a daily newspaper for the blind and direct a play with the hearing impaired
In 1997 he produced an audio-drama, 'Helen Kellarchi Yashogatha' based on Helen Keller's biography on radio that was appreciated widely.

He later directed a drama with blind people. Swagat recalls that while working on the drama - Marathi adaptation of Bertolt Brecht's famous 'The threepenny opera' - he discovered a blind hawker selling handkerchiefs in a Mumbai footpath with a wonderful voice suited for theatre.

He was given the role of lead actor in the play. The man, a school dropout, later completed his education and now is a farmer in Sangli district.

With 44 blind adults from ages 18-50, the drama received tremendous response all over Maharashtra in 2000 and found a place in the 'Limca Book of Records'.

"What gave me immense satisfaction was the confidence boost the actors received in being part of the play, which received great response from the audience who cheered and encouraged the actors," says Swagat, who now wants to do a play with the hearing impaired.

As part of his social obligation, Swagat has also visited 400 schools in the hinterland of Maharashtra to show his wildlife documentaries to those not having access to channels like National Geographic and make them environmentally conscious.

He has visited and recorded wildlife in 52 National parks and 320 sanctuaries in India, been part of Tiger and crocodile censuses and regularly visits Kashmir to document its wildlife.

Trending Now: