Over 1,200 stranded passengers ferried by IAF
21-January-2012
Vol 3&nbsp|&nbspIssue 3
More than 1,200 tourists and locals stranded in Jammu and Srinagar due to bad weather were Saturday airlifted by the Indian Air Force (IAF) between the two cities, officials said.
The Jammu and Kashmir government arranged special IAF flights between the summer and winter capitals as the Srinagar-Jammu highway remained blocked.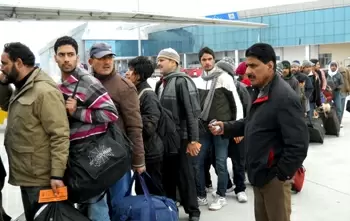 People stranded at Srinagar being ferried to Jammu by special Indian Air Force (IAF) sorties (Photo: IANS)
"I personally supervised the evacuation," said Kashmir's Divisional Commissioner Asghar Hussain Samoon.
Around 2,000 passengers had registered themselves for airlift in the two cities.
Authorities gave priority to tourists moving from Srinagar to Jammu and to locals flying from Jammu to Srinagar.
Meanwhile, the Srinagar-Jammu highway was restored for one-way traffic by the Border Roads Organisation (BRO) Saturday.
Inspector General of Police (Traffic) Hemant Kumar Lohia said trucks stranded in the Kashmir Valley would move Sunday from Qazigund in Anantnag district to Jammu, the winter capital.
In addition, State Road Transport Corp (SRTC) buses would play from Srinagar to Jammu.
But these buses must cross Khannabal in Anantnag before 10 a.m. "No other vehicle will be allowed to move on the highway tomorrow (Sunday)," Kumar said.

Meanwhile, cold wave conditions in the Kashmir Valley and Ladakh intensified Saturday even as the weather office predicted another spell of snowfall in the region next week.
"The cold wave conditions have intensified because of clear night skies in the valley and the Ladakh region. Leh Saturday recorded the coldest temperature of the season so far at minus 21.8 degrees while Kargil town recorded minus 21.0 degrees. The minimum temperature fell down to minus 5.0 degrees in Srinagar while it was minus 16.5 degrees in Pahalgam," Sonam Lotus, director of the meteorological office said here.

Lotus also said another spell of moderate snowfall was likely to occur in the valley between January 23 and 26.
"The snowfall could be rather heavy in the Pir Panjal mountain range," Lotus said.
Little traffic was seen on the roads of Srinagar Saturday morning because of highly slippery road conditions.
The surface of the Dal Lake continues to remain frozen at most places, with fisherman and boatmen unable to row in the frozen waters of the lake. - IANS


Trending Now: