Regi George and Lalitha Regi have helped many a tribal child live

27-October-2011
Vol 2&nbsp|&nbspIssue 43
Tribal Health Initiative (THI) is the simple name that a young doctor couple from Kerala, Regi George and Lalitha Regi, gave for their project aimed at saving the tribal children in Dharmapuri district in Tamil Nadu.
Moved by the plight of the tribes of Sittilingi valley and the adjoining Kalvarayan and Sitteri hills when they visited the place during their year-long travel across India, they started an outpatient unit in 1993 at a small thatched hut.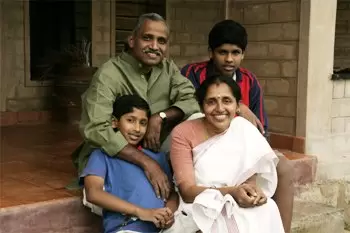 Heroic couple: Regi and Lalitha made the hill their home, the tribals their friends, preferring such a life more than the glamour of cities. The couple is seen with their children Harsh and Abhay
Today, THI has not just grown into a full-fledged 24-bed primary care hospital in Sittilingi valley but also runs outreach clinics, besides conducting educational programmes in 21 villages.
Infant mortality rate, which was 147/1000 in the region when the doctor couple decided to dedicate their lives for the health and welfare of the hill people, has now dipped to 20/1000.
Regi George, who is now 52, and Lalitha Regi, now 51, had found the tribal people of the region to be the worst sufferers in the country as far as health care was concerned when they first met them.
"Health care was not available for them," says George. The situation was so bad that till 1992, one in every five children died before celebrating the first birthday and many mothers died during childbirth.
For these simple folks who depended on rain-fed agriculture, reaching the nearest hospital was a tough task since there was no proper public transport and the nearest hospital was 48 km away.
After the clinic was set up in 1993, the situation changed dramatically. The number of women coming for ante-natal check-ups increased manifold from 11 percent to 90 percent, as more and more outreach clinics began to be established in many places.
In 1996 some local tribal girls were trained as health workers. They now assist the doctors in the hospital and also visit surrounding villages for ante-natal and child health check-ups.
For George and Lalitha, setting up the hospital in this remote area was not an easy task. But then life had always been a breeze for the couple, who had faced stiff opposition even when they had decided to tie the knot.
"Lalitha and I were classmates in medical college. We became friends and learned that we both wanted to do the same thing. We decided to get married against much opposition since we both belong to different religions," said George. So when the couple decided to dedicate their life for tribal welfare, nothing could stop them.
"We had no money when we started. We started off with a bit of our personal savings and because the tribal people were very friendly, they helped us with the materials and the labour for putting up a mud and thatch hut. That was our first hospital," said George.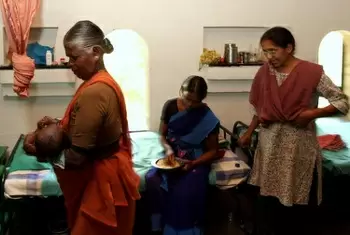 Serving the tribals: Regi and Lalitha perform about 250 surgeries and around the same number of deliveries every year
It was tough to find a funding agency but Action Aid saw their work and dedication and was convinced that the couple were doing some genuine work. They started funding their work.
George says they see about 150-200 out patients in a day thrice a week. The hospital caters to a population of about 80,000 people living in the surrounding villages, most of them being tribal.

"We admit about 1000 patients every year and do about 250 surgeries and same number of deliveries every year," he says.

George is however worried about the increase in the number attempted suicides among the tribal youth. Every month 3-4 cases come to their notice.
George suspects the reason might be the pressures of changing lifestyle. "May be the tribal youth are not able to cope with newer lifestyle and feel depressed," says George, who has invited a psychiatrist to counsel and treat these youngsters.

Another challenge they face is mental health among the tribals. Among the older population, a number of mental illnesses can be seen and the problem is, people are ignorant about them.

THI is currently working on a programme to ensure mental health among the tribals.
Wish to share your story?
Trending Now: